Colorado's recent selection of delegates to the Republican convention has caused a great deal of angst about the method of selecting delegates to the national convention.
Republican presidential candidate Donald Trump says that the system is corrupt and that party bosses "disenfranchised" a million voters. Drudge calls Sen. Ted Cruz's victories in Colorado and Wyoming "voterless victories."
This is how Trump handles a decisive defeat. He whines. No news here. What is news, however, is the media chorus agreeing that the system needs to be changed to be more fair.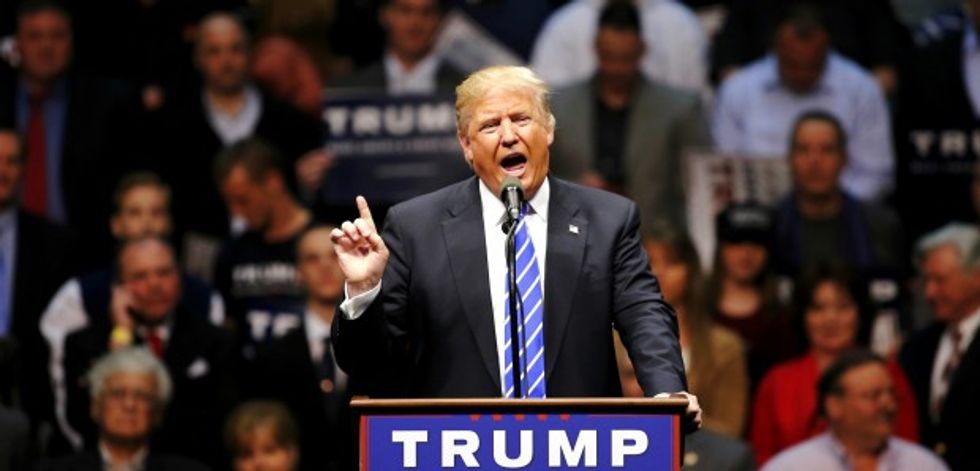 Republican presidential candidate Donald Trump speaks at a campaign rally on April 11, 2016 in Albany, New York. (Photo: Eduardo Munoz Alvarez/Getty Images)
The United States Constitution gives the states the authority to regulate elections. Nothing needs to be changed!
Nominating events are private affairs conducted by a private club under rules written by members of the club. There is no such thing as a voter "franchise" for selecting the party's nominees to be on the general election ballot.
In 1796, the members of Congress who identified with a party got together and decided on their candidates for president and vice president.
Since 1824, the selection system was decentralized, but there has never been a constitutional right to participate.
The Libertarian Party will hold a convention in May in Orlando. Those who attend will select their candidate for president. It will be a voterless victory.
Republicans and Democrats choose to do it state by state. Some states choose open primaries allowing every eligible citizen in the state to vote. They are willing to allow voters who would never support their candidate in November to help them select who that candidate will be. I think it is safe to say that Democrats voting in the Republican primary are not seeking the strongest nominee.
Open primaries are held in the hope that new people will become invested in the party and perhaps broaden the base for the November election.
Others use the general primary election but limit participation to those who have registered as members of their party. They are looking for broader participation, but they only want voters committed to their party's choice to influence that choice.
Iowa allows those willing to show up on a January evening and sit through caucus meetings to choose their delegates.
In January, 170,000 Democrats and 180,000 Republicans made Iowa's decision.
There are 1.9 million registered voters in Iowa. No one whined about the fact that 1.5 million were "disenfranchised." Was this just another voterless victory for Cruz? I guess so.
Some states choose to do it in a series of party meetings. They believe that party members who go to the meetings and meet the prospective leaders can better judge who can win and serve with distinction.
They further believe that the people who take the time to go to party events and participate in party meetings and then go out and knock on doors and put up yard signs and do the hard work of electing their candidates have earned the right to select their leaders.
Colorado had general primaries from 1992 through 2003, but the state decided they were too expensive and told the parties to find another way to chose their nominees.
The Republicans chose to hold party meetings. This year, 65,000 people participated beginning at the precinct level.
For some years, Colorado held a "straw vote" at the state convention to get a sense of where the support was. Last year the Republican National Committee decided that any state that held an "election" would have to bind their delegates to the winner of that vote for the first ballot at the national convention.
Colorado decided to not hold that "straw vote" since they didn't want the 6,000 who showed up at the state convention to control the work done by the 65,000.
Since the convention was overwhelmingly supportive of Cruz, is there any doubt that he would have won the straw vote?
It is obvious that the whining we are hearing is not an honest response to electoral procedure, but a campaign tactic. Those in the media who have joined the chorus have only exposed their bias.
There is a simple solution to all of this. If you don't like the rules, or think they're unfair, get off your butt and go to the meetings and make friends and build alliances and change the rules.
Or, start your own party. Put together a coherent set of beliefs and find people who will support those beliefs. Invite speakers and raise money to get your ideas out to a broader audience.
If you choose to allow your chairman to appoint your party's candidate for president, have at it. It's your party and none of my business.
I'll pass judgment at the ballot box.
If you would like to be added to John Linder's distribution list please send your email address to: linderje@yahoo.com or follow on Twitter: @linderje
–
TheBlaze contributor channel supports an open discourse on a range of views. The opinions expressed in this channel are solely those of each individual author.