I must admit that I listened to Baltimore Mayor Stephanie Rawlings-Blake's speech with disbelief. It was hard to determine at some point, whether the protesters had run amok or whether the Baltimore official, namely the mayor, was more out of control.
Following the mysterious death of Freddie Gray, after his arrest by Baltimore police, the mood of those in the city turned violent and property damage was widespread.
While it is understandable that protesters would be angry at what they perceive to be another racially-motivated injustice, what is not as readily understandable is the mayor's "greenlight" given to them to destroy property.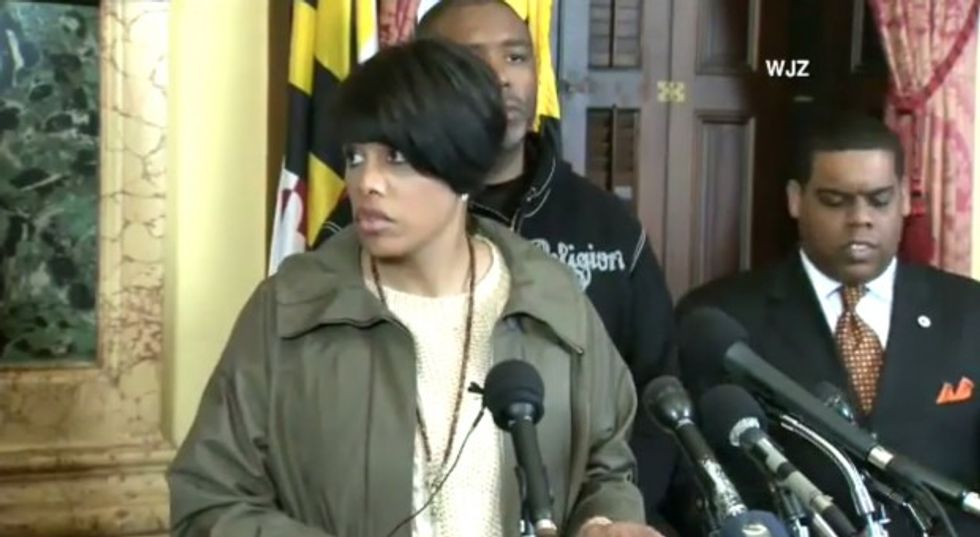 Baltimore Mayor Stephanie Rawlings-Blake. Photo Credit: Screenshot
"While we tried to make sure that they were protected from the cars and the other things that were going on," referring to protesters, "we also gave those who wished to destroy space to do that as well. And we work very hard to keep the balance and to put ourselves in the best position to deescalate, and that's what you saw,"said Rawlings-Blake.
What I disagree with vehemently is that they shouldn't have the right to destroy the private property that does not belong to them. Anyone should have the right to destroy their own property but it doesn't give them the right to destroy the property of others.
What we have witnessed, with this mayor, is a government official acting outside of the scope of her duties as mayor to practically encourage protests and the destruction of property with her blessing.
The responsibility of any mayor in general, is to act in the best interests of the city that she represents.
I implore Rawlings-Blake or any other government office to explain how allowing riots and destruction of property is in the best interests of any city?
What will be next? Will government officials tell arsonists that it's permissible to destroy property by burning down buildings that belong to someone else because they are rightfully or wrongfully upset over an event?
Perhaps Rawlings-Blake was misguided in her directive to allow the protesters to destroy and believed that by allowing them to loot and destroy property without interference that it would lessen the amount of destruction in the long run. I'm stretching here but I'm trying to follow the mayor's irrational thought.
My response would be that this mayor made a serious error in judgement and should resign as mayor.
The people of Baltimore, the taxpayers, will ultimately be the ones who will have to bear the burden of what this mayor's directive allowed to occur under her watch.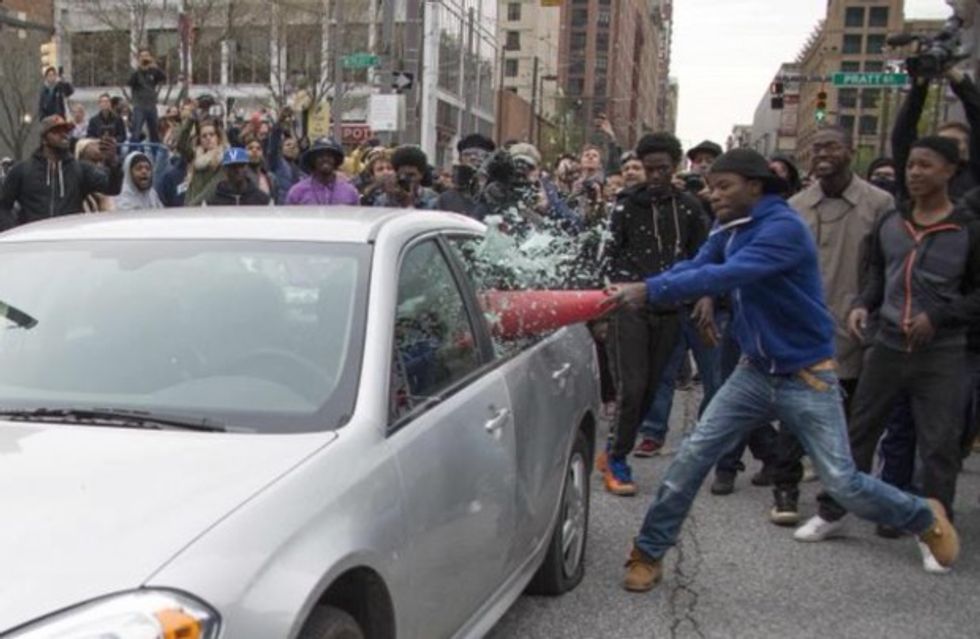 Protestors in Baltimore destroying property.
We cannot allow individuals in their official government capacities to permit "harm" of any kind to come against the property and the citizens that they represent.
According to the Constitution of Maryland, Article 11, for the city of Baltimore, section six indicates "The Mayor shall, on conviction in a Court of Law, of willful neglect of duty, or misbehavior in office, be removed from office by the Governor of the State, …"
The city of Baltimore should immediately bring legal action against this mayor to begin the process of removing her from office if she will not step down.
However, because of the current racial tensions in the city, acting to remove an African-American official would most likely only increase the protests within in the city.
We are living in a day and age when the content of your character and your actions are secondary to other issues that may be interfering with government officials making rational decisions that further the best interests of those they claim to serve.
Government officials who allow criminal acts to occur with their consent and with full knowledge of what is taking place cannot be allowed to continue. We must all follow the laws or total chaos will engulf this country.
So far in Baltimore, we are seeing the expected end result of total chaos.
–
TheBlaze contributor channel supports an open discourse on a range of views. The opinions expressed in this channel are solely those of each individual author.