While the motives may not be entirely clear why a federal wildlife refuge in Oregon is being occupied by a so-called militia group, what is evident is that the progressive agenda we have seen in the past, which describes groups they do not favor as extremists, is beginning to rear its ugly head.
Will this current occupation in Oregon give President Barack Obama extra ammunition as he continues to push his anti-gun agenda?
One media outlet is reporting what's happening in its town "at the heart of an anti-government call-to-arms."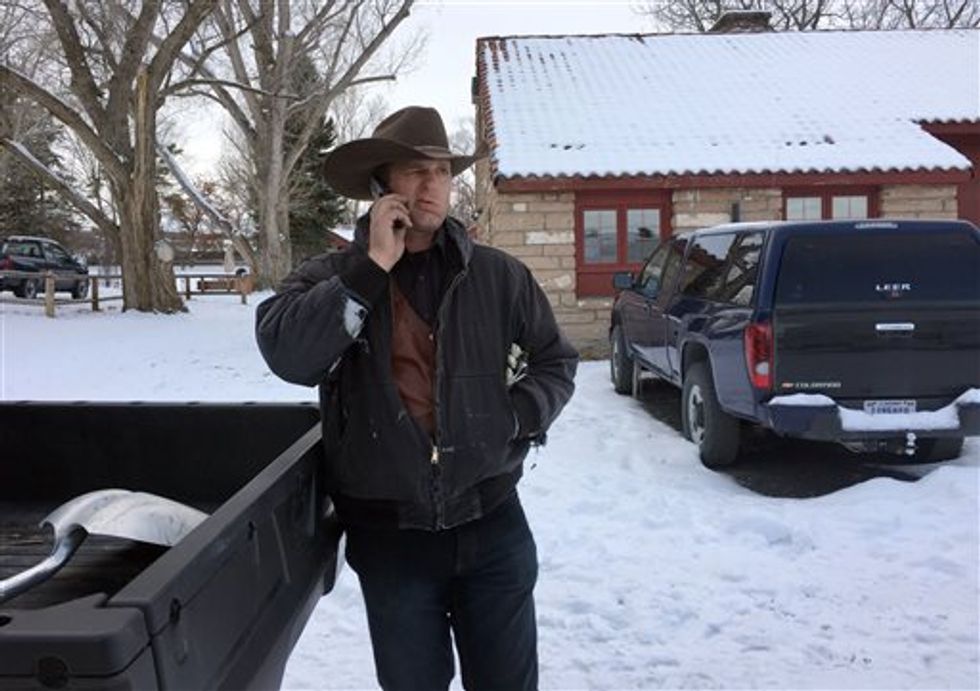 Ryan Bundy talks on the phone at the Malheur National Wildlife Refuge near Burns, Ore., Sunday, Jan. 3, 2016. Bundy is one of the protesters occupying the refuge to object to a prison sentence for local ranchers for burning federal land. (AP Photo/Rebecca Boone)
CNN reported the protest as "Armed anti-government protesters" who have "taken over a building in a federal wildlife refuge in Oregon."
Protesters came to Harney County, in southeastern Oregon, "claiming to be part of militia groups supporting local ranchers," Oregon Sheriff David Ward said. In reality, he claimed, "these men had alternative motives to attempt to overthrow the country and federal government in hopes to spark a movement across the United States."
Recently, news personality and U.S. Naval veteran Montel Williams, purportedly posted on his Facebook Mentions' page the following assessment of the Oregon group, calling for immediate action to be taken against those at the protest.
"Oregon is under attack by terrorists.

So tired of Cliven Bundy and his useless children. I've had it up to here with terrorists like these calling themselves "patriots."

I URGE the Governor of Oregon to call our (sic) the National Guard to retake Malheur National Wildlife Refuge with orders to shoot to kill.

To tell your government to IMMEDIATELY disembowel (sic) these treasonous terroristic thugs, sign the following petition."
Williams' petition to the Obama administration entitled, "Return the Commons at Malheur in Burns, OR, from the Privatizing Thieves that Have Stolen It, to the People Immediately," has received 11 signatures toward the 100,000 signatures needed before a response from the White House can be requested.
Williams' post also contained the following statement made by Cliven Bundy which was embedded below his Facebook post requesting "orders to shoot to kill" and for the government to "disembowel these treasonous terroristic thugs."
Militia Members Take Over Federal Government Building In Oregon https://t.co/Z0ySjc3uV5pic.twitter.com/xfcNhjpPtG

— BuzzFeed News (@BuzzFeedNews) January 3, 2016
You may recall that the Department of Homeland Security released an intelligence assessment in February 2015, which focused on the domestic terror threat from right-wing sovereign citizen extremists. It was made public at a time when Obama launched his war against violent extremism in the United States.
The report claimed then that some federal and local law enforcement groups believed that domestic terror threats from those right-wing groups were equal to and in some instances greater than the threat from groups like the Islamic State.
I believe the stage is being set to use the "militia" group in Oregon as fodder for Obama's final bid to disarm Americans before his presidential reign comes to an end in early 2017.
Obama is scheduled to have a townhall meeting later this week aimed at gun control. The meeting titled "Guns in America" and hosted by CNN, airs Thursday night. The special coincides with the 2011 shooting of former Rep. Gabrielle Giffords, (D-Ariz.) and will allow audience members to ask Obama questions about his agenda.
The timing couldn't be better to once again bring up the progressive left's belief that right-wing "extremist" groups pose a "threat" to this country and that gun control is needed to curb their violence?
After all, the Oregon Sheriff already jumped to the conclusion that the group in Oregon "intended to overthrow the country and the federal government and start a movement across the United States."
If I am correct and Obama uses the Oregon protest as an example for more gun control, then my guess is that no one will mention that Ammon Bundy's statement from BuzzFeedNews Twitter feed does not call for violence.
"We will be here as long as it takes," Bundy said. "We have no intentions of using force upon anyone, (but) if force is used against us, we would defend ourselves."
Bundy said further that the group was armed, but that he wouldn't describe it as a militia.
It is being reported, however, as "The brothers [Bundy] are calling on anti-government militia members from all over the country to join the seizure of the headquarters building…"
Bundy claims that what his group is doing has nothing to do with an attempt to overthrow the government.
"We're planning on staying here for years, absolutely," Bundy told TheOregonian. He further told reporters, regarding the park headquarters, "We intend to use it."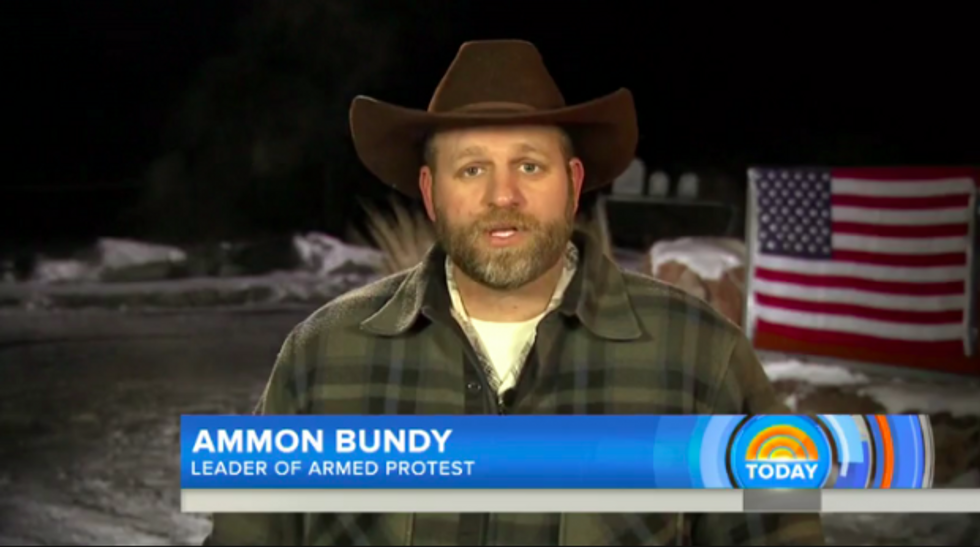 Ammon Bundy. Image source: Today
Bundy also told reporters that they planned to "gather here and we can unite, we can stay out of the cold. We can feed all of the individuals that come. Our intent is to assist the people of Harney County in claiming their rights."
"The best possible outcome is that the ranchers that have been kicked out of the area, then they will come back and reclaim their land, and the wildlife refuge will be shut down forever and the federal government will relinquish such control," he said.
"What we're doing is not rebellious. What we're doing is in accordance with the Constitution, which is the supreme law of the land," Bundy said.
He also indicated that "It is the people's facility, owned by the people, and it has been provided for us to be able to come together and unite in making a hard stand against this overreach, this taking of the people's land and resources."
According to news personality Dennis Michael Lynch, who spoke with Ammon Bundy, Bundy "was clear in stating nobody within his group wishes to engage in violence, and that the objective is to send a clear message that the government can no longer be permitted to grab land at will."
Lynch concluded that the Bundy brothers were standing up for ranchers who are being "run out of business by the [Bureau of Land Management]."
If we have learned anything from this administration and its lapdog media, it is that we cannot believe everything that we read. We must investigate further and hear both sides.
The progressive left are pros at taking a situation and turning it into something that fits their leftist agenda. It's Saul Alinsky 101.
In this case, we have a president who is keen on making gun control part of his presidential legacy and perhaps some in the media will be more than happy to oblige.
Don't fall for it!
Feature Image: Getty Images
–
TheBlaze contributor channel supports an open discourse on a range of views. The opinions expressed in this channel are solely those of each individual author.