Someone finally listened. I've been searching for the new Ronald Reagan to "Make America Great Again." I've argued in my last four books and hundreds of commentaries that taxes are too damn high on America's risk-takers, job creators and business owners. I've pleaded for a dramatic Reagan-esque tax cut to supercharge the economy and create millions of new jobs.
I've been searching for a president who would reward the economic engine of America – SMALL BUSINESS. And reward the people who value work ethic, personal responsibility and rugged individualism, over cradle to grave government dependency. That was how Reagan created the greatest economic expansion in world history - by incentivizing the only people who matter to an economy - the business owners, financial risk-takers and job creators.
This Dec. 17, 1981 file photo shows President Ronald Reagan pointing to a reporter for the next question during his news conference in the East Room at the White House in Washington.  AP Photo, File
By God, I think we just found our new Reagan. His name is Donald Trump and his tax plan is Reagan squared.
Conservatives remember Reagan's smile, his jokes, his positive attitude. They think that was the key to Reagan's success. But what made Reagan great was simple: cutting taxes from 70 percent to 28 percent.
That reinvigorated investors and entrepreneurs and turned around the economy. That "Made America Great Again." Trump's tax plan will do exactly the same.
In my new bestselling book "The Power of RELENTLESS" I give credit to Barack Obama for only one thing - he is relentless. I recommend that Republicans adopt his "never accept defeat, take no prisoners" mindset. What's been missing from the GOP is a relentless fighter for lower taxes, for smaller government, for economic freedom, for more power to the people, a fighter who recognizes it's not greedy to want to keep more of your own money; but rather the definition of greed is to ask government to steal it from those that earned it and redistribute it to those that didn't.
It's all about the taxes, stupid.
Lower taxes reward the work ethic. Lower taxes encourage the business owners and job creators to want to risk and invest our money, achieve, produce, and contribute. That's what made America great and will "Make America Great Again."
By keeping taxes low Reagan fought for capitalism, for small business, for taxpayers and for working Americans. The result was SPECTACULAR SUCCESS. Reagan turned the misery, malaise, decline, depression and disaster of the Jimmy Carter years into the greatest economic expansion in world history. Reagan exploded the economy. $30 trillion in goods and services was created. Net assets like stocks and real estate went up by $5 trillion - an increase of 50 perent.
Reagan's low taxes produced an era of prosperity unlike anything in history. Reagan's low tax policies created nearly 20 million jobs in a short span, increasing U.S. employment by a remarkable 20 percent. In one year alone the GDP increased by 6.8 percent - the largest increase in 50 years. In only seven years the economy grew by a staggering one third. The economic boom lasted 92 consecutive months -the longest peacetime boom in world history. It shattered the previous record of 58 months by almost 60 percent.
Trump's new tax plan is Reagan-esque. It's a blast from the past. Like Reagan, Trump is relentlessly on the side of the makers, not the takers. Trump's plan is great for the people who want to work and pay taxes. Trump will produce a new era of Reagan prosperity by rewarding the financial risk creators and job creators.
Finally - someone is relentless on our side.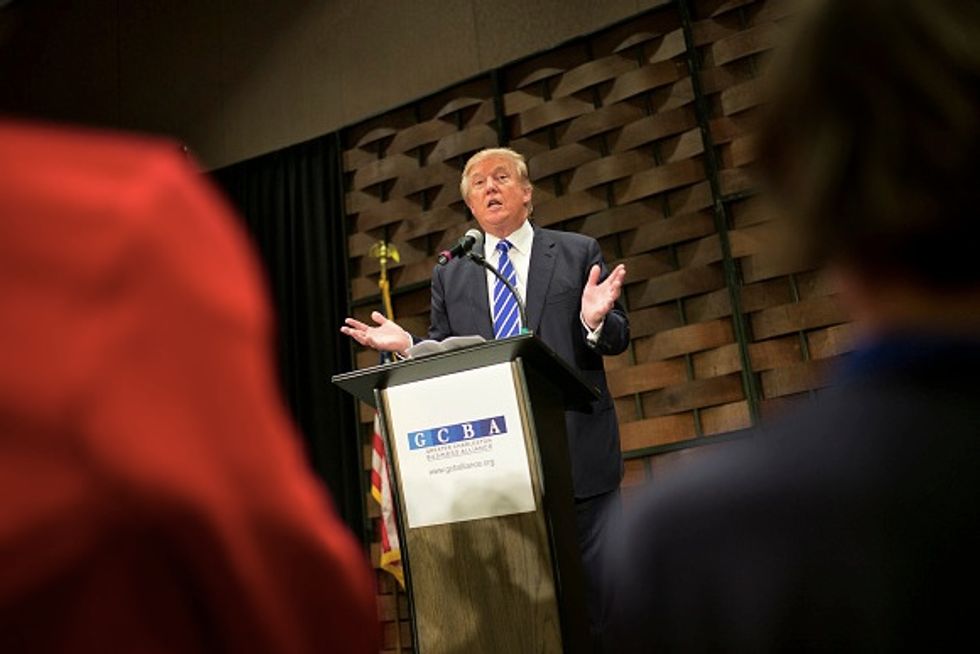 Republican presidential candidate Donald Trump speaks at the South Carolina African American Chamber of Commerce in the Charleston Convention Center on September 23, 2015, in North Charleston, South Carolina. (Photos by Charles Ommanney/The Washington Post via Getty Images)
Reagan's tax plan was simple, lower, fairer, flatter with rates of 15 percent and 28 percent. That did the trick. That unleashed an economic tsunami. That's all Reagan did - cut taxes and regulations. Reagan's deregulation saved consumers $100 billion per year in lower prices.
President Barack Obama is bankrupting us with higher prices. Hint hint Donald - please give us a plan for dramatically cutting Obama's regulations next.
Trump's plan is just like Reagan's: simple, lower, fairer and flatter. The four rates are 0, 15, 20 and 25 percent, almost identical to Reagan's, except the top rate is even LOWER! Brilliant.
But Trump has gone one step further. He's cut the tax rate to zero for couples earning $50,000 or less. If your tax rate is zero and you get to keep everything you earn under Trump, millions of Americans will choose to work, get off the government dole and become productive members of society. Why stay home and collect welfare, if you can go to work and keep everything you make? If the playing field is evened, most self-respecting Americans with pride and work ethic will choose to work. Brilliant.
Trump eliminates the marriage penalty, rewarding marriage and family. Bravo. His plan also eliminates the dreaded Alternative Minimum Tax that has ripped off middle class American taxpayers. And, Trump's tax plan eliminates the estate tax - so anyone who has worked their whole life to build something and already paid their fair share of taxes on it, can leave it to their children and grandchildren without the greedy government stealing it.
Trump also listens. In all my books, commentaries and personal correspondence with Trump, I've stressed the importance of a flat tax combined with keeping tax deductions for mortgage and charity. Nothing is more important to America, your family or your neighborhood stability than your home and your church. Trump kept those deductions 100 percent intact. Bravo.
But here's where Trump trumps Reagan. Trump cuts corporate tax rates to a flat 15 percent and incentivizes U.S. companies to bring their $2 trillion parked offshore back to America with a 10 percent rate. Suddenly America will go from the worst corporate tax rate in the world to the best. Trump's plan will create REVERSE INVERSIONS. Every company in the world will want to relocate here in America! This is how you create millions of jobs.
Is Trump's plan perfect? No. But it's damn good. It's close to perfect. If I could have my way, I'd replicate the exact tax system of Hong Kong, the most prosperous place on earth, where individual taxpayers get the same 15 percent tax rate as corporations.
And instead of eliminating the estate tax, I'd have chosen to dramatically cut capital gains taxes. Hong Kong's capital gains tax is zero. Guess what the capital gains tax rate is in China (our No. 1 economic competitor)? Zero.
Why is this important? Because the average American doesn't pay estate taxes, so they don't care. But everyone will sell a home, sell a stock or sell a small business in their lifetime. Cutting those taxes is the greatest thing you can do for anyone who ever risks a dime on any business or investment. So that's how I'd tweak Trump's plan.
But never let the "perfect" get in the way of the good. Trump's plan is damn good. It is damn Reagan-esque. Trump's plan is RELENTLESS- but this time it's relentless for the people that work, achieve, produce and contribute.
Trump's plan will truly make America great again! Bravo Donald.
Wayne Allyn Root is known as "the Capitalist Evangelist." Wayne's latest book is: "The Power of RELENTLESS!" Wayne is a former Libertarian Vice Presidential nominee, bestselling author, international business speaker, serial entrepreneur and conservative media personality – appearing on over 7,000 interviews in the past eight years. Wayne's web site: ROOTforAmerica.com.
–
TheBlaze contributor channel supports an open discourse on a range of views. The opinions expressed in this channel are solely those of each individual author.