OAKLAND, Calif. (AP/The Blaze) — Hundreds of activists across the U.S. joined the worldwide May Day protests on Tuesday, with Occupy Wall Street members in several cities leading demonstrations against major financial institutions.
In Oakland, Calif., stinging gas sent protesters fleeing a downtown intersection where they were demonstrating. It was unclear whether police fired the gas, but officers took four people into custody.
Crowds had blocked intersections in the city and tried to force businesses to shut down for not observing calls for a "general strike." The city has been the scene of some of the fiercest clashes between police and Occupy protesters in recent months.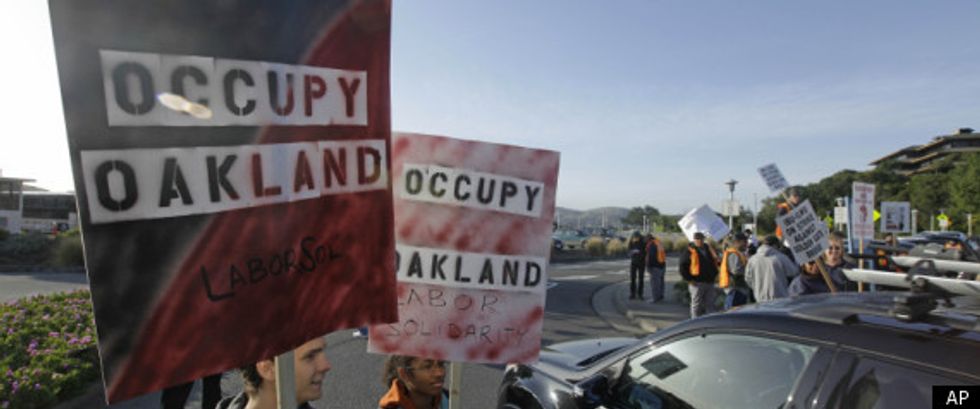 In New York, police in riot gear lined the front of a Bank of America, facing several dozen Occupy activists marching behind barricades. "Bank of America. Bad for America!" they chanted. About 50 demonstrators in Chicago rallied outside another of the bank's branches.
More arrests followed as protesters, fresh from a day of "music" and anti-American, anti-Wall Street vitriol screeched from microphones at Union Square began their ponderous march on Wall Street. Unfortunately for them, New York's finest were out in force, and as of 5:30 several protesters were already in hand:
About 30 protesters have been arrested on Tuesday around Manhattan in a day of May Day demonstrations organized by Occupy Wall Street, the police said.

All the arrests were on disorderly conduct charges, mostly of people who were blocking traffic or resisting arrest, said Paul J. Browne, the head police spokesman. Protesters were arrested near Bryant Park in Midtown, on the Williamsburg Bridge, at a park on the Lower East Side and near Washington Square Park as marchers kept on the move and repeatedly converged and split off.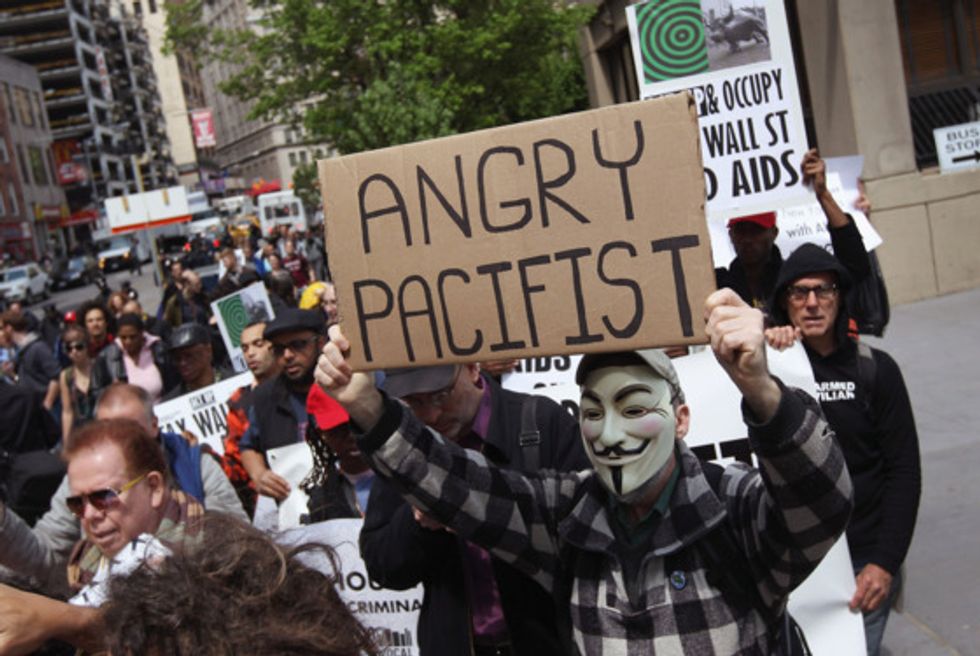 Across the world, protests drew tens of thousands of demonstrators into the streets from the Philippines to Spain. They demanded everything from wage increases to an end to austerity measures.
Tuesday's U.S. protests were the most visible organizing effort by anti-Wall Street groups since Occupy encampments were dismantled last fall. May Day protests have in recent years focused on immigrant rights.
From New York to San Francisco, organizers of the various demonstrations, strikes and acts of civil disobedience said they were not too concerned about muddling their messages. They noted that the movements have similar goals: jobs, fair wages and equality.
Organizers of Chicago's rally said they welcomed participation from the Occupy groups. "I definitely see it as an enrichment of it," Orlando Sepulveda said. "It's great."
In Los Angeles, at least a half a dozen rallies were planned. A rally was also planned in Minneapolis.
In Atlanta, about 100 people rallied outside the state Capitol, where a law targeting illegal immigration was passed last year. They called for an end to local-federal partnerships to enforce immigration law.
The May Day protest was significantly smaller than last year's, which drew about 1,000 people. Organizers said turnout last year was greater, in part, because the rally was on a Sunday, rather than during the work week.
In the San Francisco Bay area, service on the Golden Gate Ferry was shut down as ferry workers went on strike. They have been in contract negotiations for a year in a dispute over health care coverage.
A coalition of bridge and bus workers said they would honor a picket line of at least 50 workers outside the ferry terminal. They were joined by some Occupy protesters.
Organizers backed away from earlier calls to block the Golden Gate Bridge, but scores of police — some carrying helmets and batons — lined the span during the morning rush hour. Some protesters with signs stood nearby, but did not disrupt traffic.
Across the Bay in Oakland, a group of workers, patrons and property owners clashed with a few dozen protesters who stormed a downtown diner in an attempt to shut down the restaurant.
The two sides scuffled briefly before police moved in, and the restaurant stayed open. Demonstrators were upset that the diner had not closed its doors.
In New York, where the first Occupy camp was set up and where large protests attracted some of the earliest attention — and mass arrests — to the movement, protesters gathered at Bryant Park in Manhattan.
They prepared to march to financial institutions, including Chase and Citibank. The crowd grew to several hundred with a drum-and-brass live band as a soundtrack.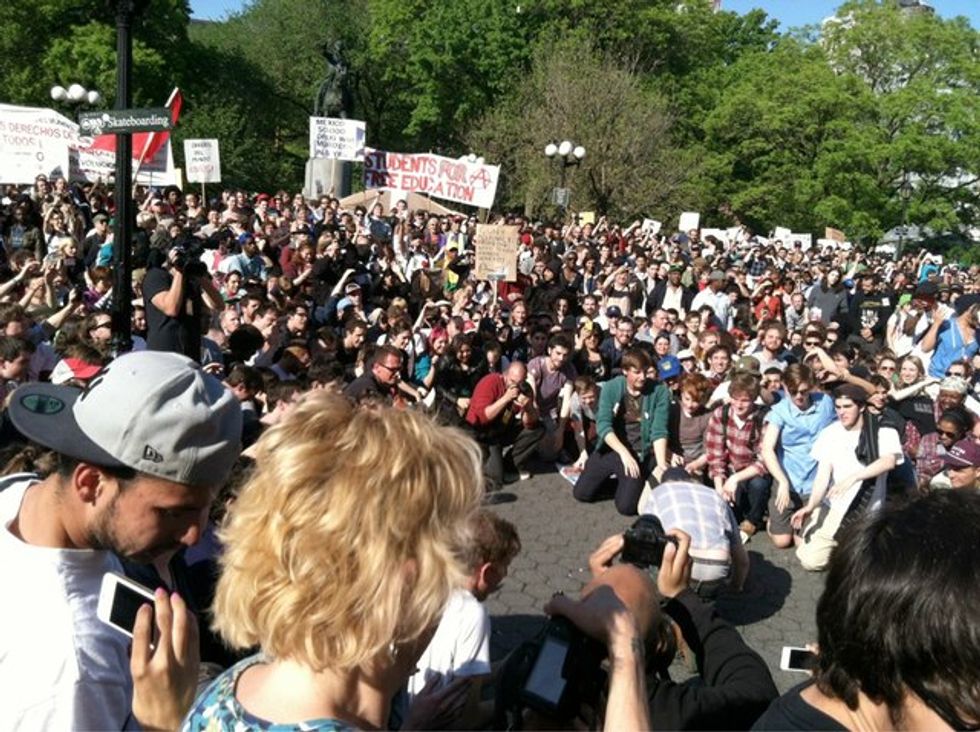 John Connors, who said he was a financial analyst, took the day off, as well as his shirt, revealing a chest with the words, "Black Hole of Finance," painted on it.
Threatening letters containing a white powder that appeared to be corn starch were sent to some institutions.
Three letters were received Tuesday, two at News Corp. headquarters and addressed to the Wall Street Journal and Fox News, and one to Citigroup. The message in the letters said: "Happy May Day."
Seven letters were received Monday at various banks. One was sent to New York City Mayor Michael Bloomberg.
Occupy activists had said they planned to bring business to a standstill, but the crowds protesting in the rain were modest.
The Occupy movement in New York has relied on demonstrations and marches around the city since Nov. 15, when police ousted hundreds of protesters from their base in Zuccotti Park, where they had camped since Sept. 17.
Paul Browne, the police department's chief spokesman, said recently that the department was "experienced at accommodating lawful protests and responding appropriately to anyone who engages in unlawful activity.
"And we're prepared to do both," he added.
This is a breaking news story. Updates will be added.