Just how far down do you think the deepest caves on the planet go? As far down as the Washington Monument is tall? How about the Eiffel Tower?
A project dubbed "The Call of the Abyss" took explorers to the deepest cave on Earth, and they ventured down to a breathtaking depth of nearly 2,200 meters — around 1.3 miles.
Image via Anatolia Media Group
The depth of the cave, named "Krubera-Varonya," is fascinating, but the winding length of the entire cave system also boggles the mind. Located in the Arabika Massif, of the Western Caucasus in Abkhazia, Georgia, it extends for 13.432 kilometers, or roughly 8.3 miles.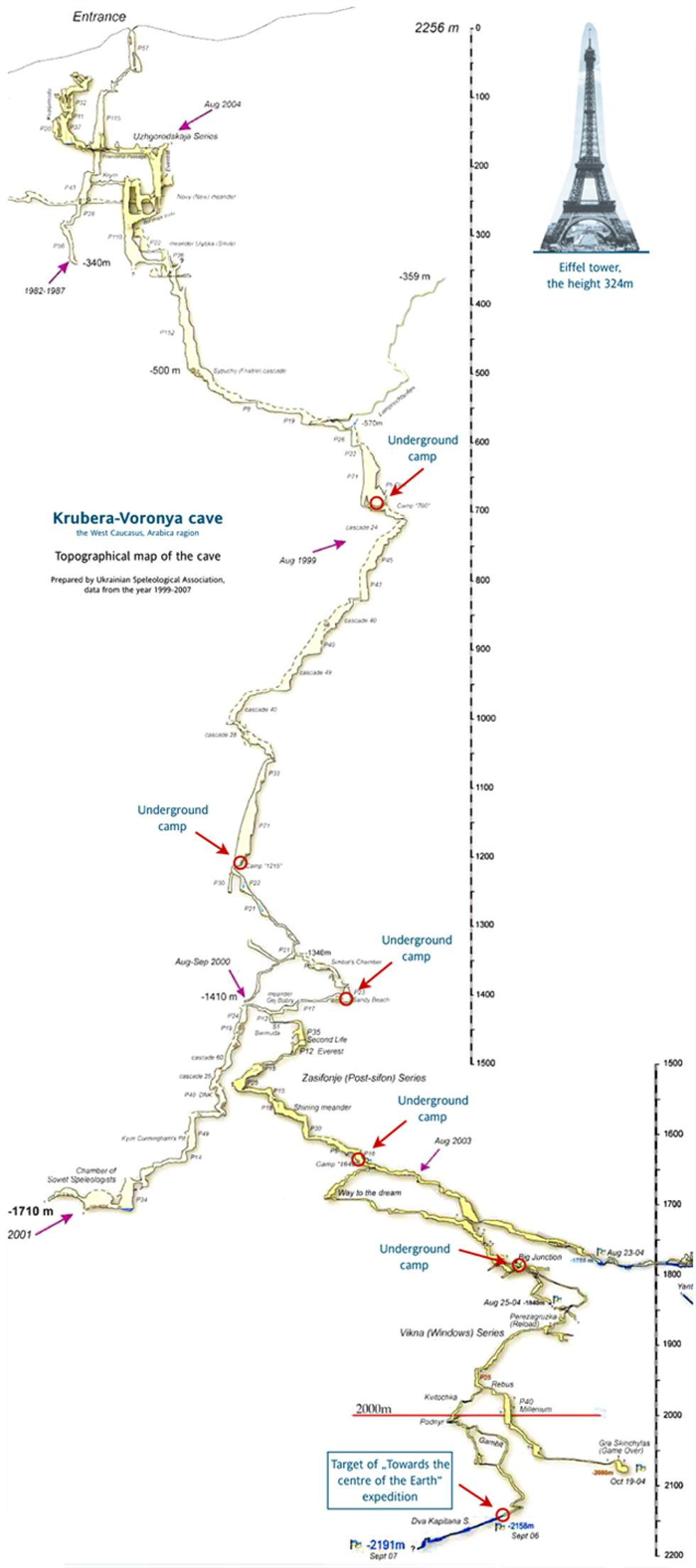 Sploid shared the map of Krubera-Varonya that the cave-diving spaelologists created for a 2009 expedition. (Image via Sploid)
To date, Krubera-Varonya is the only cave known on the planet that plunges past 2,000 meters in depth.
The vast cave is the hyphenated name for the first Russian explorer to find the cavernous path, and for the bats that have been found within.
Image via Anatolia Media Group
Image via Anatolia Media Group
Image via Anatolia Media Group
Lest you think the cave merely offers some beautiful, if not fear-of-heights-inducing photos, the explorers who have traversed this cave have had to endure some seriously frightening moments. Cave explorers from the Hebrew University of Jerusalem experienced a flash underground flood, forcing them to remain isolated from any contacts for about 30 hours.
Or can you imagine being the first explorer to volunteer for the trip across the "terminal sump" — the spot in a cave where the only way to keep going is to swim underwater with nothing but cave walls all around until you find air again.
It looks a little something like this when you finally surface again. No. Thank. You.
Image via Dudley Caving Club
(H/T: Sploid)
—
Follow Elizabeth Kreft (@elizabethakreft) on Twitter