Things began in a decidedly mundane manner: A basketball player from Turkey squad Banvit shot a free throw during a game with host Buducnost Podgorica of Montenegro during the EuroCup Wednesday.
But things got interesting when a fan ran onto the court...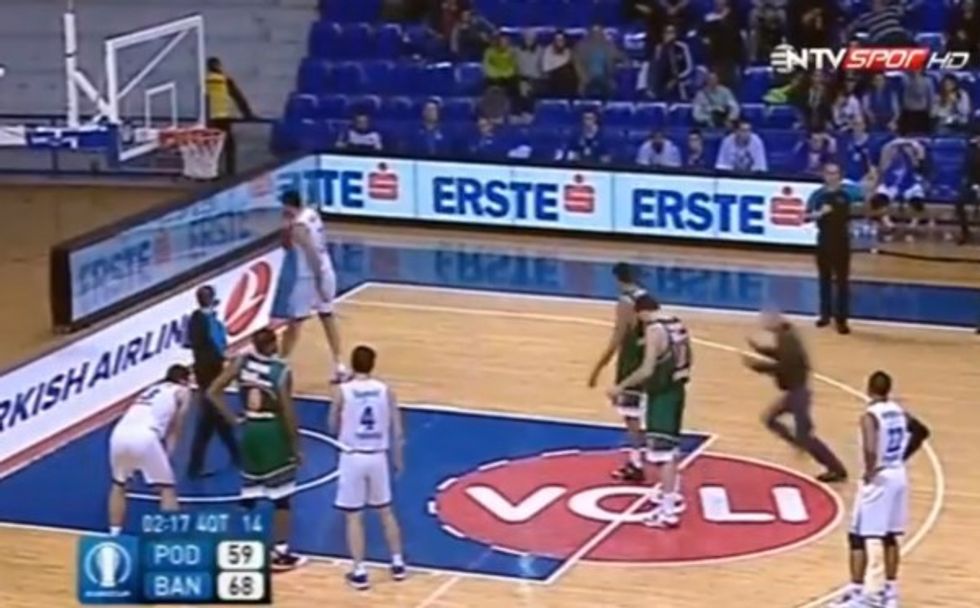 Image source: YouTube
...and shoved visiting Banvit player Sammy Mejia from behind, the New York Post reported.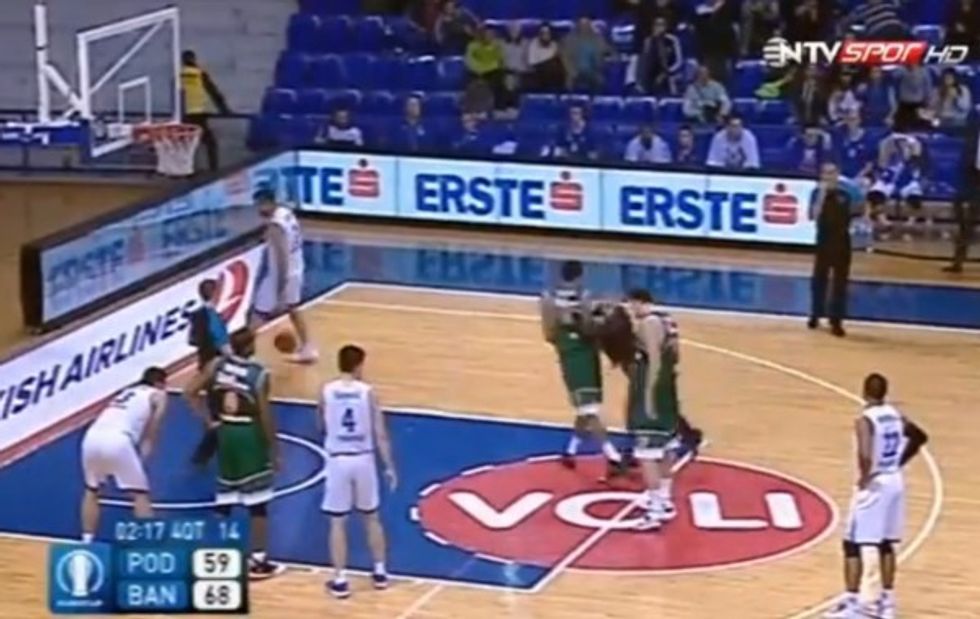 Image source: YouTube
What you might expect happened next: Banvit player E.J. Rowland sprinted toward the action from further back on the hardwood and cocked his right arm: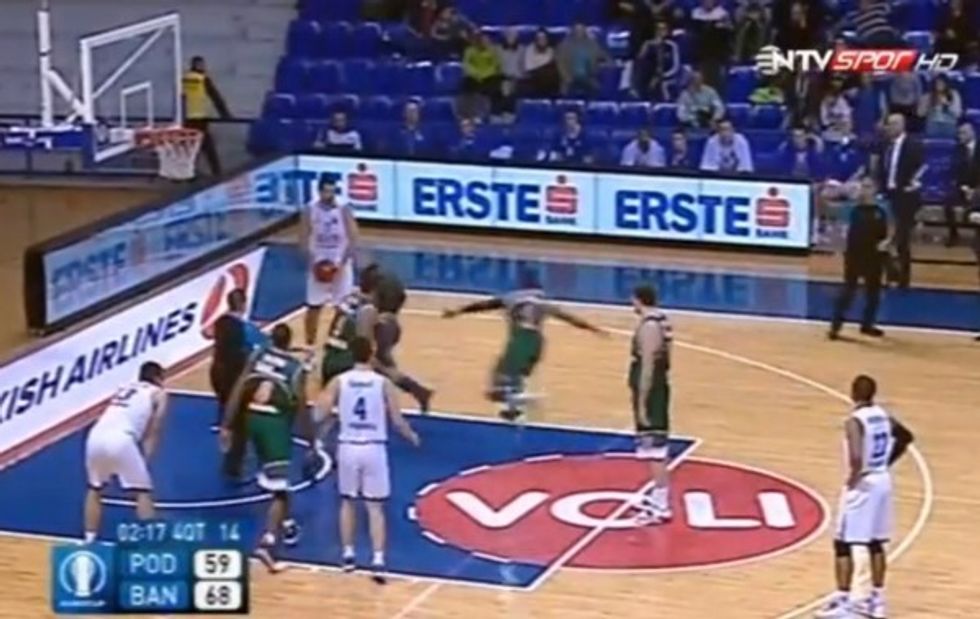 Image source: YouTube
Rowland then proceeded to smash it into the trespasser's back, knocking him face-first into an open area behind the backboard: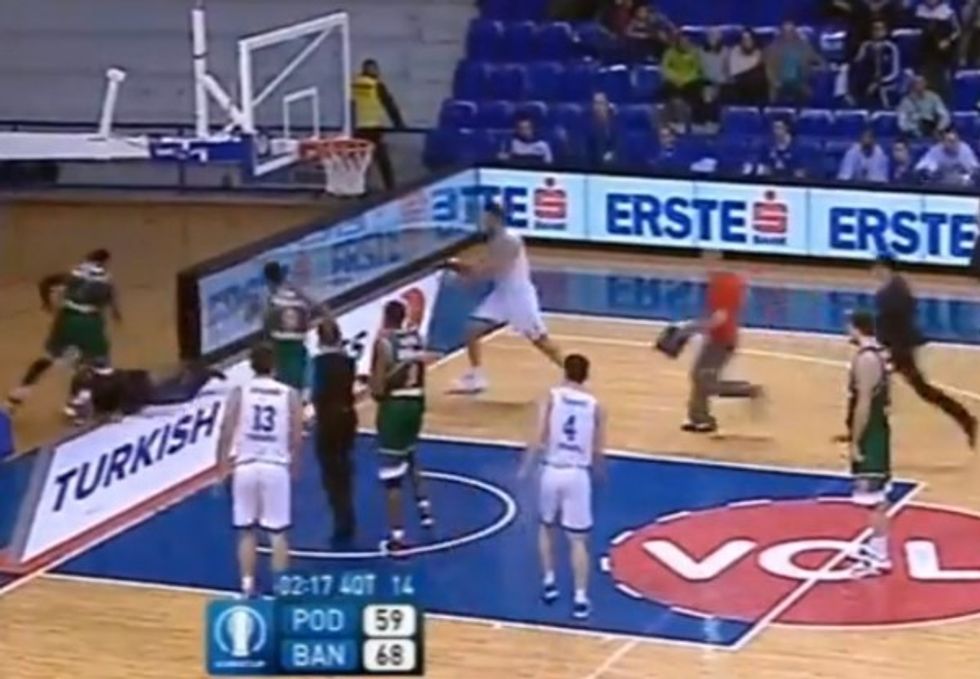 Image source: YouTube
For whatever reason players from Buducnost immediately got in Rowland's face — were they actually siding with the home-team fan who ran onto the court?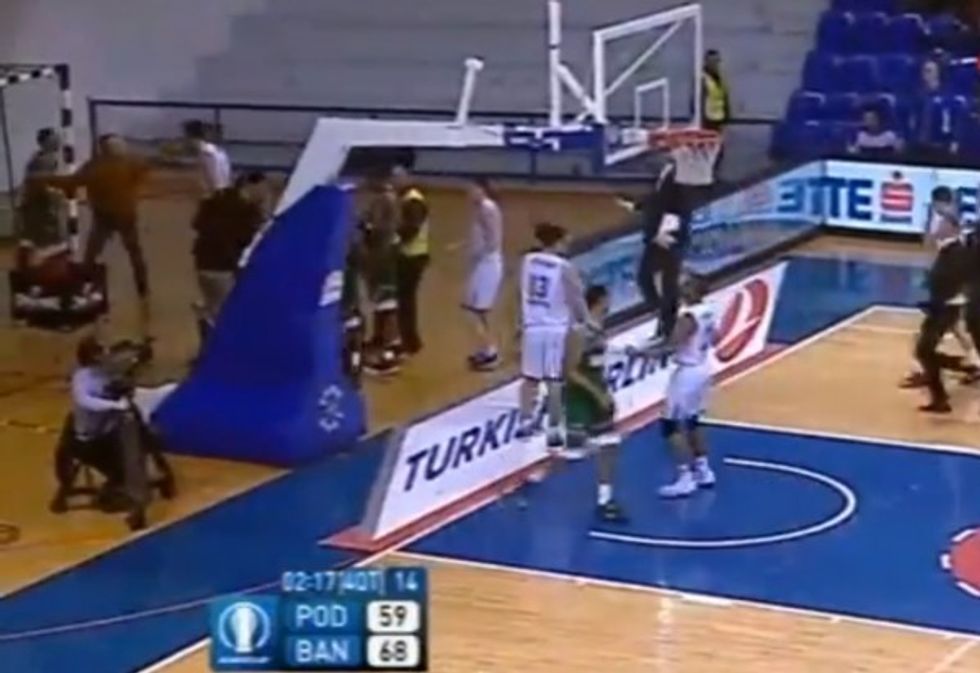 Image source: YouTube
It became a mini melee from there with coaches, officials and players riding a human wave of pushing and shoving around the back of the court until order was restored.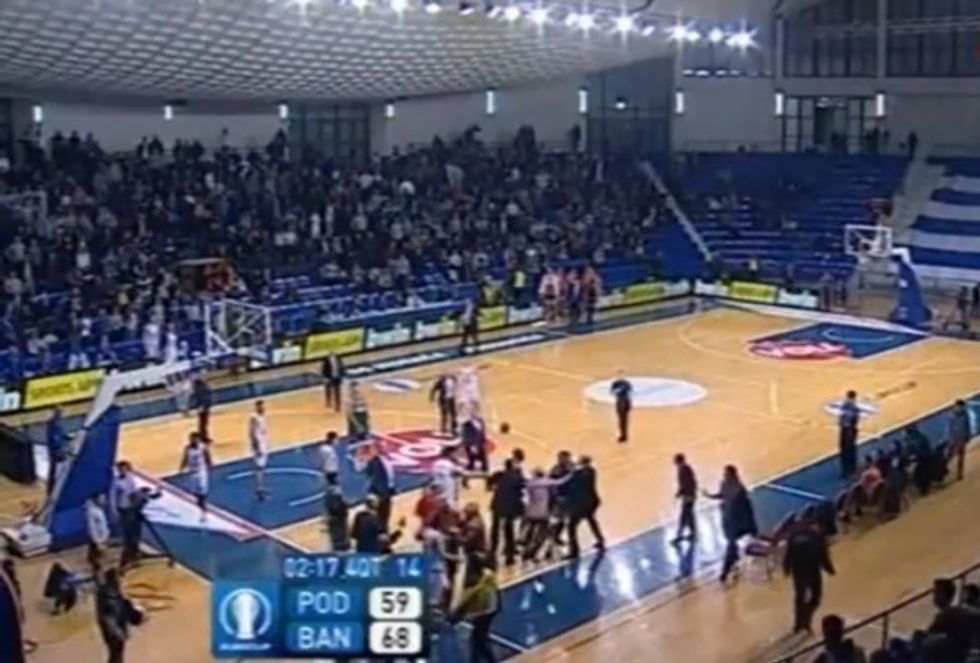 Image source: YouTube
Rowland — a California native and former point guard at St. Mary's — explained his motivation on an Instagram post, noting the danger he and his teammates sometimes face when security isn't up to snuff:
First of all, I'd like to say that I don't condone violence on or off the basketball court but we are men before we are athletes. We travel to foreign countries in the name of sport while depending on the host organizations to provide proper protection. A lot of these gyms have less security than necessary to handle the amount of fans so we are vulnerable if someone decides to attack us. We are on the road and in unfamiliar territory while dangerously outnumbered. I spend more time with my teammates than I do my natural family in America so we build bonds and become close. I don't believe any of my teammates would let something happen to another if he had the opportunity to stop it. We all hear stories about teams being attacked by "fans" and having to protect themselves. It should be known that the "fan" blindsided my roommate/team captain Keith Simmons before he got to Sammy Mejia. Keith has degenerative discs in his back. He constantly gets therapy just so he can play in the games. The attacker could've ended his career or worse if he hit him the wrong way. How are we (the players) penalized for protecting ourselves? A man runs on the court and assaults two of my teammates and we are supposed to do nothing? The "fan" could've had a weapon and seriously injured us or worse. I apologize that the event happened but not for my actions in response to the "fan." These occurrences can be stopped before they even happen. This should show the necessity of proper security. Events like this ruin the game.
Check it out:
(H/T: Deadspin)