He sells french fries in a Florida mall. But that's not why you know him, nor is it why Al Qaeda reportedly has him sitting at the number two spot on their hit list.
Rev. Terry Jones, the provocative pastor who became famous for burning the Koran, is once again attracting media attention — this time, following last week's terror attacks in Paris.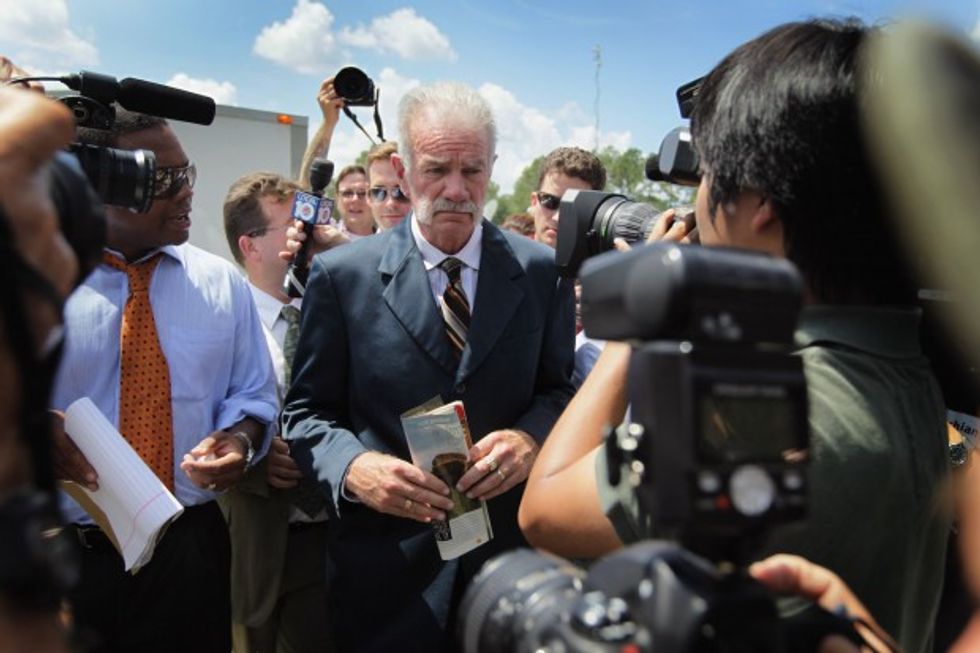 Dove World Outreach Center Pastor Terry Jones is surrounded by the media September 10, 2010 in Gainesville, Florida. (Joe Raedle/Getty Images)
The pastor previously incited international protests when he threatened to burn a Koran on September 11, 2010. He ultimately cancelled his plans, but later went through with the act. Jones also has a record of speaking out vocally against President Barack Obama, including reportedly hanging effigies of him.
According to Vice News, which tracked Jones down to a french fry restaurant he owns in a Bradenton food court, the controversial Florida pastor has received countless death threats as a consequence. He also had a $2.2 million bounty placed on his head by Al Qaeda affiliated groups in 2011.
But he's not hiding in the wake of the Charlie Hedbo attack in France.
"I will continue to speak out against Islam or even if you want to define it as radical Islam," Jones told the Bradenton Herald. "I'm not putting everyone in the same box, but Islam itself is a very oppressive religion."
Remember Quran-burning pastor Terry Jones? He now makes French Fries in a Florida food court http://t.co/S8wZKdl8xt pic.twitter.com/j9CFKr7agA

— Muhammad Lila (@MuhammadLila) January 12, 2015
However, that's not to say the Florida pastor isn't taking any precautions — especially since his french fry stand is located in a very public area.
"I wouldn't say we are scared, but we definitely are very cautious," he told Vice News. "I am always armed—always."
"And I'm very careful when I travel, when I go to the parking lot at night, and when I go home at night. I think al Qaeda and ISIS, well, it's a proven fact that they mean business," he continued. "And it looks as though they are after those people on the hit list."
Yet, he acknowledges that despite all his safety precautions, there is a possibility he could find himself in harm's way.
"I think it's a possibility, sure. I think they could come to my house. You saw what they did there in Paris," he told Vice News. "They just went about shooting innocent people in the street, and then of course when they went into that office. So of course, they can be expected to do everything."
"People know how to get a hold of us," he added in the interview. "They know where we're at."
When approached by the Bradenton Herald, mall manager Robert Tackett said he was "shocked" by Jones' background, noting his family appeared to be "very nice people." Nevertheless, despite the revelations, the mall manager has no problem with the pastor running his business.
"People have an opportunity to do business in America because we are a free country," Tackett told the newspaper. "He has not caused any problems or concerns. In fact, this is the first time I've heard any of this."
(H/T: Washington Post)
—
Follow Oliver Darcy (@oliverdarcy) on Twitter