In the span of four days, President Barack Obama managed twice to feed his image of appearing disconnected with the world.
After literally driving past the embattled Phoenix Veterans Affairs hospital on Thursday, then skipping a massive rally in France to honor the victims of terror on Sunday, Obama added more fuel to his image as an aloof leader, said Gary Rose, chairman of the political science department at Sacred Heart University.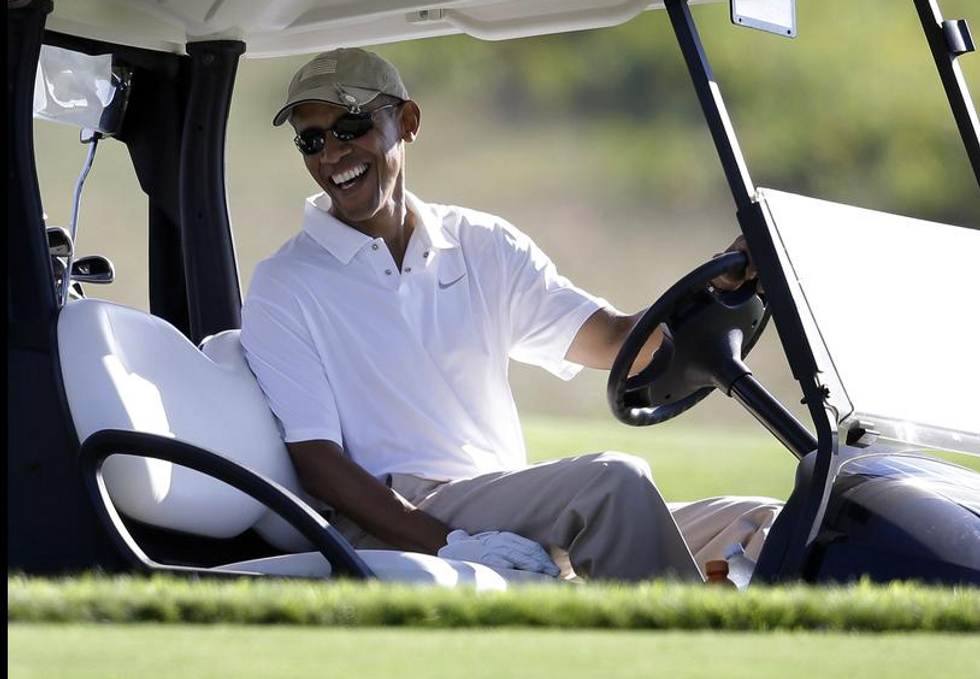 This Aug. 20, 2014 file photo shows President Barack Obama smiling at the wheel of a golf cart while golfing at Vineyard Golf Club in Edgartown, Mass., on the island of Martha's Vineyard. Obama took heavy criticism for his golfing that day just minutes after denouncing the militants who had beheaded American journalist James Foley.  (AP Photo/Steven Senne, File)
"Two missed opportunities in a matter of days reinforces the perception of an aloof president disconnected with the world," Rose told TheBlaze. "He seems more interested in the State of the Union, raising political funds and exploring political points than being the leader of the free world. His priorities don't seems to be connected with his duties."
Rose said optics aren't just public relations — they're an important part of presidential leadership.
"It does matter," Rose said. "Obama's second term is supposed to be a legacy term. Optics are very important to how that story is written."
Here are six optics blunders the president has committed in the last six months:
1. Skipping the Paris Rally
More than 3.7 million people marched in Sunday's anti-terrorism rally in Paris, including more than 50 world leaders. U.S. Ambassador to France Jane Hartley was the highest-ranking U.S. official among leaders from Britain, Germany, Italy and Spain. Although Attorney General Eric Holder was in Paris for an anti-terrorism conference, he returned to Washington without attending the rally.
"I'm not surprised that Obama did not attend, but I'm surprised we at least didn't have a high-ranking administration official there," Rose said. "The optics are not at all that pleasant or appealing for the U.S. in something as monumental as this."
White House spokesman Josh Earnest admitted Monday that the administration should have sent someone more high-profile to the march.
2. The VA Drive-By
On Thursday, Obama's motorcade drove past the Phoenix VA hospital where the VA wait-list scandal began last year. The move prompted a barrage of criticism from Republicans who accused the president of ignoring the troubled hospital for a photo op and speech about housing.
"President Obama needs a public relations specialist," Rose said. "For him not to stop by a VA hospital illustrates was another missed opportunity."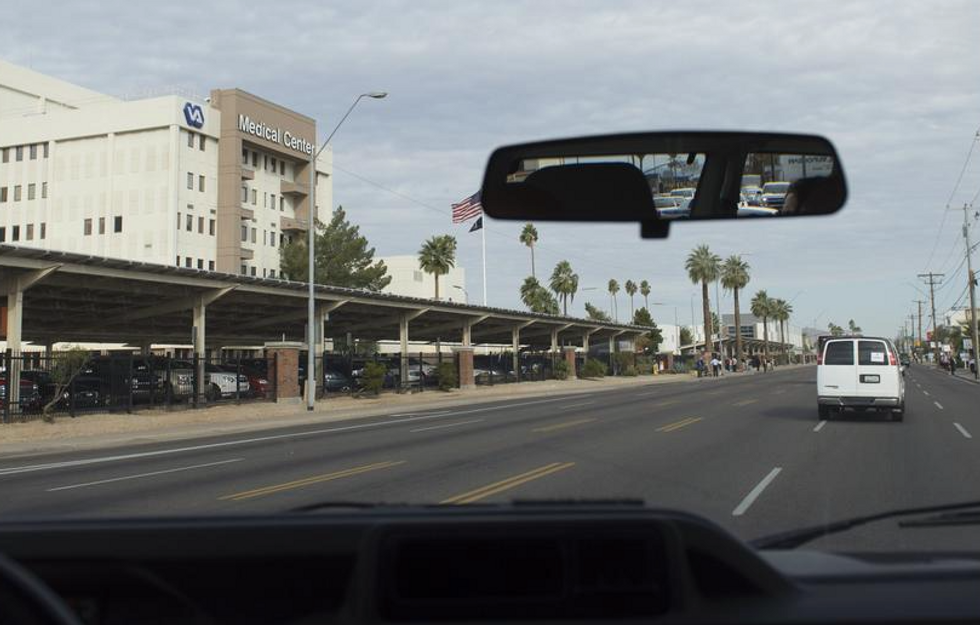 President Barack Obama's motorcade drives past the Phoenix Veterans Affairs hospital, Jan. 8, 2015. The Phoenix VA was at the center of scandal last year regarding the health care of U.S. military veterans. (AFP/Saul Loeb)
3. Golfing After James Foley's Death
Obama had strong words after American photojournalist James Foley was beheaded in August by a member of the Islamic State, but that was overshadowed when Obama went golfing the same day, becoming the dominant news photo the next day.
4. Fundraising after Malaysian Jet Crash
After the Malaysia Airlines jet went down over Ukraine, killing nearly 300 people, it didn't stop the president from attending a fundraising event for the Democratic National Committee in New York that evening.
5. Moon Landing Anniversary
What could have been a welcome bit of positive news and a non-controversial event for the White House in July became a transparency issue. On July 22, Obama met with the surviving crew members of Appollo 11 and Neil Armstrong's widow, Carol, to mark the 45th anniversary of the moon landing. But far from making it a large event, Obama refused to allow reporters and TV cameras into the meeting. Only still photographers were allowed to see the event, prompting the White House Correspondents Association to lodge a formal complaint.
6. Golf and Ebola
Obama achieved a milestone in what many critics say has been a characteristic of his presidency: he played his 200th game of golf in October — the same day a second American was diagnosed with Ebola virus.