A Papa John's pizza delivery driver in Georgia was just doing her job Sunday when a man she thought ordered a pizza suddenly pulled out a gun and held it to her head.
She defended herself with her own firearm, but now fears she may lose her job because of it.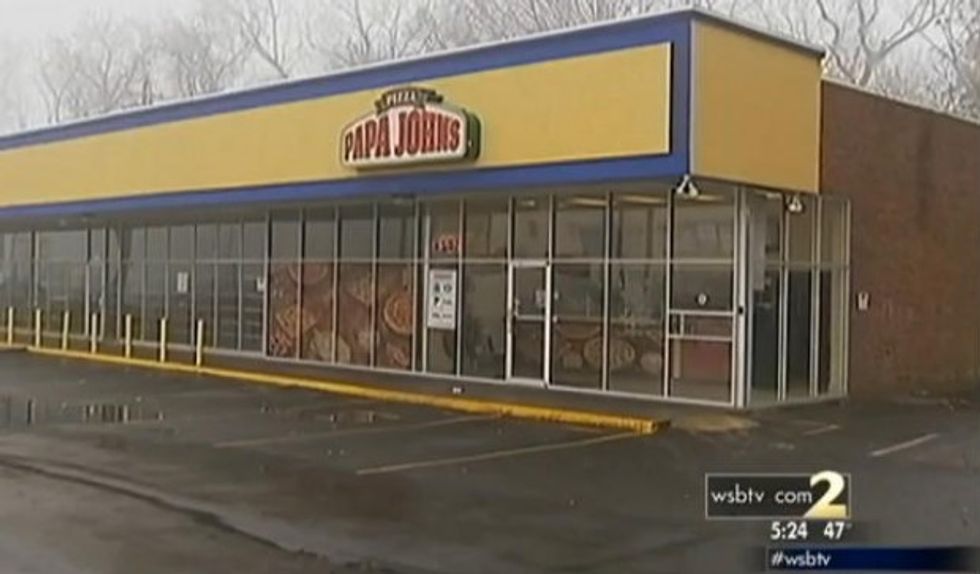 The Papa John's Pizza where the driver works is seen in DeKalb County, Georgia. (Image source: WSB-TV)
"She arrived at the location and a male began approaching the vehicle she thought was there to pick up the pizza," DeKalb County Police Department Capt. Stephen Fore told WSB-TV. "When he got to her, he produced a handgun and forced her out of the vehicle and onto the ground."
Fore said the driver had her own gun and while she was on the ground, she was able to retrieve it and shoot the suspect. The suspect, identified as Donquaz Stevenson, was later found in a neighbor's yard with a gunshot wound to his face.
Stevenson was arrested and charged with armed robbery and was being treated for gunshot wounds at Grady Memorial Hospital in Atlanta. A second suspect, who managed to jump into the delivery driver's car and get away, was still at large on Monday, detectives told WSB-TV.
"She felt she had no other choice," Fore said.
But even though her gun may have saved her life, the driver is worried Papa John's could end up firing the driver for carrying a gun at work, WSB reported. Papa John's did not immediately respond to questions from TheBlaze on Tuesday.
(H/T: WSB-TV)
–
Follow Jon Street (@JonStreet) on Twitter