As though battling raging desert wildfires isn't daunting enough, a South San Jose, California, firefighter reportedly discovered a hidden booby trap while responding to a call at an abandoned homeless encampment Sunday.
The trap consisted of a 2-feet-by-2-feet hole with a burlap sack and dirt hanging overhead and wooden spikes covering the floor of the hole, the Associated Press reported.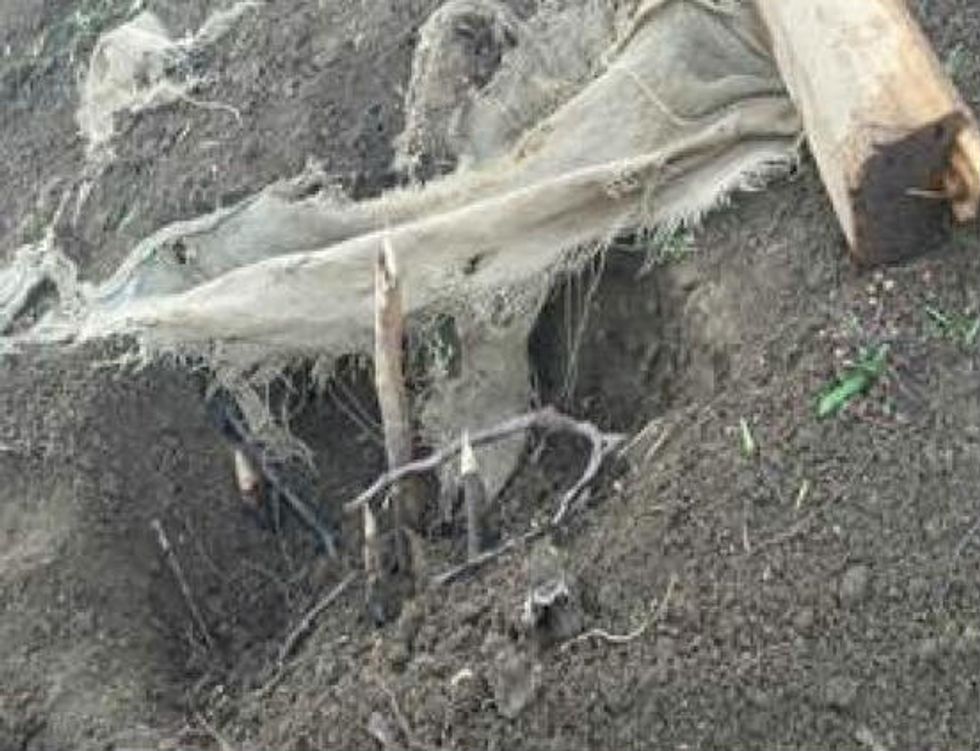 A South San Jose firefighter falls into a booby trap while responding to a call Sunday. (Image source: San Jose Fire Department via the San Francisco Chronicle)
"Our guess is it had been there for sometime. Maybe as a means of defense of on encampment to another,"  San Jose Fire Capt. Mike Van Elgort told KNBC-TV.
"Johnny," a homeless resident near the abandoned encampment, admitted as much: "It's a trap, they fall down. You hurt them before they hurt you."
But authorities told the Associated Press the trap was not designed to affect the first responders. Elgort suggest that it was rather intended to help fend off would-be intruders.
Sean Kaldor, vice president of the local firefighters union, said that the original purpose of the trap isn't really important.
"With a passive entrapment like that, it's a danger to anyone going down there, whether it's firefighters or homeless people or outreach workers," Kaldor told the San Francisco Chronicle.
The South San Jose firefighter who fell into the trap was not hurt and no first responders were injured in the fire. Police are now investigating the incident but no arrests have been made, according to the AP.
"It's a scary thing for us. Our jobs are already dangerous, the last thing we need is people trying to make them more so," Kaldor said.
(H/T: San Francisco Chronicle)
–
Follow Jon Street (@JonStreet) on Twitter