TV host and comedian Ellen DeGeneres hit back at a recent column written by Christian author and commentator Larry Tomczak in which he accused her of "celebrating her lesbianism."
In an op-ed published on the Christian Post titled, "Are You Aware of the Avalanche of Gay Programming Assaulting Your Home?" Tomczak detailed the many ways in which he believes that Hollywood is pushing pro-gay "propaganda."
"The indoctrination and propaganda coming from those advocating a gay lifestyle in our country, classrooms and culture are increasing," he wrote. "All of us need to take note and take action to guard those we love."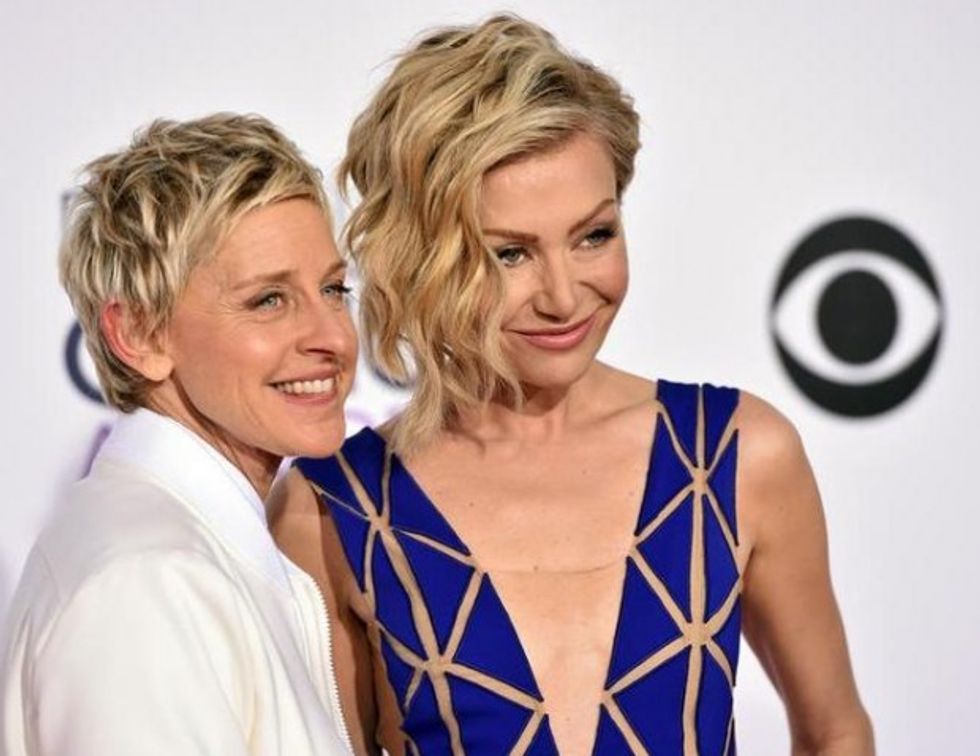 Ellen DeGeneres, left, and Portia de Rossi arrive at the People's Choice Awards at the Nokia Theatre on Wednesday, Jan. 7, 2015, in Los Angeles. (Photo by John Shearer/Invision/AP)
Then, he penned bullet points under a list titled, "Here's how Hollywood is promoting homosexuality right now," to try and prove his point, including one about DeGeneres.
It read, '"Ellen DeGeneres' celebrates her lesbianism and 'marriage' in between appearances of guests like Taylor Swift to attract young girls."
And it was that short line of text that led DeGeneres to take exception, pushing back against his claims — something she said she rarely does on the air when detractors take aim at her.
"If you ask me, Larry is watching a lot of gay TV," she said.
From there, she took aim at Tomczak's use of quotes around the word "marriage," affirming that she believes she's simply married — with no quotes — like anyone else.
"I don't even know what it means to celebrate my lesbianism. I mean. Well, I guess I do. Let's see," DeGeneres quipped before pulling a party popper out of her pocket and deploying it. "Like that! Yay, I'm gay!"
She continued, claiming that she has no agenda, "Larry the only way I'm trying to influence people is to be more kind and compassionate with one another. That is the message I'm sending out."
Watch the video below:
(H/T: USA Today)