Glenn Beck choked back emotion on his radio program Monday as he discussed the new movie "American Sniper." The film, which stars Bradley Cooper and was directed by Clint Eastwood, is about the life of legendary sniper Chris Kyle, who was killed by a disturbed veteran he was helping in 2013.
"Last night, about 10 o'clock, I stood in an alleyway behind a movie theater with my second oldest daughter, Hannah. I held her in my arms as she sobbed," Beck began. "My daughter had held it together just long enough to make it away from the crowd, and more importantly, away from a hero's wife, [Taya Kyle]."
Beck praised "American Sniper" in the highest of terms, saying that by the end of it, "you don't see Bradley Cooper; you only see Chris Kyle."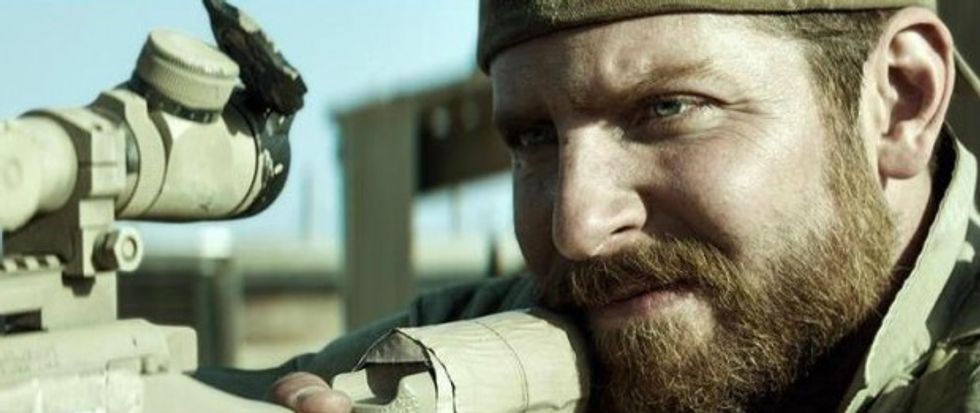 In this image released by Warner Bros. Pictures, Bradley Cooper appears in a scene from "American Sniper." (AP Photo/Warner Bros. Pictures)
"As I sat for two hours in this darkened theater, occasionally hearing the sob of a hero's wife, I questioned everything," Beck said. "This was less of a movie and more of an experience for me. Who are these men ... that we send out in our name? How could we possibly think that they can come home and lead a normal life?"
Beck said there is a scene in the movie where, as the American soldiers are going to get the "butcher of Baghdad," who had torture chambers for his own people, the people begin jeering at the American soldiers.
"The Americans go in to try to kill him and stop this horror show from happening, and the people on the street turn on the American soldiers," Beck said. "I'm less than a man than any American soldier because I watched in this movie theater, my visceral reaction was 'shoot them.' ...Thank God I'm not an American soldier."
Beck was overwhelmed with questions when he left the movie.
"Now that our politicians have squandered the blood and the treasure, may I be so bold to ask: Was it worth it?" he asked. "How many brave people in the Middle East have helped us, that now we just left for dead to face ISIS alone? Why do CNN, MSNBC and the New York Times no longer count the number of dead month by month, by month? Are the dead now under a Democratic president less important than those who died under a Republican president?"
"This generation is being slaughtered. Where is your coverage?" Beck demanded. "How do you sleep at night? And how do our heroes sleep after all that they have seen? ... Does anybody even care?"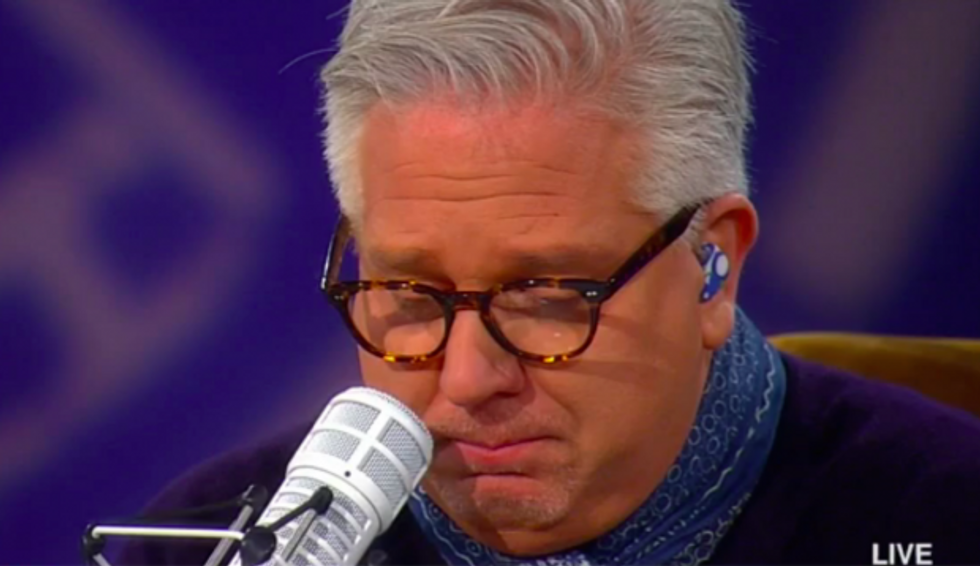 Glenn Beck speaks on his radio program Jan. 15, 2015. (Photo: TheBlaze TV)
Beck also asked himself why he and his family haven't been to the hospitals to serve America's veterans.
"Why has our presidential limousine just raced past the veteran's hospital in Phoenix on the way to another fundraiser?" Beck added. "How is it a whole society is walking around in a trance, not even able to identify good or evil? Not even willing to stand up and say, 'Islamic terrorism. Psychotic Islamic terrorists.'"
As Beck held his daughter as she cried, he thought to himself: "Am I witnessing the end of an empire? How do I strengthen my child to face the hatred and the evil that grows larger and closer every day?"
"How can I write and preserve history so those in the future, my grandchildren or my great-grandchildren will learn from this 100-year suicide?" Beck continued. "[America's involvement in] World War II lasted four years -- four. This one has lasted 14. Why? Are we safer? Are those in the Middle East? ... How does a country and an entire generation recover from this?"
"I have not experienced a movie like American Sniper before. I left with a true feeling of war and a clear look at evil," Beck concluded. "A true feeling of what is important. And the one question I could not answer, which was whispered by my daughter as I held her hand on the truck on the way home was, 'Now what do we do, Daddy? We've seen it. We've watched it. We know. Now what do we do?'
"I didn't answer her, because I didn't know how," Beck said. "I wish I knew. But then again, with everything that I see coming in the world, part of me is glad that I don't know yet."
[mlbvideo content_id=37134691]
[mlbvideo content_id=37134853]
The full episode of The Glenn Beck Program, along with many other live-streaming shows and thousands of hours of on-demand content, is available on just about any digital device. Click here to watch every Glenn Beck episode from the past 30 days for just $1!