For 7-year-old Liam Porter, last Saturday night started out as a regular family trip to the movies.
It ended with the Augusta, Georgia, boy being surprised by group of "Star Wars" stormtroopers who presented the young science fiction fan with a very special gift: a 3-D-printed prosthetic arm.
Liam was born without a complete left arm, but now, he doesn't need to let that hold him back.
Even cooler? The arm was also built to look just like a stormtrooper's.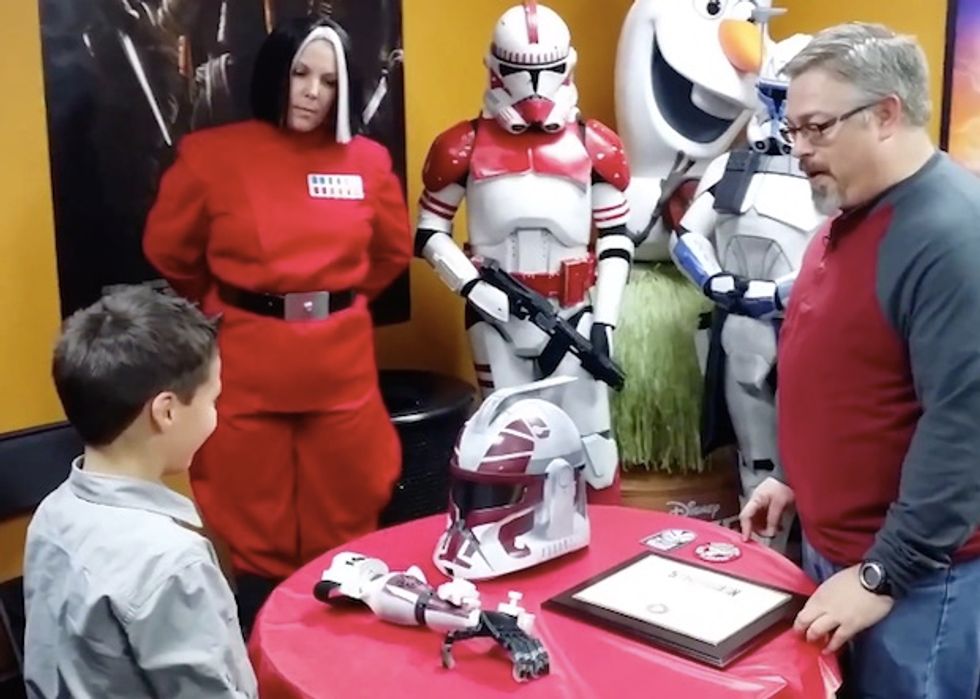 Image: YouTube.com
The Augusta Chronicle was on hand to record the special night. Liam's mom, Ryan, said her usually talkative son could only giggle and say "wow" and "cool" when the arm was unveiled.
It was another Augusta citizen, John Peterson, who made everything possible. He's been using a 3-D printer he built to print inexpensive hands and arms for people in need. Peterson was matched up with Liam by a national organization Enable The Future.
Watch as Liam was escorted to a private room at the theater where he received his new arm — and was able to start using it almost instantly:
One of the fastest-growing areas in the world of 3-D printing is the printing of prosthetic hands and arms. The process is not just a fast one, but also less expensive: traditionally manufactured prosthetic hands can cost thousands of dollars, but thanks to advancements in 3-D printing, a basic prosthetic hand capable of grabbing a cup or picking up a ball or a doll can cost as little as $100.
Jon Schull, founder of Enable the Future, said that in just the last year the organization has made about 700 prosthetic hands.
Watch this compilation of kids from all around the world receiving their funky and functional prosthetic hands and all that they can do for the first time: giving their mom a two-armed hug, throwing a ball and playing fetch with the dog, picking up a doll or rubber duck, or just giving a high-five to a pal.
Content warning: You might want to have a tissue or two close by.
(H/T: Augusta Chronicle)
__
Follow Mike Opelka (@Stuntbrain) on Twitter