Rep. Trey Gowdy (R-S.C.) delivered an excoriating speech on the House floor on Wednesday, slamming President Barack Obama's unilateral executive action and accusing him of flip-flopping on executive authority.
"Madam speaker, President Obama announced one of the largest, extra-constitutional power grabs ever by a chief executive. He declared, unilaterally, that almost five million undocumented aliens will receive deferred action under some newfangled definition of prosecutorial discretion," Gowdy said. "Not only escaping consequences, he has decided to bestow benefits, such as work authorization and immigration benefits."
He continued: "This, Madam Speaker, despite the fact that the very same president, over twenty different times, said he lacked the power to do what he just did. And he repeatedly said he is not a king. Now, Madam Speaker, his position may have changed — after the election I hasten to add — but the Constitution has not."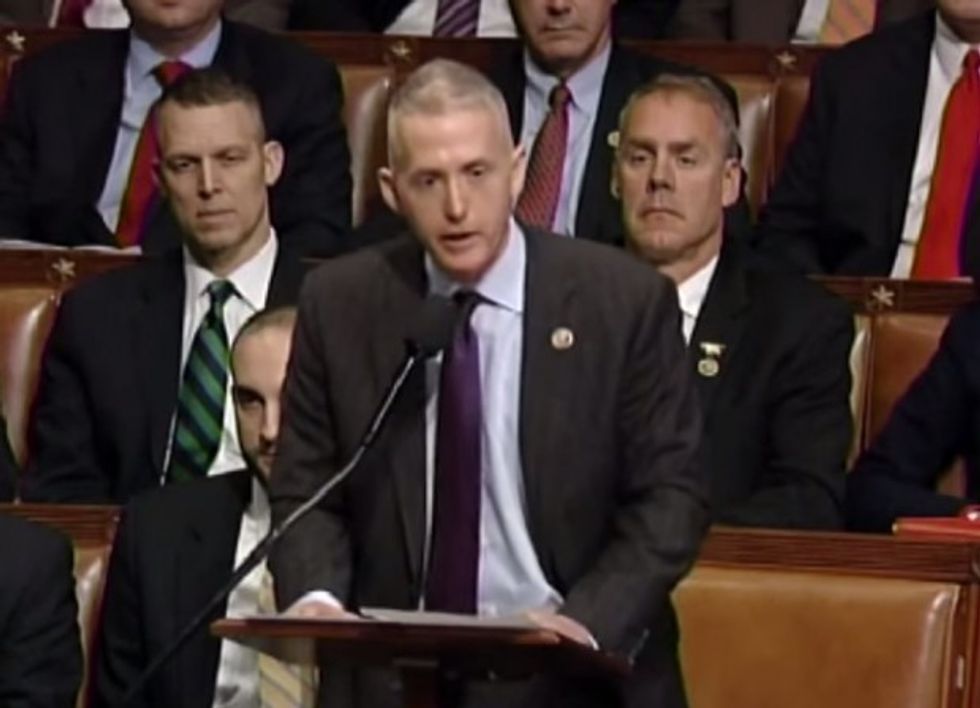 (YouTube)
Gowdy proclaimed that the U.S. Constitution demands that Congress pass the laws and the chief executive is tasked with making sure those laws are enforced.
He went on to warn that Obama's executive overreach will encourage future presidents to test the limits of their authority.
"This is not a fight between Republicans and Democrats. It's not even a fight over immigration reform. This is a fight over whether this branch of government will ever find the courage to stand up for itself," he added, a line that sparked applause from lawmakers.
Order had to be restored briefly to quiet lawmakers who were applauding Gowdy.
Watch Gowdy's full speech and his floor motion below: