His owner said he was a member of their family.
The men who killed him claim he was a threat.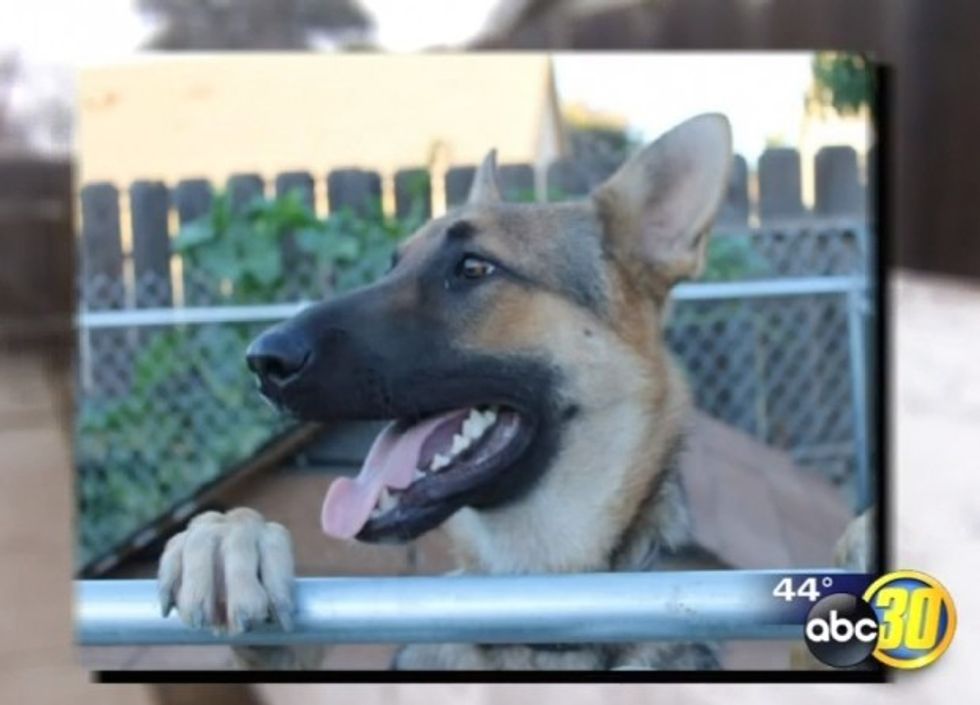 Kuma, a German shepherd, was beaten to death in a Merced, California, backyard. (Image via KFSN-TV)
A family in Merced, California, was devastated Friday evening after their German shepherd, Kuma, got into a neighboring backyard and was bludgeoned to death by a father and son, KFSN-TV reported.
Surveillance footage captured the disturbing incident, showing the men approach the dog with flashlights and baseball bats, pin it against the fence and, as one man steps on the dog, killing it.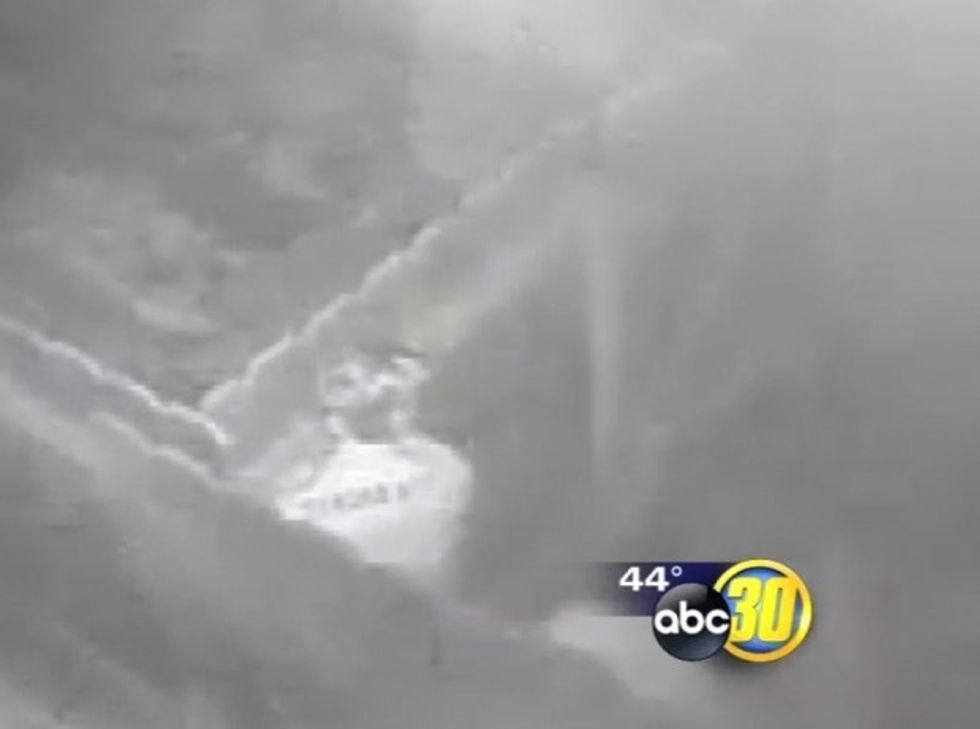 Surveillance footage shows two men beating the dog to death. (Image via KFSN-TV)
The men claim they acted in self-defense, but Kuma's owner, Kimberly Saesee, was shocked at the violence, sobbing:
That could've very well been a person. How do you beat something living? I mean [Kuma] was like family to us. He pretty much was a person to us. How do you beat someone to death?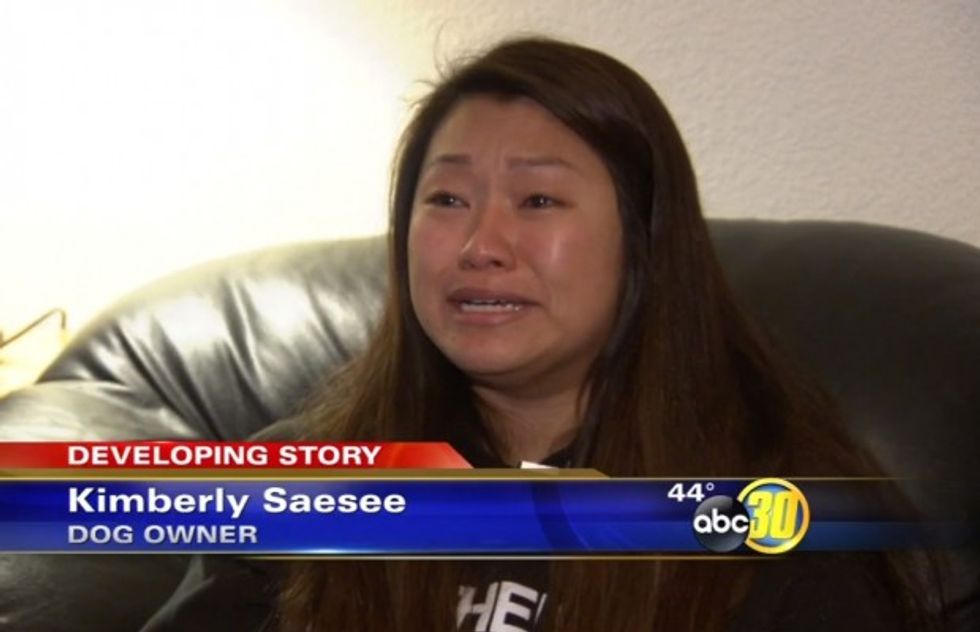 Kuma's owner, Kimberly Saesee. (Image via KFSN-TV)
Sam Clendenin, 24, and Tony Clendenin, 52, didn't see it the way Saesee did.
They claimed that the 200-pound German shepherd attacked the younger Clendenin while he was outside smoking, and the father and son killed the dog because they feared for their lives.
"I wasn't expecting to see a 200-pound dog growling right in my face in the dark in my own backyard," the younger Clendenin told KFSN. "I should feel secure. It's my property."
The son was the one seen standing on top of Kuma in the video, and he said it was a necessary step.
"It was on right then and there," he claimed. "I was on a landmine. I didn't know what to do. If I get my foot off this dog, it's going to charge. I already know that, so you need to help me."
Police didn't buy the Clendenin account, and father and son were arrested for cruelty to animals and conspiracy to commit a crime late Friday.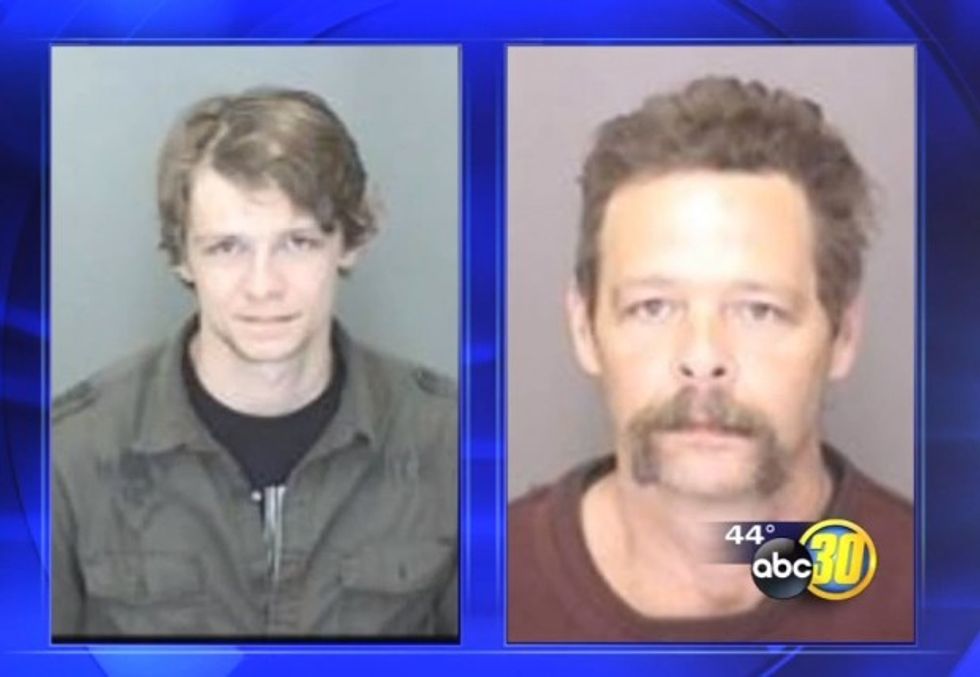 Sam and Tony Clendenin, the men who killed Kuma. They claim it was an act of self-defense. (Image via KFSN-TV)
The pair has since made bail, and Saesee said her family has been so traumatized, they may move and file a restraining order against their neighbors.
See the footage and interview via KFSN here.
—
Follow Zach Noble (@thezachnoble) on Twitter