Glenn Beck recently had a conversation with someone he described as a trusted source in politics, and someone his audience would "really look up to." Beck said he couldn't reveal the man's name, but the man gave him a "bleak point of view" on who the GOP primary will come down to in 2016.
As Beck's source sees it, the "final four standing" will be former Florida Gov. Jeb Bush, former Massachusetts Gov. Mitt Romney, former Arkansas Gov. Mike Huckabee and Kentucky Sen. Rand Paul.
"I don't think this is necessarily accurate, but he made a compelling case," Beck said on his radio program. "This is a guy who is very involved in politics and very involved in the way things operate."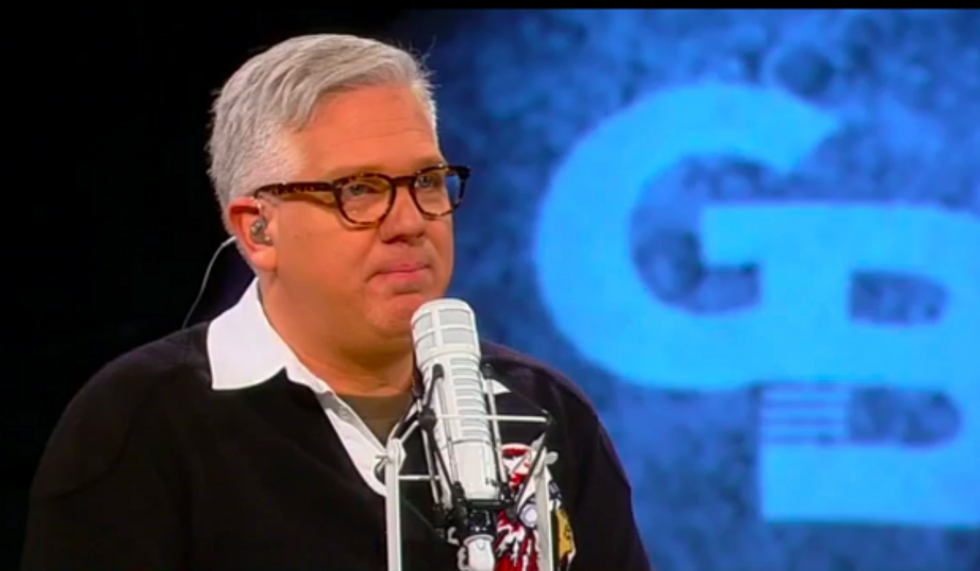 Glenn Beck speaks on his radio program Jan. 22, 2015. (Photo: TheBlaze TV)
Beck's source said that if Romney runs, his fundraising abilities and name recognition will ensure he stays in the race. Bush also has a recognizable name, but the man said "if it comes down to Jeb Bush and Mitt Romney, Mitt Romney will get it because Jeb Bush is so out of step with Common Core, immigration, and everything else."
"He believes that Rand Paul is different enough to be able to make a stand. He'll also be able to raise the money through Silicon Valley and some other people," Beck continued. "However, he believes that Rand Paul -- and I may agree with him on this -- has been confusing at best on his policies. And I talked to a big-time Libertarian as well. ... And I said, 'So, what do you think about Rand Paul?' And he said 'No. ... He's confusing. Is he his dad or is he not his dad? What are his policies? ... I don't know if he's a Libertarian like me or not.'"
Beck's source believes Huckabee will remain in the race because there will be "enough money and enough Christians that get together and say, 'we have to have a good Christian man and Romney is not the man for that.'"
Beck said he would cast his vote for Paul if he was forced to choose between the four, but his co-host Pat Gray disagreed, saying: "I'm going with Mitt Romney out of that group."
"The problem with this is, that it's the same theory we go into the primaries with every time," Gray continued. "The primary is the time you find the conservative. The primary is the time you find the right guy, not the guy we'll throw out because it's the best we can do. You find the right guy."
But Beck's source said "the primary is decided by the money people ... so you don't really get the chance to make that decision."
"Now, I brought up people like [Wisconsin Gov. Scott Walker]," Beck added. "He said to me, 'Walker doesn't have the name recognition. Glenn, this is going to take a ton of money and it will happen really fast. Because they changed the primaries, because everybody loaded it up at the front, it gives a nobody or a virtual unknown less time to be able to push it through. ... The GOP decided that what killed them last time was 18 people just killing each other for a three-year period."
"They're doing everything they can to get to a candidate as quickly as they can, and coalesce around that candidate as quickly as they can," Beck concluded.
[mlbvideo content_id=37161059]
The full episode of The Glenn Beck Program, along with many other live-streaming shows and thousands of hours of on-demand content, is available on just about any digital device. Click here to watch every Glenn Beck episode from the past 30 days for just $1!