Three Senate Republicans on Friday pressed Attorney General Eric Holder to answer whether he supports normalizing relations with Cuba in the absence of an agreement by Cuba to return dozens of fugitives from the U.S. justice system.
The question is increasingly being asked by those who oppose closer ties between the U.S. and Cuba, and is being raised at a time when Obama administration officials are openly discussing a new chapter in the bilateral relationship.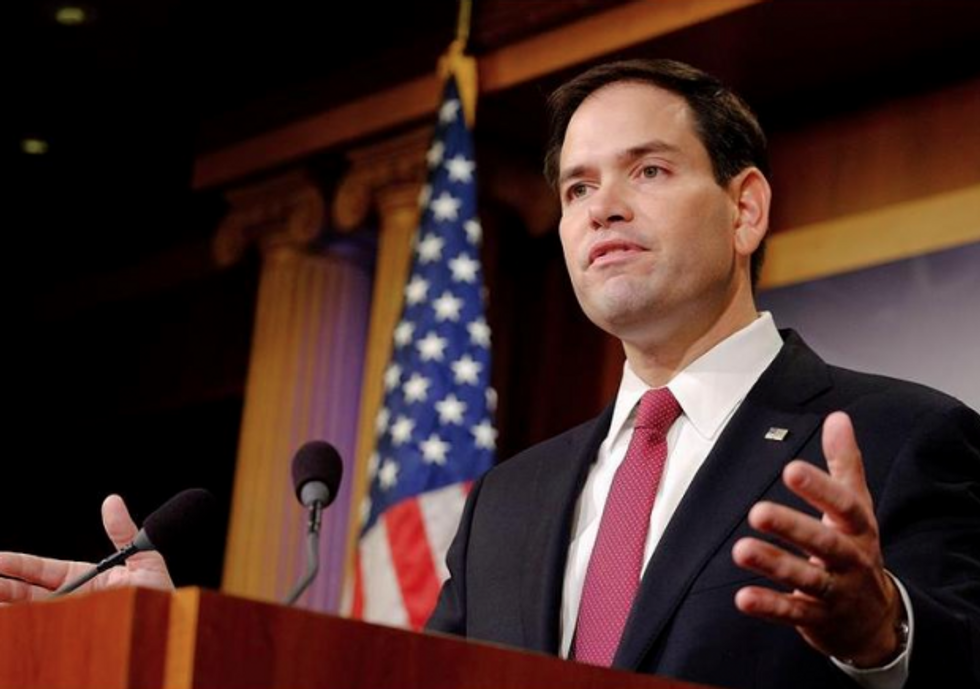 Sen. Marco Rubio (R-Fla.) and other Republicans are demanding to know if Cuba will return U.S. fugitives as part of the effort to normalize relations. The Obama administration has been evasive so far.
Image: T.J. Kirkpatrick/Getty Images
A top State Department official was in Cuba this week to begin talks on some of the technical changes that might take place as a first step toward normalizing diplomatic relations.
Supporters of the embargo have said current policy should be maintained until Cuba undertakes democratic reforms, stops cracking down on political dissidents, and returns all U.S. fugitives. So far, however, Cuba has not indicated it will do any of these things, which has led to criticism that Obama is giving away too much in the talks.
For example, a senior State Department official said this week that the U.S. wants Cuba to return Joanne Chesimard, who is wanted in the U.S. for killing a New Jersey State Trooper years ago. But the official appeared to indicate that the U.S. was not conditioning normalization talks on Chesimard's return.
"We would still like her returned, and that's a high priority for us," the official said. "But that has not been, unfortunately, something that the Cuban Government has been willing to entertain.
On Friday, Sens. Marco Rubio (R-Fla.), David Vitter (R-La.) and Ted Cruz (R-Texas) wrote Holder to say there are more than 70 fugitives in Cuba, and to ask him directly whether normalization can occur without their return.
"As the nation's chief law enforcement officer, do you support the normalization of relations with Cuba without the return of fugitives from justice for prosecution who have the blood of Americans, including law enforcement officers on their hands?" they asked.
The senators also asked Holder for a list of all fugitives from the U.S. living in Cuba.
Another key piece of the Obama administration's effort to reach out to Cuba is a promise to review whether Cuba should stay on the U.S. list of countries deemed to be sponsors of terrorism. Many now expect the administration to remove Cuba from this list, since it is arguably Cuba's biggest demand of the United States outside of lifting the embargo.
But the three senators asked if Cuba can be removed from that list without the return of "domestic terrorists" like Chesimard.
Rubio, Vitter and Cruz also pressed Holder to explain the circumstances of the release of three convicted Cuban spies to Cuba, which allowed the two countries to start normalization talks. Specifically, they asked if any assessments were done on whether it made sense to release these agents, one of whom was also a convicted accessory to murder, related to the 1996 shootdown of two Brothers to the Rescue planes over Cuba.
And, they asked why the families of the murdered victims were notified about the release.
Read their letter here: