DES MOINES, Iowa (TheBlaze/AP) — Businesswoman Carly Fiorina is introducing herself to Iowa's Republican voters by drawing contrast with the top prospective candidate on the Democratic side.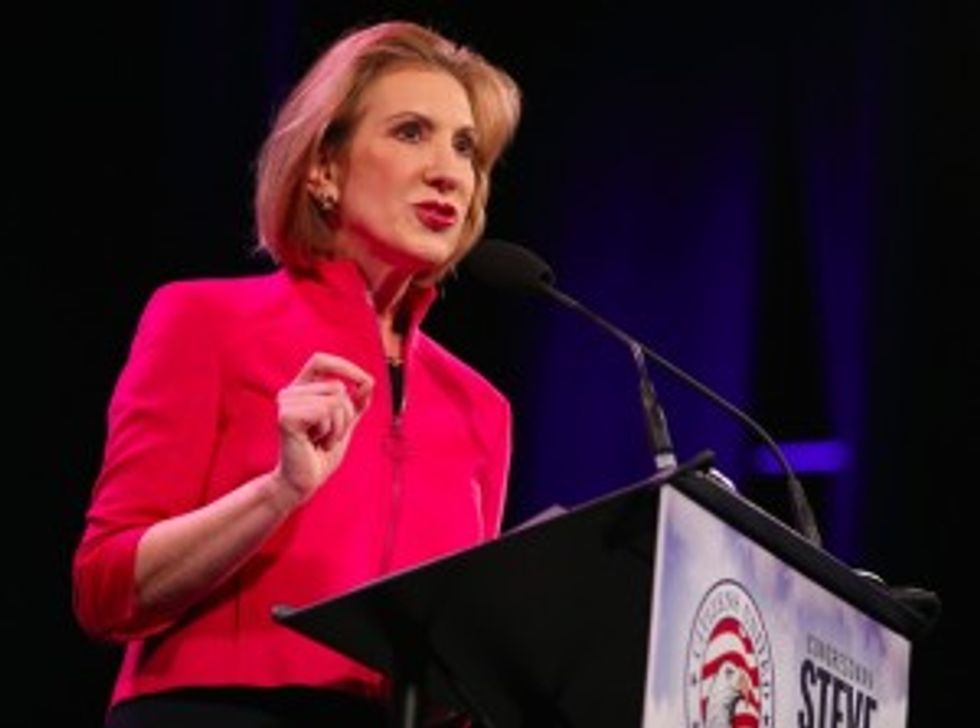 Carly Fiorina, former CEO of Hewlett-Packard Company, speaks to guests at the Iowa Freedom Summit on January 24, 2015 in Des Moines. (Image source: Scott Olson/Getty Images)
Fiorina went hard at Hillary Rodham Clinton in a speech Saturday at the Iowa Freedom Summit. Fiorina cast the former secretary of state as a disappointment on the world stage who failed to defuse serious foreign policy threats.
"Like Hillary Clinton, I too have traveled hundreds of thousands of miles around the globe," she said, Time noted. "But unlike her, I have actually accomplished something. Mrs. Clinton, flying is an activity not an accomplishment."
The former Hewlett-Packard chief executive said she has her own experience dealing with foreign dignitaries and dangers and added cutting commentary about Benghazi aimed at Clinton and President Barack Obama.
"And unlike Hillary Clinton I know what difference it makes that our American Ambassador and three other brave Americans were killed in a deliberate terrorist attack on the anniversary of 9-11 in Libya," Fiorina said, Time added. "And apparently unlike Hillary Clinton and Barack Obama, I know that the response of our nation must be more forceful that the arrest of a single individual a year later."
As one of the least-known potential candidates, Fiorina devoted ample time to a biographical introduction, including her distinction as a breast cancer survivor.
While presenting herself as a political outsider, it wouldn't be her first run. Fiorina lost an expensive Senate race in California in 2010. She now lives in Virginia.