The White House said last week that President Barack Obama would not meet Israeli Prime Minister Benjamin Netanyahu when he travels to Washington to address a joint session of Congress in March, explaining that it's a longstanding policy to avoid meeting leaders shortly before they run for reelection. But according to an examination by the Times of Israel, presidents have in the past met foreign leaders during the height of their election campaigns.
"As a matter of longstanding practice and principle, we do not see heads of state or candidates in close proximity to their elections, so as to avoid the appearance of influencing a democratic election in a foreign country," White House national security spokeswoman Bernadette Meehan said in a statement Thursday.
The Times of Israel reported that Obama met German Chancellor Angela Merkel in June 2009, just three months before her country held elections.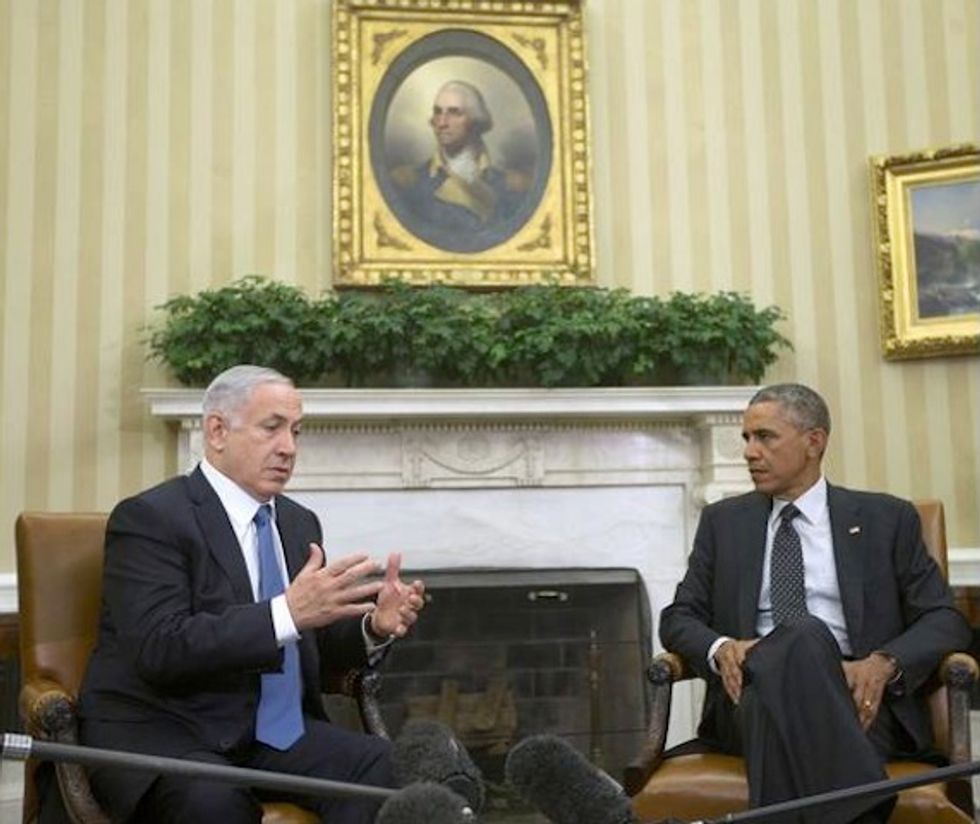 In this Oct. 1, 2014 file photo President Barack Obama meets with Israeli Prime Minister Benjamin Netanyahu in the Oval Office of the White House in Washington. President Barack Obama will not meet with Netanyahu when he travels to Washington in March, the White House said Thursday, one day after being caught off-guard by Republicans' invitation for the Israeli leader to address a joint session of Congress. (AP Photo/Pablo Martinez Monsivais, File)
When President Bill Clinton was in the White House, he hosted then Israeli Prime Minister Shimon Peres, the dovish leader of the Labor Party less than a month before the 1996 elections. The meeting was perceived as a push for the left-wing prime minister, who ended up losing to Netanyahu.
The Times of Israel further reported that it checked more than 50 meetings between Obama and world leaders and found that none had been held only two weeks before elections.
Netanyahu's upcoming visit to Washington is scheduled for two weeks before the March 17 elections. The photo op of the prime minister speaking to a joint session of Congress is sure to be used back home to promote his image to voters as an authoritative world leader. A meeting with Obama would have furthered Netanyahu's campaign effort.
On Wednesday, the White House called House Speaker John Boehner's unilateral invitation to Netanyahu a breach of diplomatic protocol.
Netanyahu on Sunday defended accepting Boehner's invitation, saying he would turn down no opportunity to try to prevent Iran developing nuclear weapons.
"As the prime minister of Israel, it is my duty to make every effort to prevent Iran from obtaining nuclear weapons that will be directed at us. This effort is an international one and I will go to every place where I am invited in order to make Israel's case and to safeguard its future and existence," Netanyahu told his cabinet ministers.
"In the coming weeks the world powers may reach a framework agreement with Iran that runs the risk of Iran being on the threshold of obtaining nuclear weapons, which would first and foremost endanger the existence of the state of Israel," he said according to the Jerusalem Post.