The Environmental Protection Agency chief this week warned of the need to "protect" winter from diminishing because of climate change. This comes a year after the White House science adviser predicted in a controversial video that global warming would cause a "pattern of extreme cold."
Moreover, industry numbers do not reflect the dire warnings about winter sports taking an economic hit because of climate change that EPA Administrator Gina McCarthy warned about.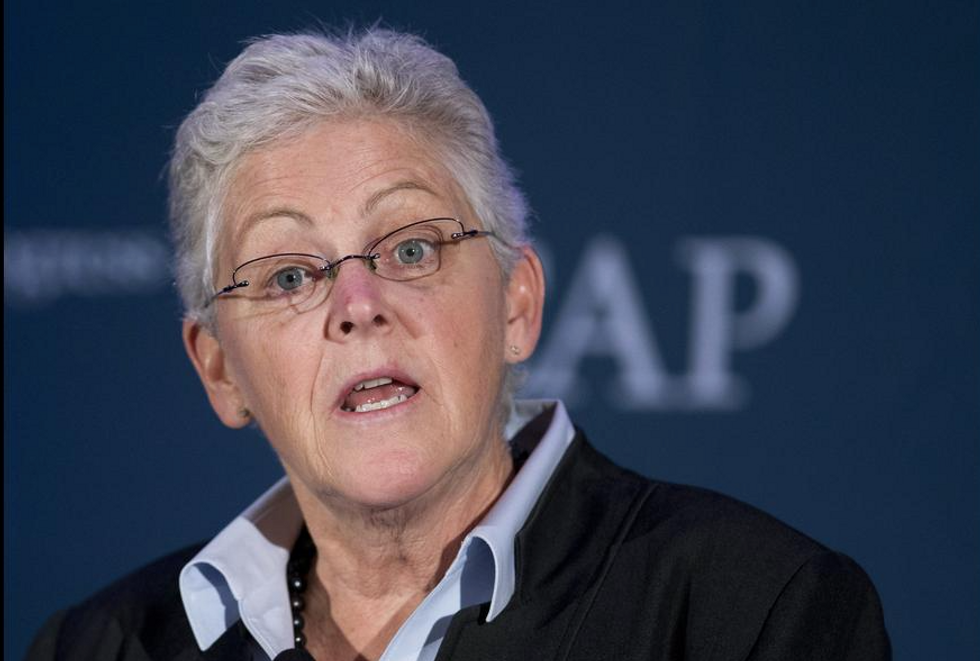 TEPA Administrator Gina McCarthy speaks to the Center for American Progress' Second Annual Policy Conference in Washington.  (AP Photo/Manuel Balce Ceneta, File)
In January 2014, John Holdren, director of the White House Office of Science and Technology Policy, narrated a video titled "The Polar Vortex: Explained in 2 Minutes."
"If you've been hearing extremes cold spells likes the one we are having in the United States now disprove global warming, don't believe it," Holdren said in the video.
Holdren ends the video by saying; "I believe the odds are that we can expect, as a result of global warming, to see more of this pattern of extreme cold in the mid-latitudes and some extreme warmth in the far north."
Numerous scientists, many who warned of the dangers of climate change, were critical of Holdren's claims about the Polar Vortex.
"We have not seen a second polar vortex video and I suspect we won't," said Sam Kazman, general counsel for the Competitive Enterprise Institute, which filed a Freedom of Information Act lawsuit against the White House science office to obtain documents Holdren used to back up his assertion.
Kazman told TheBlaze there is an obvious tension between what McCarthy said this week and what Holdren said last year.
"These folks are making tensions, but its part of a broader problem," Kazman said. "They have previously renamed the problem from global warming to climate change. Then they just use it to explain whatever weather we have."
In a blog post titled, "We Must Act Now to protect our Winters," McCarthy wrote: "In mountain towns that depend on winter tourism, the realities of climate change really hit home."
"Shorter, warmer winters mean a shorter season to enjoy the winter sports we love—and a financial hit for local economies that depend on winter sports," McCarthy continued. "Even if you hate winter, climate change affects you – because climate risks are economic risks. Skiing, snowboarding and other types of winter recreation add $67 billion to the economy every year, and they support 900,000 jobs."
However, skiing does not appear to be suffering based on information from the National Ski Areas Association.
Specifically in the Rocky Mountains – which McCarthy mentioned – had 21.1 million visitors to their resorts in the 2013-2014 season, up from 19.8 million. Last winter was actually the highest number of visitors since 21.3 million in the winter of 2007-2008.
"There doesn't seem to be any diminishing winters," Kazman said.
The White House Office of Science and Technology Policy press office did not respond to inquiries from TheBlaze.
EPA spokeswoman Christie St. Clair told TheBlaze she would try to have a response but did not respond as of this posting.