When a suicide bomber got up to destroy a bus filled with Shiite pilgrims, one father made the ultimate sacrifice.
Qasim Hatoum passed his young son into another's arms and, local media reported, he rushed the bomber.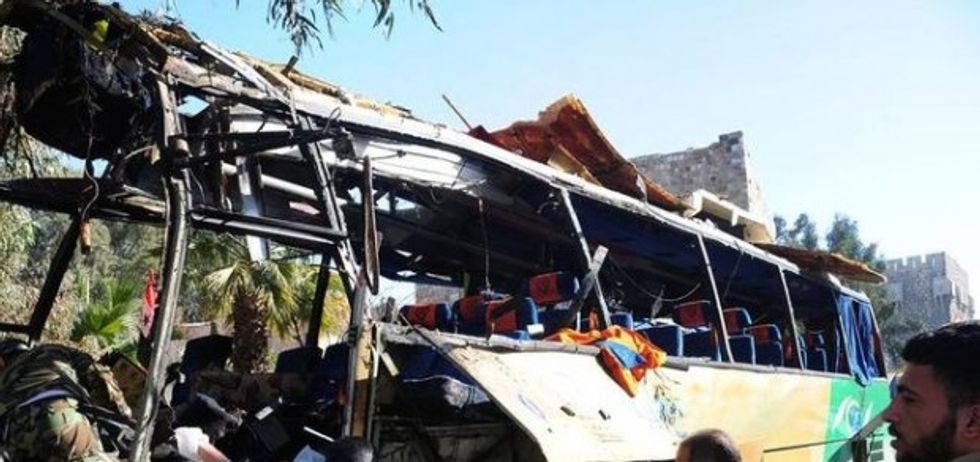 In this photo released by the Syrian official news agency SANA, a Lebanese tour bus lays destroyed after a bomb attack, in Damascus, Syria, Sunday, Feb. 1, 2015. A bomb placed on the bus ferrying Lebanese pilgrims around Shiite holy sites in Damascus exploded Sunday, killing at least seven people, according to Syrian activists and Lebanese media, underscoring the sectarian nature of Syria's four-year war. (AP Photo/SANA)
The Sunday bus bombing rocked central Damascus, killing seven people and wounding 20 more — but the death toll could have been even higher without Hatoum's sacrificial dive.
Relaying local media reports, the Daily Mail reported the story of the man who allegedly handed his three-year-old son to his wife before running to the front of the bus, where a radical was preparing to detonate himself, and tackling the bomber.
Hatoum was reportedly killed in the ensuing explosion, but local media claimed his body shielded many other passengers from the flying shrapnel.
Six of the seven killed in the bombing were Lebanese citizens, Al Jazeera reported, and Al Qaeda's Syrian-affiliate Al Nusra Front has claimed responsibility for the bombing.
Hatoum's funeral was held in Lebanon's capital, Beirut, on Monday, and he was lauded by local media as a "martyr" and a hero for his selflessness.
His wife and son were not killed in the attack, the Daily Mail noted, though Hatoum's son was hospitalized and treated for shrapnel wounds to his face.
Watch video from the aftermath of the bombing below:
—
Follow Zach Noble (@thezachnoble) on Twitter