An Arkansas pastor and his wife say that they're fearing for their lives following a series of bizarre events involving their next-door neighbor.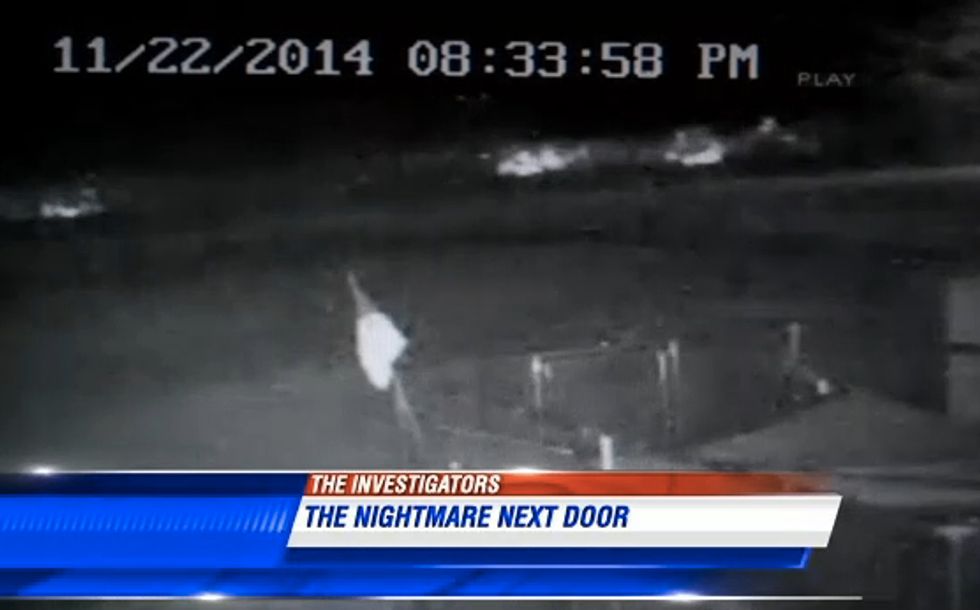 Footage shows an individual setting fires near the Hill family property (WMC-TV)
Pastor Kenneth Hill and his wife Vaddie told WMC-TV this week that they believe their neighbor, Holbrook Mitchell, is responsible for the "strange events" that have unfolded in recent months on their property in Cherry Valley, Arkansas.
"It's real frightening. As a matter of fact, we fear for our lives," Pastor Hill told the outlet. "We can't sleep at night. Every time we hear a noise, we think it's him."
It all started last fall after the couple claim that Holbrook cleaned mud off of his tractor in front of their home, leaving behind a big mess. The Hills called police as a result, which they say was the beginning of their problems with Mitchell.
Weeks later, they claim that Mitchell's dog attacked their own dog — and the two parties will meet in small claims court on Monday to hash out the allegation.
But that's only the beginning of the story, as the Hills also claim that Mitchell started following them, revving his motorcycle at the end of their driveway every night — and that they caught a man on security footage — whom they believe was Mitchell — setting fires near their property.
One of the scarier events, though, involved a man named Christopher Little, one of Mitchell's friends, who allegedly fired a bullet into the Hills' home — an incident that led officials to charge Little; police claim that the shot came from Mitchell's porch, according to WMC-TV.
"We're past angry by now," Vaddie Hill said, claiming that Mitchell, who WMC-TV claims has a "lengthy arrest record," "does whatever he wants" and that nobody has been able to stop him.
Police say that there isn't enough evidence in this case for it to be a slam dunk, dealing yet another blow to the Hills' arguments against the man.
And when a reporter approached Mitchell, who was inside of his truck, to ask questions this week, he declined to speak to her, saying, "I'm gonna say y'all better get them cameras outta here or I'm fixin' to sling rocks all over y'all's a**" 
Seconds later, he sped away on the gravel, doing just that.
A voicemail left for Mitchell seeking comment about these allegations has not yet been returned to TheBlaze.
(H/T: WMC-TV)