After President Barack Obama invoked the Crusades and the Inquisition and slavery from Christian history during last week's National Prayer Breakfast, seemingly as a way of tempering present-day atrocities committed by Islamic extremists, those on the political and religious right were understandably upset by the comparison.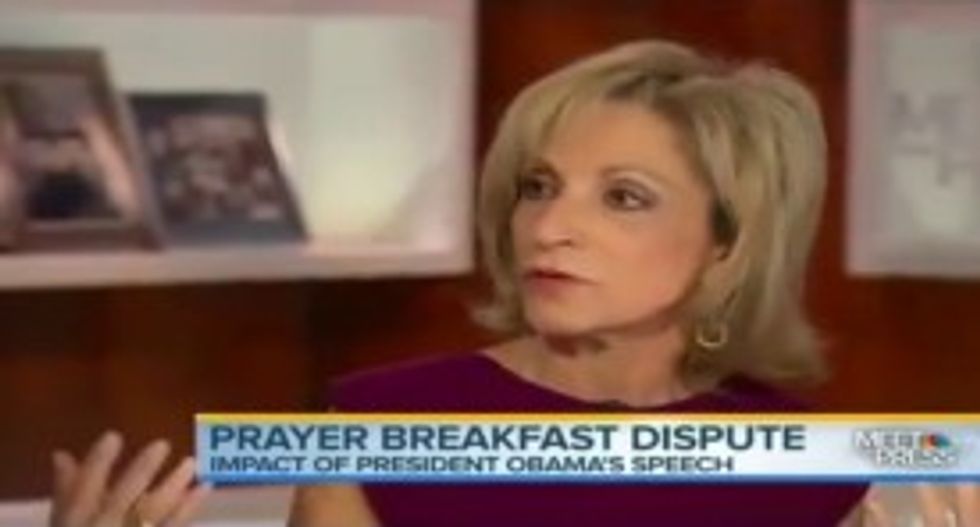 Andrea Mitchell (Image source: YouTube)
But now a news anchor for left-leaning MSNBC has taken a hard stance against Obama's remarks as well.
"You don't use the word 'crusades,' number one, in any context right now, it's just too fraught," Andrea Mitchell said on "Meet the Press" Sunday.
"And the week after a pilot is burned alive, in a video shown, you don't lean over backwards to be philosophical about the sins of the fathers. You have to deal with the issue that's in front of you or don't deal with it at all," she added. "Talk about faith."
When host Chuck Todd mentioned that many conservative politicians invoke faith all the time in such contexts, Mitchell doubled down.
"But he's the president and you can't really go back to 1095," she said.
"So you think he made a mistake?" Todd asked.
"I do," Mitchell replied. "Because it's so out of context and it is so much in passing. If you're giving a major speech about theology perhaps, but this is the Prayer Breakfast and remember the context of that is very limited."
(H/T: Mediaite)
—
Follow Dave Urbanski (@DaveVUrbanski) on Twitter