President Barack Obama downplayed the threat of terrorism in an interview with Vox published Monday, referring to the four Jewish victims murdered by radical Islamists during an hours-long standoff at a Kosher deli in Paris as "a bunch of folks" who were "randomly" shot.
"It is entirely legitimate for the American people to be deeply concerned when you've got a bunch of violent, vicious zealots who behead people or randomly shoot a bunch of folks in a deli in Paris," Obama said.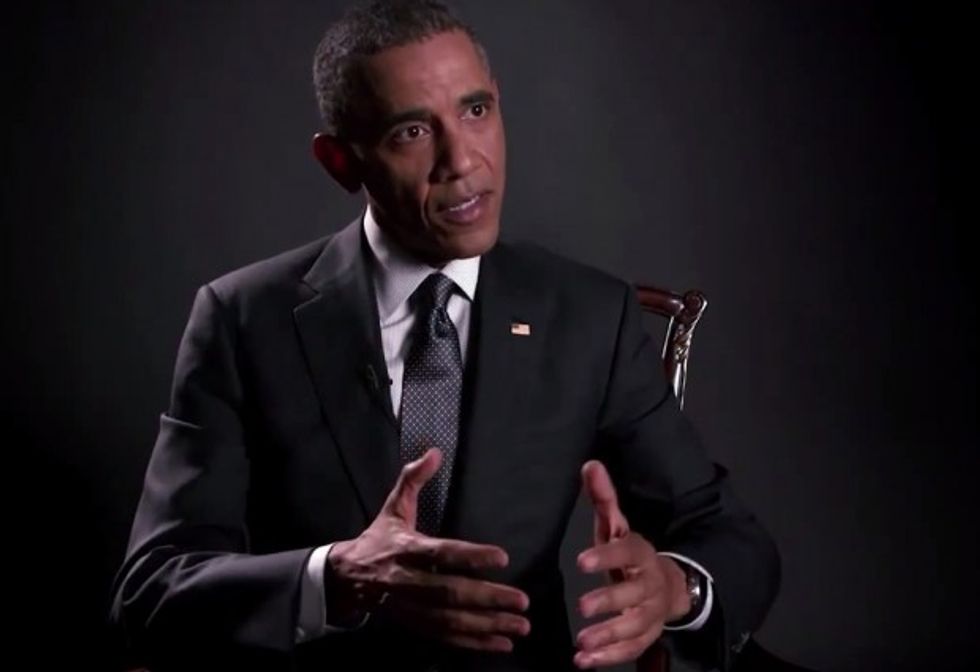 (Vox)
He continued: "We devote enormous resources to that, and it is right and appropriate for us to be vigilant and aggressive in trying to deal with that — the same way a big city mayor's got to cut the crime rate down if he wants that city to thrive. But we also have to attend to a lot of other issues, and we've got to make sure we're right-sizing our approach so that what we do isn't counterproductive. I would argue that our invasion of Iraq was counterproductive to the goal of keeping our country safe."
Watch Obama's comments below (relevant portion starts at around 1:50):
The reaction from people online was swift.
This is unreal, I guess the Nazis randomly put some "folks" into concentration camps as well. http://t.co/wyUouQXZnj

— Kelli Brown (@kellilb) February 9, 2015
This is odd http://t.co/mNqTWpB4th pic.twitter.com/2YDTDGqmlC

— JustinGreen∞ (@JGreenDC) February 9, 2015
"We tortured some folks." "They randomly shot a bunch of folks in a deli in Paris." Hate it when Obama goes folksy.

— AOTUS (@The_Autopen) February 9, 2015
Obama Says Jews Massacred in Paris Kosher Market were "Randomly" Shot! Not Selected as Jews! http://t.co/p02nbWc6EC pic.twitter.com/Vw6QYw4gH5

— Hawkeye: JeSuisJuif (@inhuggermugger) February 9, 2015
smdh RT @neontaster: They randomly shot some folks. http://t.co/HyXJBOjZCP … pic.twitter.com/LfsDomeLLj

— Matthew (@Matthops82) February 9, 2015
(H/T: Twitchy)
--