It's been more than four decades since Dr. Kim Roberts was a Mormon missionary serving in Texas, but that didn't stop him from recently sending a letter of apology for an act of theft that he committed in a small city there eons ago, returning a brick he had taken from a sidewalk.
It was 1973 and Roberts was serving on a mission with The Church of Jesus Christ of Latter-day Saints when his work brought him to Denison, Texas, a small city that is about an hour's drive from Dallas.
It was there that he remembered seeing some eye-catching bricks embedded in a sidewalk near a house he was staying in. The words "Don't Spit on the Sidewalk" were chiseled into the bricks — a line Roberts found compelling, though he knew little about its meaning or purpose.
Deciding he wanted to take a souvenir home, he pried a few of the bricks out and replaced them with plain red cubes before packing one of the bricks up and taking it home with him to Seattle, Deseret News reported.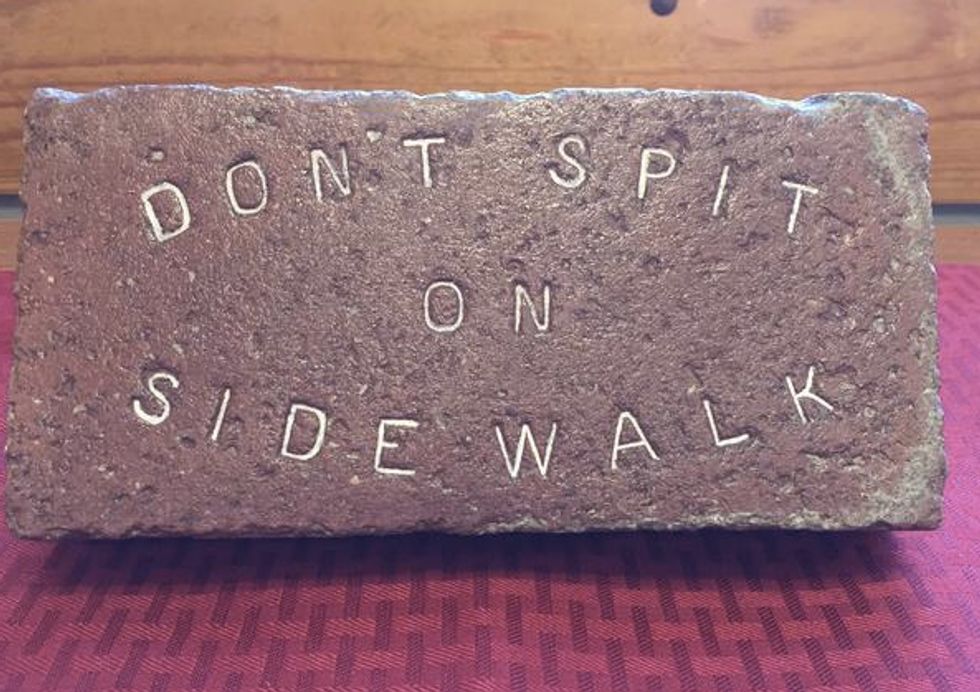 Deseret News/Robert Hanna
At the time, Roberts didn't think much about his act, as he revered his new-found conversation piece, learning later that the message was once a reminder to Denison residents that spitting on the sidewalk could spread tuberculosis.
But it was years later that the act of taking the brick began to weigh on him.
"As time went on, it hit me (that) I'd stolen something," he told Deseret News, noting that a church lesson on honestly finally pushed him to do the right thing and return it. "But I didn't steal an object. I'd stolen a part of history from this town."
After years of contemplating sending it back to Denison, Roberts decided it was finally time to do just that. So, he penned a letter admitting that he stole the brick and packaged the heavy block up, delivering it via mail to Denison city manager Robert Hanna.
In his note, Roberts admitted to taking the brick 40 years ago and apologized for "showing disrespect to the good people of Denison."
"I determined that I needed one as a souvenir and helped myself to one, not thinking that my actions were a complete contradiction of who and what I represented," he wrote. "I realize that the brick most likely cannot be returned to the previous place in the sidewalk in front of the house where I was staying at the time in 1973 (I don't recall the address), but perhaps by placing it in a conspicuous place in your offices it will be a reminder that, in the end, honesty is the best policy."
Hanna, who wasn't even born yet in 1973 when the brick was taken, was stunned by Roberts' admission and returned a letter offering up forgiveness — an absolution that Roberts said has brought him peace.
The city manager also noted that, in an odd way, Roberts actually helped keep a piece of history that the city has since let go.
"Be at peace with yourself and your actions. By taking what wasn't yours, you preserved a piece of Denison history that the city did not see fit to preserve many years ago," Hanna wrote. "Thanks to you and your actions, we can hold a piece of our community's history once again and display it with pride."
Read the story in its entirety here.
(H/T: Deseret News)