Thousands of Danes placed flowers at a Copenhagen cafe and synagogue to mourn the two men killed there by a terrorist gunman over the weekend. What was barely noted in the non-Danish media, however, is that flowers were also brought to the site where suspected gunman Omar Abdel Hamid El-Hussein was later shot dead by police.
In response, a group of local Muslim youths took another step that appeared to be designed to honor the killer of 55-year-old filmmaker Finn Norgaard and security guard Dan Uzan, 37, who had volunteered to stand outside the synagogue door during a bat mitzvah celebration.
The English-language Scandinavian news site The Local reported that the individuals, whose faces were covered, removed the flowers from outside where El-Hussein was shot, deeming them to be un-Islamic. The moment was captured by television cameras for Denmark's TV2, which showed that when they finished removing the flowers, they shouted "Allahu akbar." TV2 reported that the men called themselves El-Hussein's "brothers."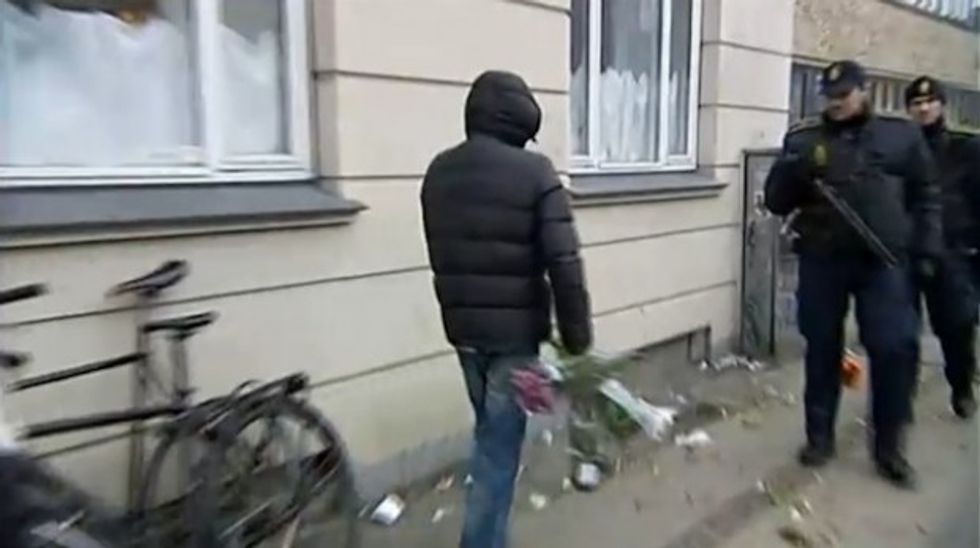 Individuals removed flowers from the site where the suspected terrorist who attacked a Copenhagen cafe and synagogue was shot by police. (Screenshot: TV2)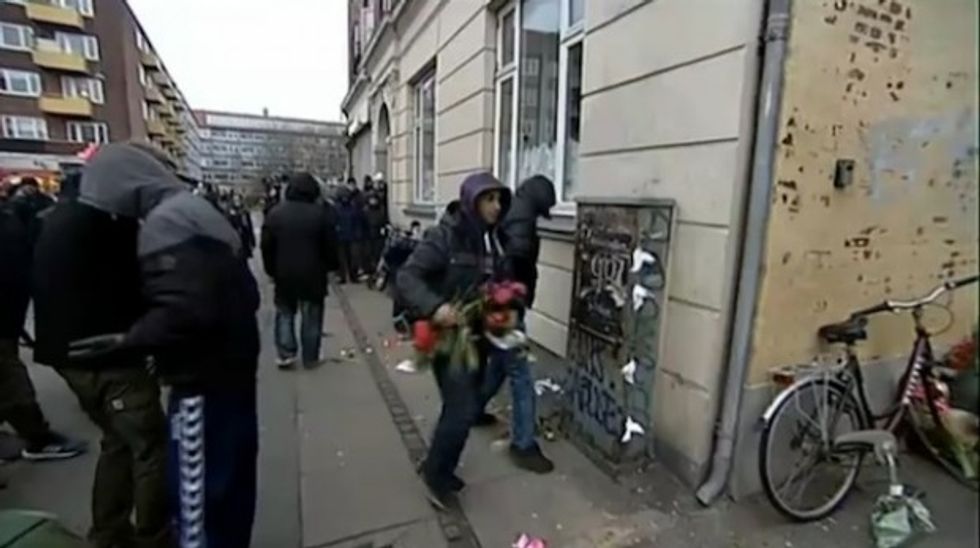 After tossing away the flowers, they shouted "Allahu akbar." (Screenshot: TV2)
The Local reported:
A group of young men wearing hoods to partially cover their faces has removed flowers that were laid at the Copenhagen spot where the presumed gunman was killed by police.

The men can be seen in a video from TV2 News kicking the flowers and carrying them away.

One of the men told reporters that they removed the flowers because it is not a Muslim tradition to lay flowers for dead people.
TV2 reported that instead of flowers, the youths put up a note at the site that read in Danish and Arabic, "May Allah be merciful with you. Rest in peace."
El-Hussein, the son of Palestinian immigrants to Denmark, was killed during a shootout with police in Norrebro, a neighborhood with a sizable immigrant population.
Residents told TV2 that they believe El-Hussein was prematurely labeled a terrorist and that Danish society discriminates against Muslims.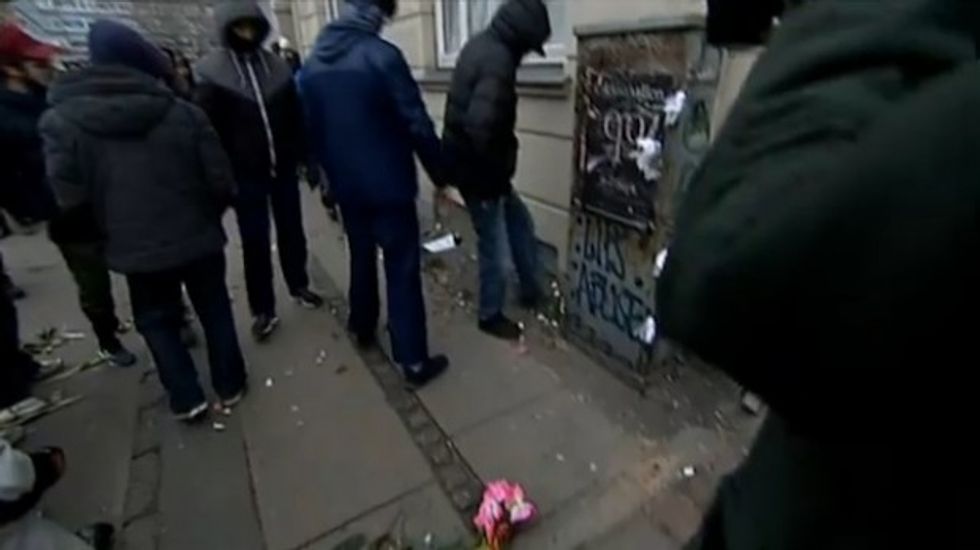 Others used their feet to kick away the flowers. (Screenshot: TV2)
Danish police have also arrested two suspected accomplices in the weekend attacks.
The gunman first attacked a gathering of artists and free speech advocates at an event promoting free speech and artistic expression in the wake of accusations of blasphemy.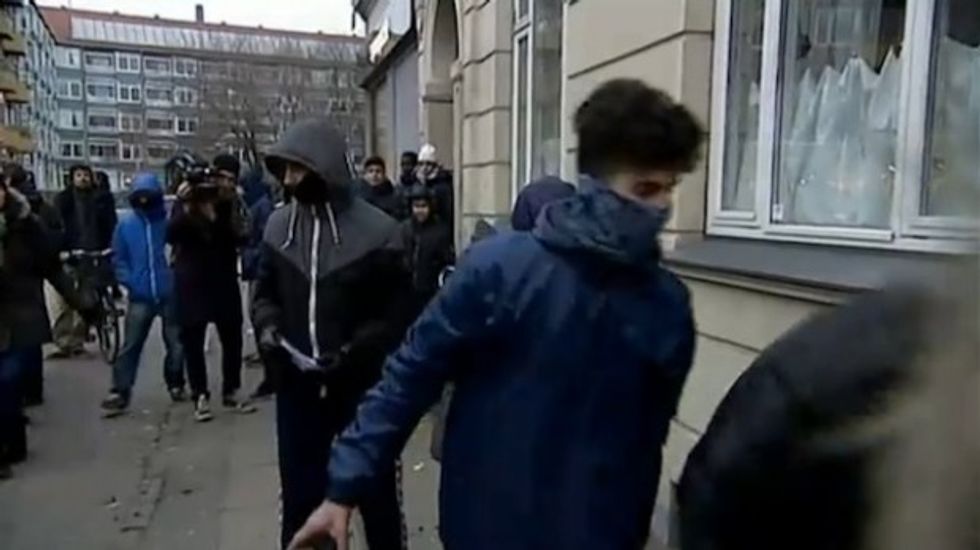 Many of the men hid their faces from television cameras documenting their work. (Screenshot: TV2)
Swedish artist Lars Vilks, who has been subject to numerous Islamist threats for drawing the Muslim Prophet Muhammad, is believed to have been the intended target of the attack.
El-Hussein was recently released from prison where he was serving time for stabbing a man in the leg in 2013 on a Copenhagen train.
Britain's Daily Mail quoted El-Hussein's father, who told Norwegian broadcaster TV2: "He was 'normal' religious, nothing unusual, he didn't go to mosque any more than the average Muslim."
Here is the video from Denmark's TV2 showing the men taking away and kicking away flowers from the sidewalk near the Norrebro train station:
(H/T: Jewish Press)