Another day, another case of religious vandalism — but in this case, it's not clear if the vandals actually knew who they were targeting.
The Hindu Temple and Cultural Center in Bothell, Washington, was hit by vandals who spray-painted a swastika and the words "Get out" on the temple wall Sunday, KING-TV reported.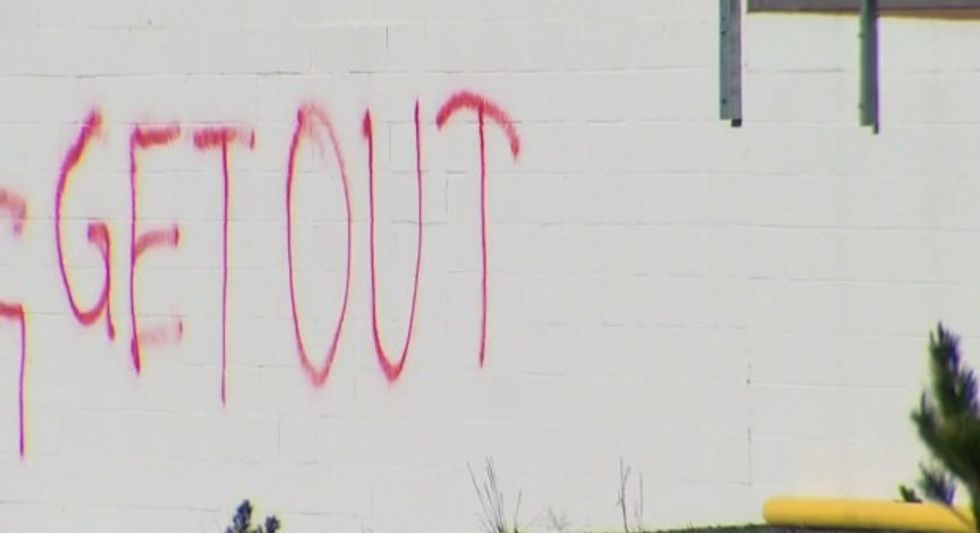 Vandals spray-painted a swastika and the words "Get out" on the wall of a Hindu temple in Bothell, Washington, on Sunday. (Image via KING-TV)
The vandalism came on the very same day as the spray-painting of the Islamic School of Rhode Island, an act of vandalism that has some groups calling for a hate crime investigation.
In the case of the Hindu temple vandalism, the vandals' choice of symbol was especially curious — since the swastika was a sacred image in Buddhism and Hinduism centuries before the Nazis appropriated it, it's unclear what meaning the vandals intended it to convey on the temple wall.
The swastika is typically deployed with anti-Jewish intent.
The words "Get out," on the other hand, are far less ambiguous.
"Somebody did that because they are upset, offended or maybe they don't like this big temple," said Nit Niranjan, the Hindu Temple Cultural Center Chair. "It's amazing that someone would use our own symbol in reverse and put something like that out like this is their country. I thought we were living in America."
It's possible that the vandalism was part of a broader spree and that it wasn't targeted strictly at Hindus, as Bothell police reported finding two swastikas and the message "Muslims get out" tagging the local junior high school on Sunday, KIRO-TV reported.
On Monday evening, KIRO reported that Snohomish County executive John Lovick spoke to hundreds of people at the temple, saying, "Snohomish County is not only a safe community, but it is also a welcoming community. You are so welcome in this community."
Watch KING's report below:
—
Follow Zach Noble (@thezachnoble) on Twitter