A scathing wedding "invitation" from an angry bride-to-be to her parents is rocking the Internet, but the woman's now-viral gesture contains a deeper story rooted in what she says was years of abuse.
"So my narcissistic parents abused me for 16 years before I ran away from home. Now they're trying to bully their way (via family, they haven't bothered to speak to me personally) into getting an invitation to my wedding," the woman posted on Reddit. "There was really only one way to respond."
Here's the invite (with an expletive blurred):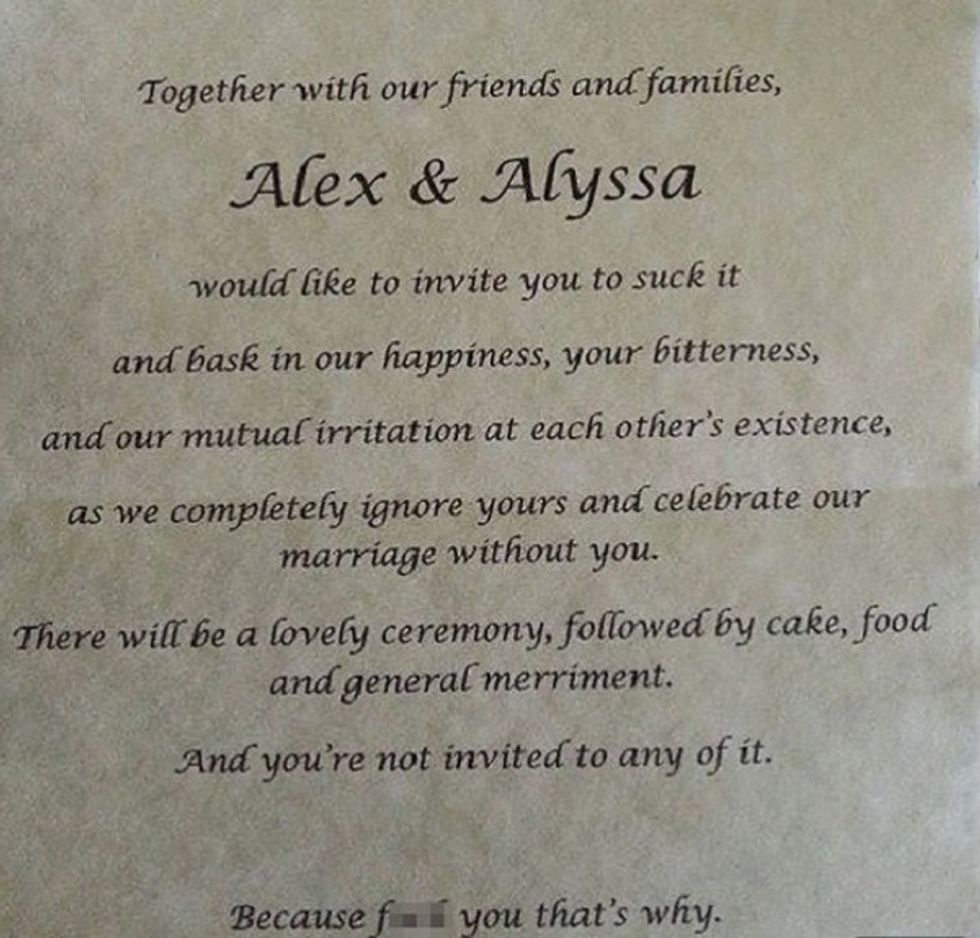 Image source: Daily Mail via Imgur
It reads:
Together with our friends and families,

Alex & Alyssa

would like to invite you to suck it

and bask in our happiness, your bitterness,

and our mutual irritation at each other's existence,

as we completely ignore yours and celebrate our marriage without you.

There will be a lovely ceremony, followed by cake, food and general merriment.

And you're not invited to any of it.

Because f*** you that's why.
The woman posted about the invitation on Reddit about five months ago, but the story just gained traction this week.
Speaking to the Daily Mail using her real name, 23-year-old Alyssa Pearce of Adelaide, Australia, said that "writing and sending that letter made me feel so much better about all the stress I'd been under. Not only had I refused to allow myself to be bullied into something I didn't want, but I also took a stand."
Pearce, a Ph.D. student in applied linguistics, said that while her gesture "may have been childish and immature, it made me feel as if I'd taken back power from them." She's been happily married since last year, she said.
She told the Daily Mail that after the wedding — which took place in a public garden without her parents present, despite family pressure — she and her new husband honeymooned in Thailand. He is also a student focusing on world politics and international relations, the Daily Mail noted.
"Realizing that you're not alone is the best feeling ever :)," she wrote in a Reddit comment after the ceremony. "And the wedding was amazing!"
Alyssa Pearce's decision to 'un-invite' her parents to her wedding creates global news http://t.co/JEC57xAXAg

— Sup (@sup_now) February 19, 2015
In Reddit comments, Pearce (presumably as original poster "SkitzoCat") told readers that the abuse she experienced at the hands of her parents was "(m)ostly physical and emotional, but there was also sexual abuse in the form of touching and watching me while naked."
She also said that a "running theme" throughout her childhood was getting presents from her parents that were appropriate for much younger kids. For her 16th birthday, she got a large children's book with lots of pictures and a "plastic glittery princess tiara."
"My relationship with my Nfather went downhill from the moment I was born and he realized I wasn't a boy like I should have been," she wrote in a follow-up post to Reddit. "I was only a daddy's girl in the sense that I was daddy's favorite punching bag, among other things."
[sharequote align="center"]"I was only a daddy's girl in the sense that I was daddy's favorite punching bag..."[/sharequote]
Seven years after running away from home, she added that she'd "reluctantly" gotten together with her parents about a half dozen times.
After Pearce sent the invitation to her parents, they sent a text message to her grandparents that was directed toward her, which she said read: "Our relationship is now irreconcilable. If you keep harassing my family I will take out a court order to protect them. I don't want to see you again near my business/house/family."
She also described how her grandparents were afraid of slighting her father by attending the wedding, which saddened her grandfather because he wouldn't be able to walk her down the aisle. But Pearce (as SkitzoCat) commented, "The aisle is only wide enough for one awesome person, so I'll be walking myself down :P"
—
Follow Dave Urbanski (@DaveVUrbanski) on Twitter