White House press secretary Josh Earnest said there is no plan B for dealing with Iran if the U.S. is not able to reach a nuclear deal with the country  before April.
"These talks have been going on for a substantial number of months, more than a year. As the president himself has said, he does believe we are getting close to a time when we are going to find out whether a deal can be reached or not," Earnest said Monday. "There is a sense of urgency because the president believes it is clearly in the interest of the United States for us to prevent a nuclear arms race in the Middle East."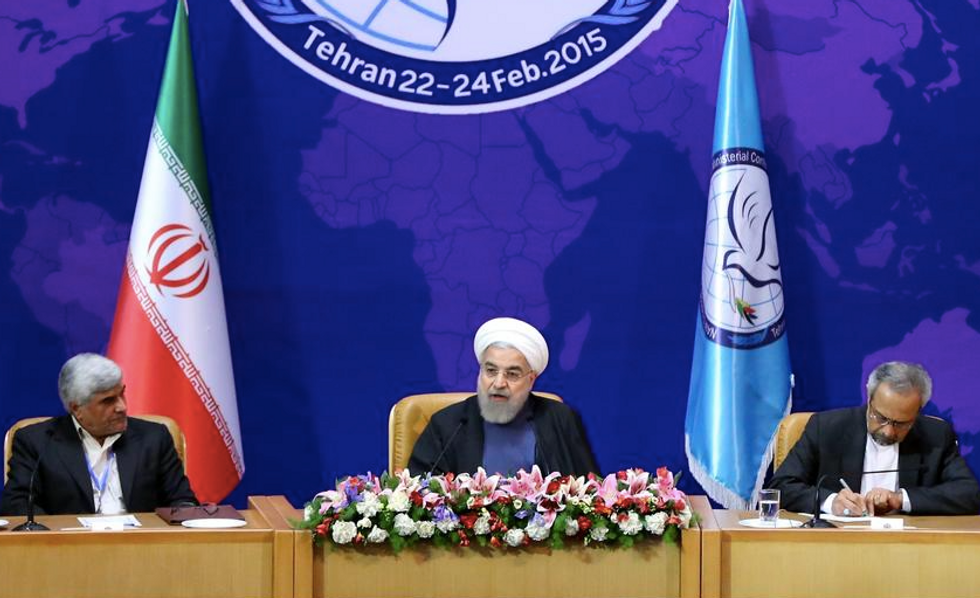 Iranian President Hassan Rouhani gives a speech during the Ministerial Conference on Science, Technology and Innovation of the Non-Aligned Movement in Tehran, Feb. 23, 2015. (Anadolu Agency/Getty Images)
The administration is seeking to reach a deal with Iran over its nuclear development by the end of March. President Barack Obama has said he would veto any legislation for additional sanctions on Iran before negotiations have ended.
"We do know the impact Iran obtaining a nuclear weapon would have on a host of other countries in the region, to say nothing about Iran's support for terrorism around the world," Earnest said. "To say nothing about Iran's condemnation of our strongest ally in the region, Israel. The president believes the best way for us to resolve this situation is to do so around a negotiating table. If we can reach an agreement in which Iran can commit to resolving the international community's concerns about their nuclear program in a verifiable way, then we can deescalate the tensions around that issue. "
Pressed on what will happen if there is no agreement by March 31, Earnest said there is no plan B.
"We are focused on plan A, that's why there is a sense of urgency here," Earnest said. "We'll have an opportunity to discuss that."
He then corrected himself, noting the administration wants a deal.
"We'll hopefully, we won't have an opportunity to discuss that," Earnest added.