After meeting with U.S. leaders earlier this week – including President Barack Obama – Qatar officials criticized the administration's leadership in the battle against the Islamic State.
Qatar officials further told CNN that the United States should accelerate training moderate rebels to combat the Islamic State, and said they want to see the fight expanded to battling the forces of Syrian President Bashar al Assad.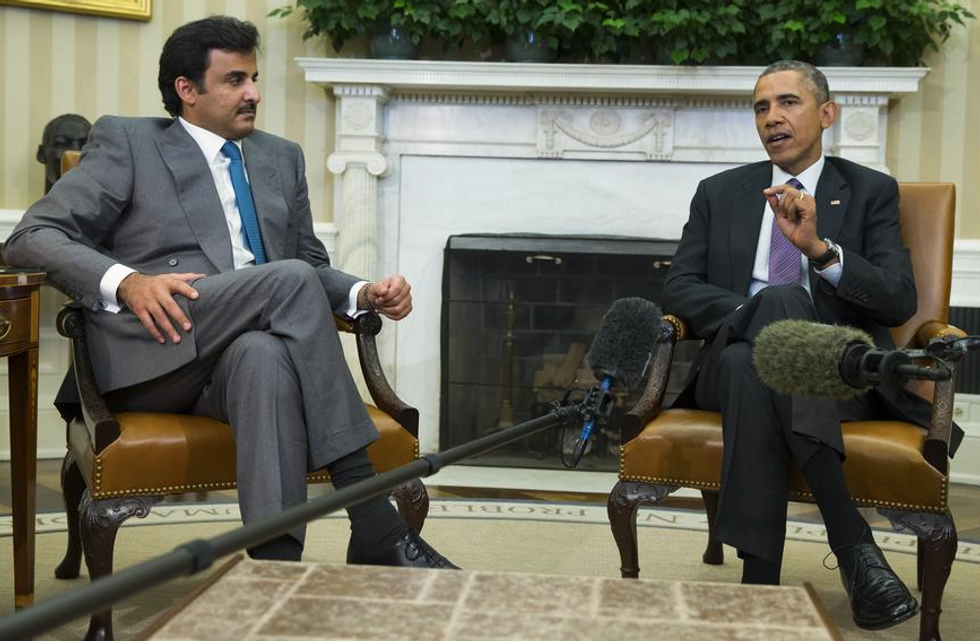 President Barack Obama meets with the Emir of Qatar Sheikh Tamim bin Hamad al Thani, Tuesday, Feb. 24, 2015, in the Oval Office of the White House in Washington. (AP Photo/Evan Vucci)
The U.S. is still vetting certain groups to determine if they are in fact moderates, while Qatar officials said their country has already trained 600 fighters, while Saudi Arabia and Turkey are also training moderate rebel groups.
Qatari Amir Sheikh Tamim bin Hamad Al Thani met Tuesday with Obama, where publicly the two leaders said they discussed Middle East issues such as Israel and Palestine, as well as the nuclear negotiations with Iran.
But unnamed Qatari officials told CNN that the Obama and the U.S. lost credibility in the region after Obama did not enforce his own "red line" after Assad used chemical weapons against rebels in the country in 2013.
Qatar has provided assistance to Hamas and has been a sharp critic of Israel, and criticized the government of Egypt for airstrikes against Islamic State targets in Libya, among areas where it parts ways with the United States.
On Tuesday, White House press secretary Josh Earnest told TheBlaze, "our interests with Qatar converge somewhat more often than they diverge."