The Islamic State militant known as "Jihadi John" who appears in several videos of hostage beheadings has been identified as British citizen Mohammed Emwazi in a report by the Washington Post.
"I have no doubt that Mohammed is Jihadi John," an unnamed friend of Emwazi told the Post. "He was like a brother to me."
Asim Qureshi with CAGE, a U.K. human rights group, said he also knew Emwazi and is "fairly certain" he is Jihadi John, a man who was first seen in the gruesome beheading video of photojournalist James Foley in August.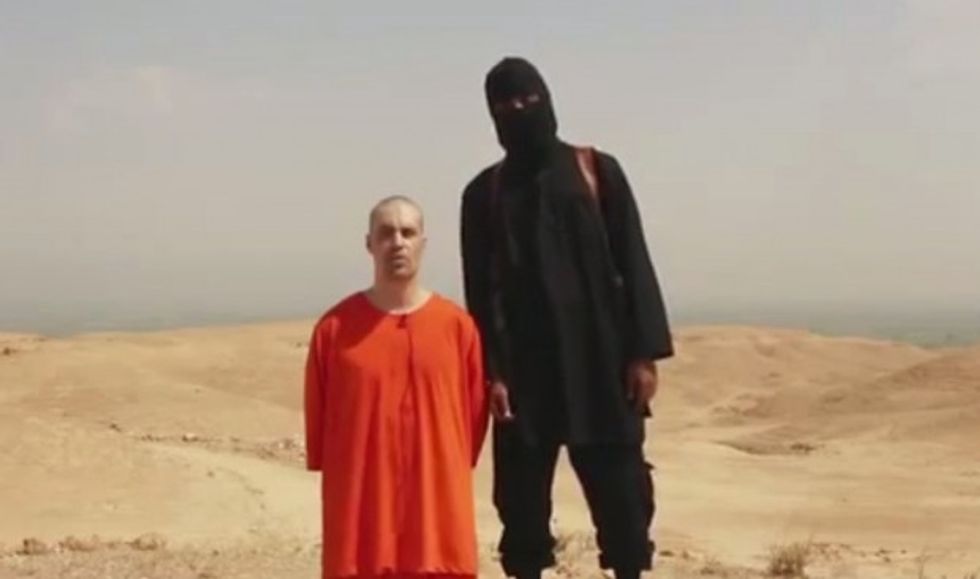 This undated image shows a frame from a video released by Islamic State militants Aug. 19, 2014, that purports to show the killing of journalist James Foley by the militant group. Foley, from Rochester, N.H., went missing in 2012 in northern Syria while on assignment for Agence France-Press and the Boston-based media company GlobalPost. (AP)
Other reports with intelligence sources confirming Emwazi as Jihadi John include NBC News and ABC News. The Center for the Study of Radicalization and Political Violence at King's College London, which closely tracks fighters in Syria, also said it believed the identification was correct.
The Post reported that Emwazi was born in Kuwait and grew up in a wealthy family living in London. He received a computer programming degree from the University of Westminster before he went to Syria a few years ago where it is thought he joined the Islamic State, according to the Post.
"If these allegations are true, we are shocked and sickened by the news," the university said in a statement.
The name Jihadi John was apparently given to the man by some of the hostages, the Post reported. Emwazi is, according to BBC News, around 27 years old.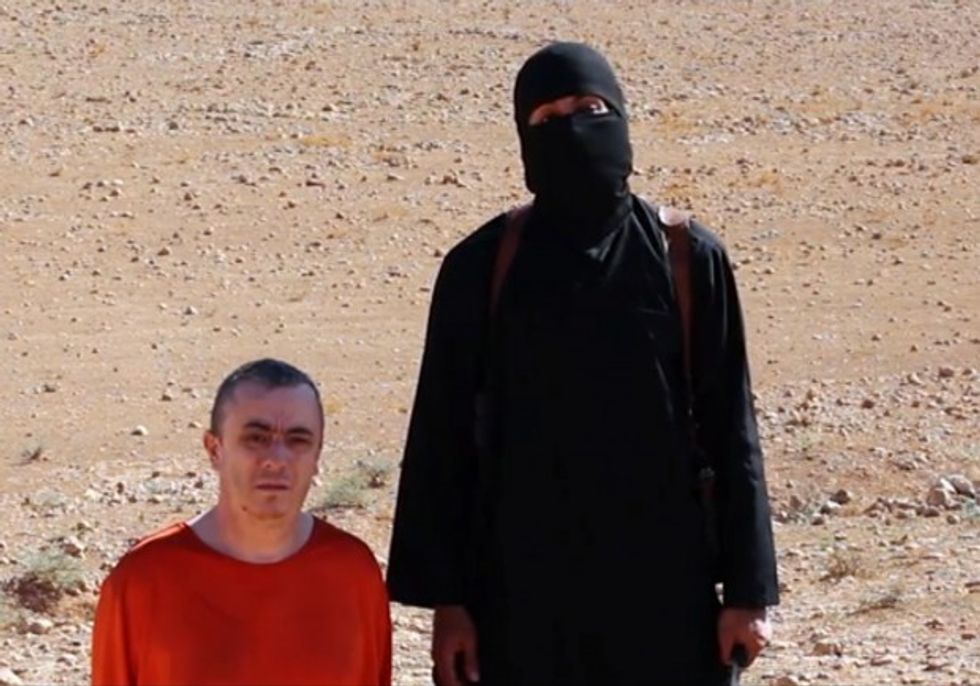 This undated image shows a frame from a video released Oct. 3, 2014, by Islamic State militants that purports to show the killing of journalist Alan Henning by the militant group. Internet video released Friday purports to show an Islamic State group fighter beheading British hostage Alan Henning and threatening yet another American captive. (AP)
In late September, FBI Director James Comey said the U.S. had identified the man behind the black mask. Comey did not reveal his name or nationality. In August, British Ambassador Peter Westmacott also said his country was close to identifying the suspect.
U.S. and British government officials declined to comment in the recent reports of Jihadi John's supposed identity.
"We have previously asked media outlets not to speculate about the details of our investigation on the basis that life is at risk," Metropolitan Police's Counter Terrorism Command Commander Richard Walton said in a statement, according to the BBC. "We are not going to confirm the identity of anyone at this stage or give an update on the progress of this live counter-terrorism investigation."
The news outlets said Emwazi had been known to Britain's intelligence services before he traveled to Syria in 2012.
CAGE said that in 2010 Emwazi complained that British intelligence services were preventing him from traveling to the country of his birth, Kuwait, where he planned to marry.
Read the Washington Post's full report for more on the man believed to be Jihadi John.
—
The Associated Press contributed to this report. This story has been updated to include more information.