A young boy wore jeans and a tattered yellow T-shirt, holding a cardboard sign as he shivered on the sidewalk in New York City's freezing weather. Some people glanced his way and others didn't look at all, but they all continued onward. All but one.
For two hours, people walked around the boy who at one point wrapped himself in a black, plastic trash bag and curled up on the ground.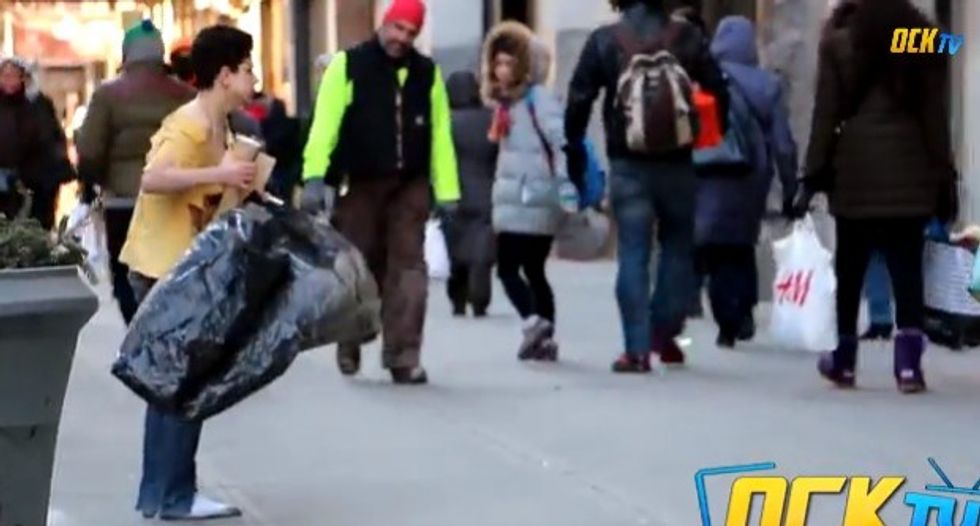 Image source: YouTube
But then someone stopped: a homeless man.
"Are you alright little brother," the man asked the boy. "What's the matter? You homeless? You homeless? Tell me what happened to you? What happened to you? Where your parents?"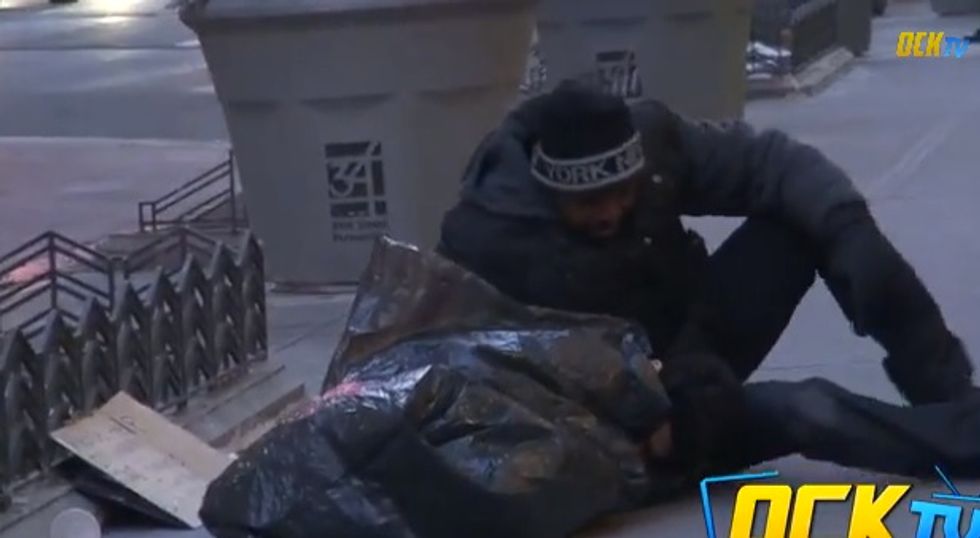 Image source: YouTube
The man then gave the boy the coat off his back and money for something to eat. In seeing this man taking off his jacket for the child, others began to stop for him as well, but only briefly and in the end they still walked away.
In the video, the man revealed that he could relate because he was homeless.
"We've got to look out for one another," he said.
"See, I messed up in life," he continued. "But you know, you're young and have a good chance in life, you know."
The whole scene was a setup, a social experiment by OckTV, Damn.com and Pranksters.com. They planted the boy and had him act as if he was cold and homeless to see if anyone would help him. When the only person who stepped up was homeless himself, the video's creators reached out to him.
Watch the video that was posted on YouTube earlier this week and has more than 6 million views:
Though it was all conducted as a social experiment, the video depicts a reality that many homeless people face as this winter continues to drag onward. With that in mind, the group started an Indigogo campaign to raise money that would be used to help clothe the homeless. Two days into their funding campaign, the group has raised more than $4,000 of their $10,000 goal.
A similar social experiment was conducted in Europe last year.