A painting by the famed Pablo Picasso reported stolen 14 years ago from a Paris museum will soon be sent back after it was discovered in the U.S. by Customs and Border Patrol.
The painting owned by the French government titled "La Coiffeuse" (or "The Hairdresser" in English) was shipped from Belgium to the U.S. late last year in a package that described its contents as an "art craft toy" valued at about $37, a news release from federal prosecutors stated.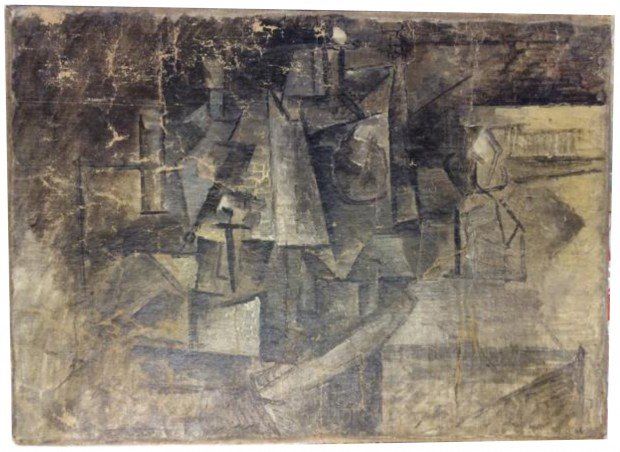 This undated photo shows a cubist painting entitled "The Hairdresser" by Pablo Picasso. Authorities say the painting worth millions of dollars was stolen in France and smuggled into the U.S. by someone who falsely labeled it as an "art craft" worth about $37 when it was shipped. U.S. Attorney for the Eastern District of New York Loretta Lynch filed a civil forfeiture complaint Thursday, Feb. 26, 2015, over the painting. (AP/U.S Department of Justice)
"A lost treasure has been found," United States Attorney Loretta Lynch said in a statement. "Because of the blatant smuggling in this case, this painting is now subject to forfeiture to the United States. Forfeiture of the painting will extract it from the grasp of the black market in stolen art so that it can be returned to its rightful owner."
Homeland Security Investigations Deputy Special Agent in Charge Scandiffio added that recovering the painting, which is actually estimated to be valued in the millions of dollars, "sends a strong message to thieves that the market to sell stolen antiquities in the United States is drying up."
According to the news release that announced the filing of a civil complaint, La Coiffeuse was painted by Picasso in 1911. It was given to the National Museums of France in 1966 by its former director George Salles and then assigned to the Musée National d'Art Moderne in Paris. The painting was thought to be in the museum's storeroom until a request for it was made in 2001 when it was then discovered missing.
This isn't the only crime regarding a work of Picasso making headlines this month. A retired electrician and his wife who once worked for Pablo Picasso are on trial for a cache of 271 creations they say were a gift from the artist.
Pierre Le Guennec and his wife say Picasso's second wife gave them a trunk full of art that they kept virtually untouched I a garage until they decided to put their affairs in order for their children in 2010. The Picasso estate describes that account as ridiculous and filed a suit for illegal possession of the works.
The pieces, which include lithographs, portraits, a watercolor and sketches, were created between 1900 and 1932.
Le Guennec claims to have worked at three of Picasso's properties in southern France, and had installed a security alarm at one of the homes.
—
The Associated Press contributed to this report.