House Republicans on Friday pulled legislation from the floor that Republicans were hoping could be an improvement to the federal No Child Left Behind law, but instead has faced criticism from conservative Republicans.
The Student Success Act was aimed at giving states more control over education, and giving the federal government less of a say over educational choices.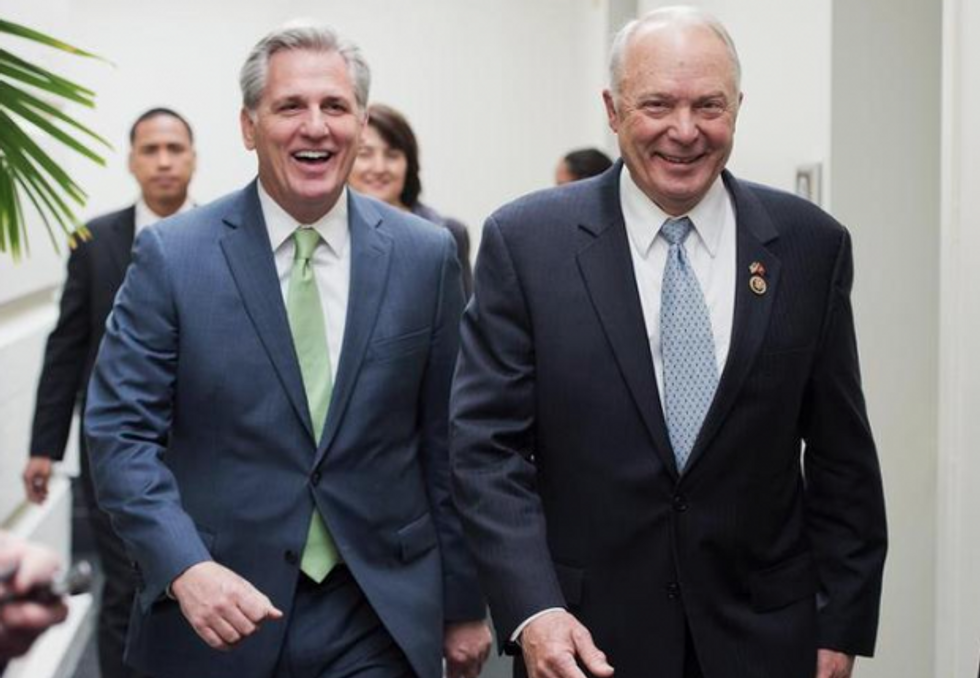 House Education Committee Chairman John Kline (R-Minn.), right, pushed for his bill to revamp federal education policy, but the bill was pulled when too many conservatives said it didn't go far enough in getting rid of the federal government's influence. Image: Tom Williams/CQ-Roll Call,Inc.
For example, it would let states measure educational accountability, and would repeal other federal measures of offering federal grant money. It also protected state and local governments from efforts by the federal government to adopt Common Core standards.
But the bill was opposed by some conservatives who say it doesn't go nearly as far as it should in getting the federal government out of the education business. Rep. Justin Amash (R-Mich.) was one of the Republicans who fought against the bill, and he praised the decision as a victory for people who want to see the government even more removed from education policy.
CONFIRMED: Reauthorization of #NoChildLeftBehind (#HR5) has been pulled from consideration. Your calls, emails & tweets made a difference!

— Justin Amash (@repjustinamash) February 27, 2015
Heritage Action said the bill didn't completely allow states to fully opt out of No Child Left Behind standards, and would not do enough to eliminate federal spending. The legislation would have simplified grants to states, but would not have turned them into block grants that states could use as they see fit.
It also wouldn't have eliminated all federal mandates, which prompted Heritage Action to said it would treat a vote on the bill as a "key vote" this year.
"Many conservatives were rightly concerned the bill did not do enough to help states and students extract themselves from the convoluted and costly intervention of the federal government," the group said in an email Thursday. "Unfortunately they were denied the opportunity to even vote on improving the bill."
The lack of conservative support meant the death of the bill, since most Democrats also opposed it, and said it would remove federal standards aimed at ensuring all Americans have access to a fair education. President Barack Obama threatened to veto the bill this week.
The bill "abdicates the historic federal role in elementary and secondary education of ensuring the educational progress of all America's students, including students from low-income families, students with disabilities, English learners, and students of color," the White House said.
Members of the House debated the last few amendments to the education bill on Friday morning. But just before 1 p.m., the House recessed in order to allow for Republicans to meeting, and the GOP quickly decided to scrap the bill.