NATIONAL HARBOR, Md. — He took the stage to AC/DC's "Back in Black" and bragged about Texas.
That's Rick Perry for you.
Addressing the 2015 Conservative Political Action Conference Friday morning, the former governor pulled no punches as he attacked the Obama administration and touted himself as the kind of leader America needs.
"I come here to speak plainly about the times that we live in," Perry said. "At no time in the past 25 years has the future been more uncertain and the world more dangerous than it is today."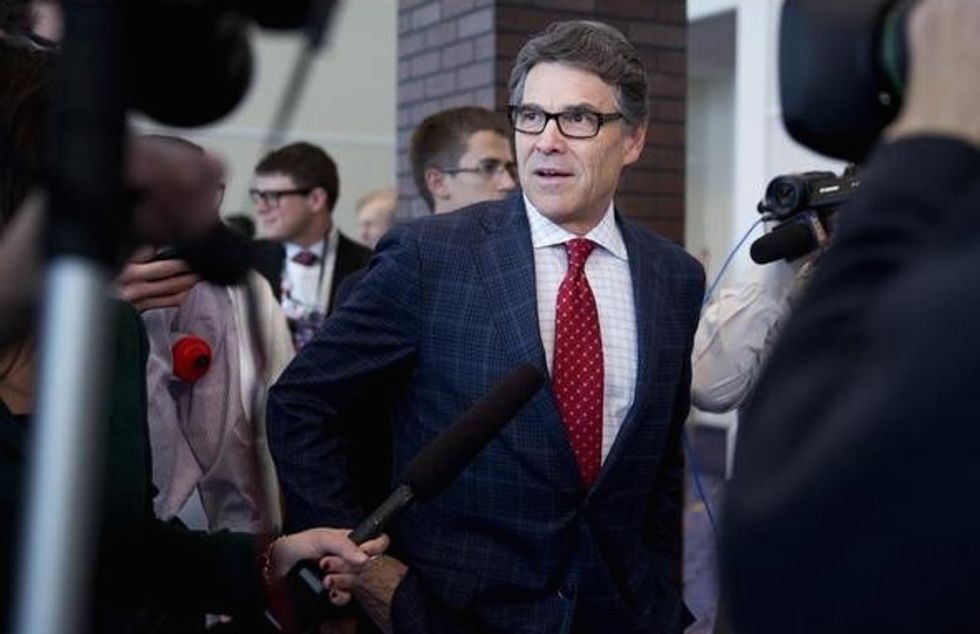 Former Texas Gov. Rick Perry speaks to the media during the Conservative Political Action Conference in National Harbor, Md. (Bloomberg/Bloomberg via Getty Images)
Perry hammered national security, illegal immigration and the economy.
"The president declared in his State of the Union that the advance of ISIS has been stopped, and that is simply not true," Perry said.
He also called on the president to acknowledge the severity of the Islamic State's power.
"They are a religious movement that seeks to take the world back to the seventh century," Perry said. "Their aims are apocalyptic. If Egypt and Jordan recognize that they are at war with radical Islam, isn't it about time that we do the same?"
Perry brandished his up-close handling of immigration issues, recalling the moment last summer when, "I looked at the president and said, 'Mr. President, if you will not secure the border between Texas and Mexico, Texas will.'"
It was far from the only time Perry would tout his state's successes.
Fueled by a booming energy industry, Texas added some 1.4 million jobs over the last seven years, jobs that Perry said buoyed the national economy.
"Minus those jobs created in Texas, the U.S. lost a quarter of a million jobs [in the past seven years]," Perry said.
Decrying the "generational theft" of the national debt and the "sham" national unemployment rate that "leaves millions of American workers uncounted," Perry painted a dire picture of America in crisis and positioned himself as the man who could "build the freedom state" to fix things.
Whether Republicans will ask him to be that man in the 2016 presidential race remains to be seen.
—
Follow Zach Noble (@thezachnoble) on Twitter