Sunday night's broadcast of the Comedy Central's 10th Annual "Night of Too Many Stars" telethon and celebrity auction featured some of the biggest names in comedy. Paul Rudd, however, delivered the night's most bizarre moment -- and likely one of the most bizarre on TV.

Image: YouTube
Jon Stewart once again hosted the television special that has raised tens of millions of dollars for programs to assist kids, parents and schools dealing with the complications from autism.
Between the appeals for donations, the all-star comedy lineup delivered short comedy sets from the likes of Chris Rock, Adam Sandler, Jim Gaffigan and Amy Schumer.
Rocker Jon Bon Jovi performed his classic hit, "Dead or Alive," with celebrity backup singers Will Forte, Gilbert Gottfried, Al Roker and Triumph the Insult Comic Dog.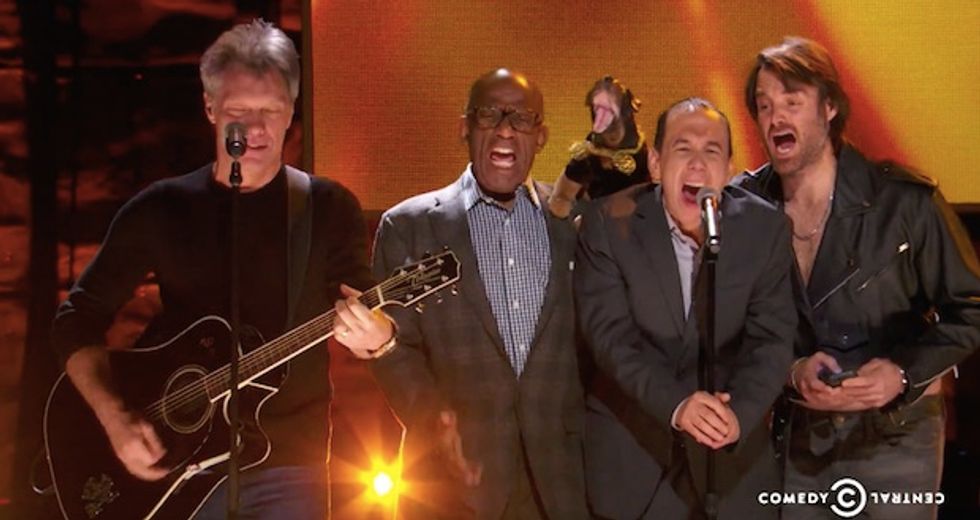 Image: YouTube
However, one of the most bizarre moments of the night happened during actor Paul Rudd's appearance.
Rudd joined Stewart on stage for something called "The Wheel of Rudd." In the beginning, it wasn't too odd.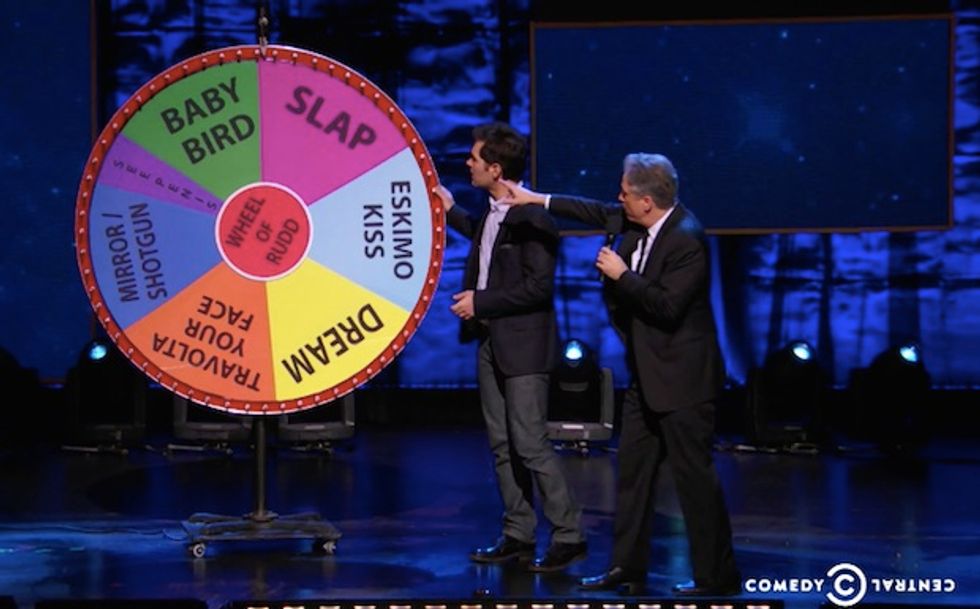 Image: YouTube
Four members of the audience were randomly chosen to join the star on the stage, spin the "Wheel of Rudd" and experience whatever experience the wheel selects.
The first spinner, a woman named Danielle, experienced "Travolta Your Face," or Paul Rudd uncomfortably caressing her face while delivering over-the-top compliments just like John Travolta did with Idina Menzel during the recent Oscars telecast.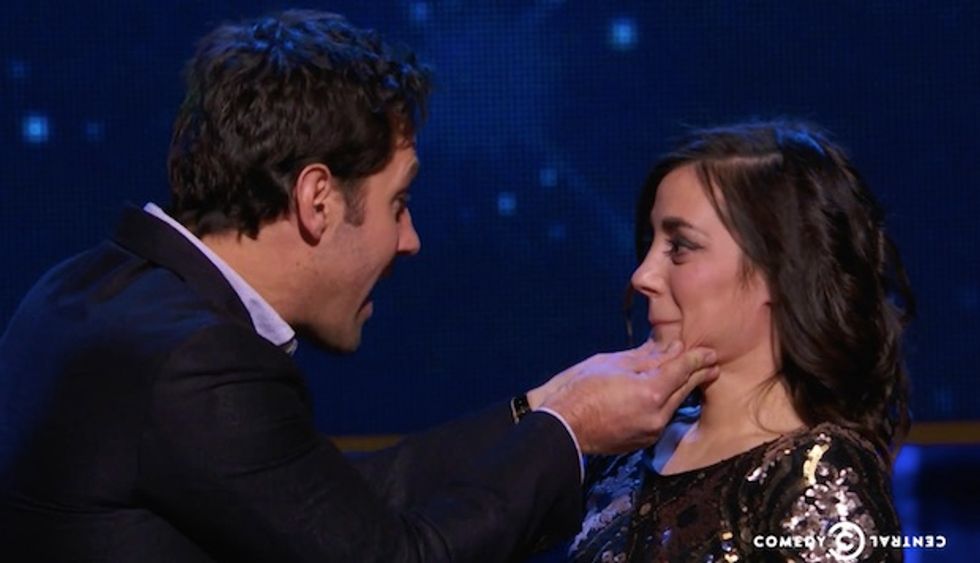 Image: YouTube
The wheel landed on "Slap" for the next contestant, Ashley. Rudd instructed her to slap his face as hard as she could.
The first slap was a bit anemic for the actor's taste, so he encouraged her to hit him again. The second slap missed the mark. For the third slap, Ashley wound up and delivered a shot that inspired a collective "Ow!" from the crowd.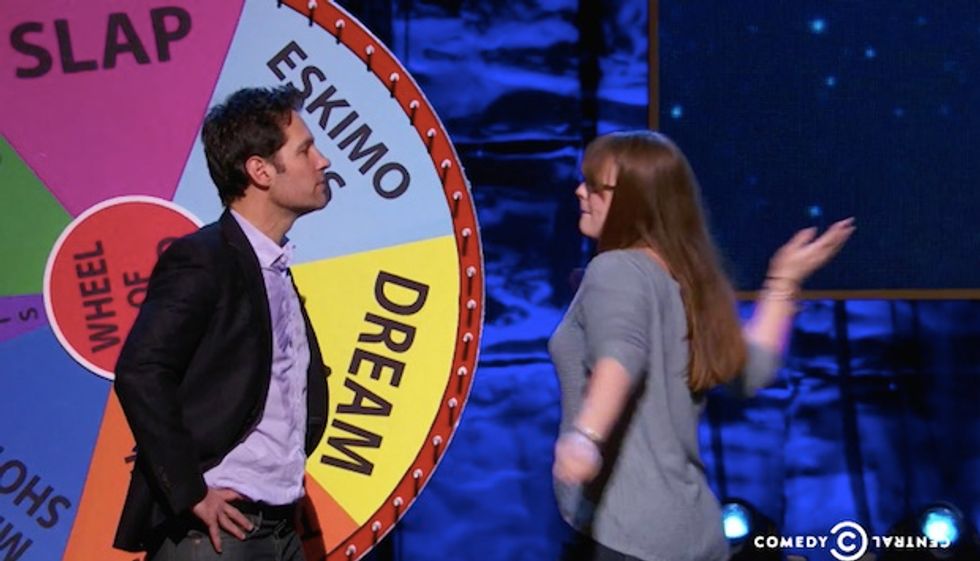 Image: YouTube
And then, the bit got really weird.
The third spinner, "Joe from Queens" landed on "Baby Bird." If you are not familiar with the "Baby Bird" challenge, it requires one person to chew some food and then deposit it into the mouth of another -- just as mother bird feeds her baby birds.
Joe was given a choice of three foods to bite into, chew up and then deliver into the mouth of a waiting Paul Rudd. He chose the roasted chicken.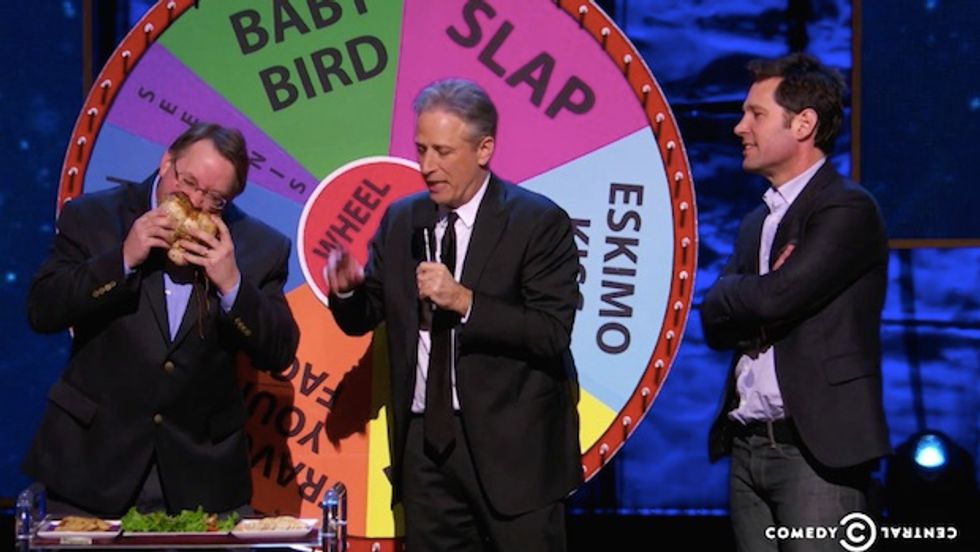 Image: YouTube
After vigorously chewing a few bites of the roasted bird, Joe delivered the masticated mouthful to Paul Rudd.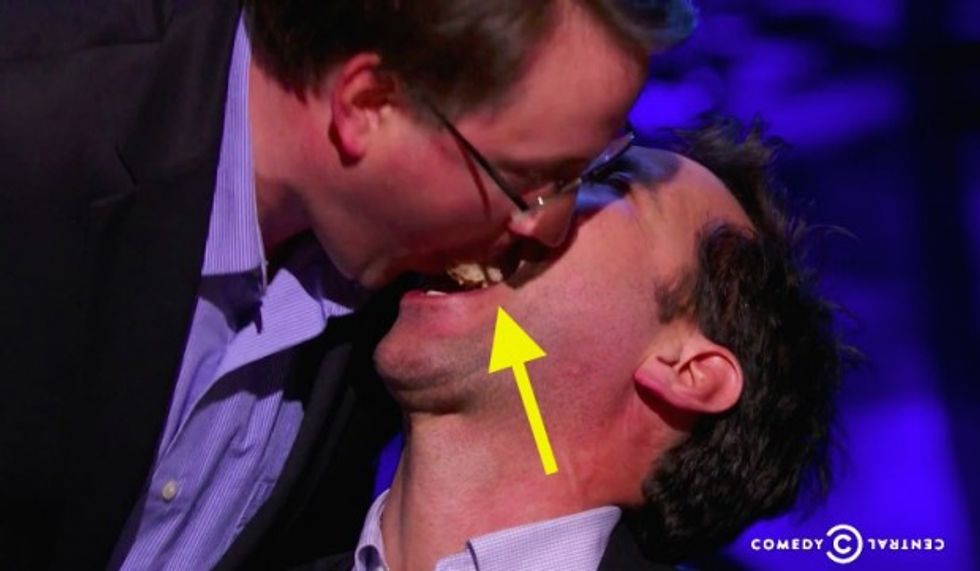 Image: YouTube
Watch the "Wheel of Rudd" here. (The "Baby Bird" portion begins about 6:20.)
__
Follow Mike Opelka (@Stuntbrain) on Twitter.