An anti-gun group is out with a new video hoping to scare potential customers away from the idea of owning a firearm.
The pro-gun control group States United to Prevent Gun Violence posted a video to YouTube Tuesday that shows them setting up a fake gun shop and then advertising it specifically to first-time buyers. The catch? All the guns in the case are the same models or similar models to the ones that have been used in crimes and/or deaths.
"I'm pro-Second Amendment so it's like, it's kind of hard to find that in New York City," one man says as the clerk begins to pull out a revolver to show him.
"It's a 22-caliber, 6-inch revolver," the clerk says.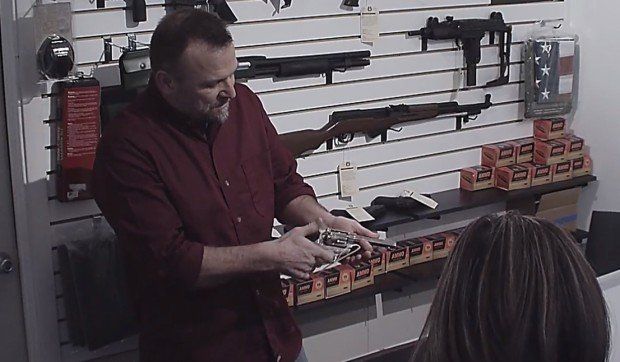 Image source: YouTube
Then comes the unexpected.
"It's also the gun a 5-year-old found in his parents' bedroom and went down and shot his 9-month-old baby brother with it," the clerk says.
Another man who looked at the same gun reads aloud a label attached to it: "It says shooter – 5-year-old kid. What does that mean?" he asked as the clerk explained to him that it was the "history" of the gun.
"This is the one? This is the one that the kid used?" the man asked, sounding shocked.
The clerk later pulls out an AR-15 rifle to show another customer.
"Collectors love this one. Adam Lanza's mom had this in her collection too. Until he took this and several other guns and killed her. Then went down to Sandy Hook [Elementary School] and killed six teachers and 20 innocent children."
"Twenty little kids. Gone. Like that," the clerk tells yet another customer who appears shaken up.
The video ends with a very simple, yet startling, message: "Every gun has a history. Let's not repeat it."
States United to Prevent Gun Violence said its goal for the campaign is to educate people looking to purchase a firearm and ensure they are aware of the potential risks.
"Often gun purchasers wrongly believe guns will keep them safe when in fact a gun in the home greatly increases the risk of homicide and suicide. This sets the record straight so consumers can make an informed choice to buy a firearm or not," executive director Julia Wyman said.
The video acknowledges that more than 60 percent of Americans say guns make them safer, but it goes on to say that owning a gun increases the chances of homicide, suicide or accidental death, without citing where it got those statistics.
KTRK-TV reported that 52 percent of Americans say it is more important to protect the rights of gun ownership while 46 percent argue it's more important to control, or regulate, gun ownership.
Watch the ad below:
Editor's note: This story has been updated. 
(H/T: KTRK-TV)
–
Follow Jon Street (@JonStreet) on Twitter