© 2023 Blaze Media LLC. All rights reserved.
"It's time for us as Americans to not be so complacent."
A California man says he's not sorry for ripping up a swastika display in front of a neighbor's house.
Robert Dixon was caught on video entering someone else's yard and tearing down the display of swastikas on Israeli and American flags. He said he knew that he could be arrested for it, but that as an American, he just "had to do it."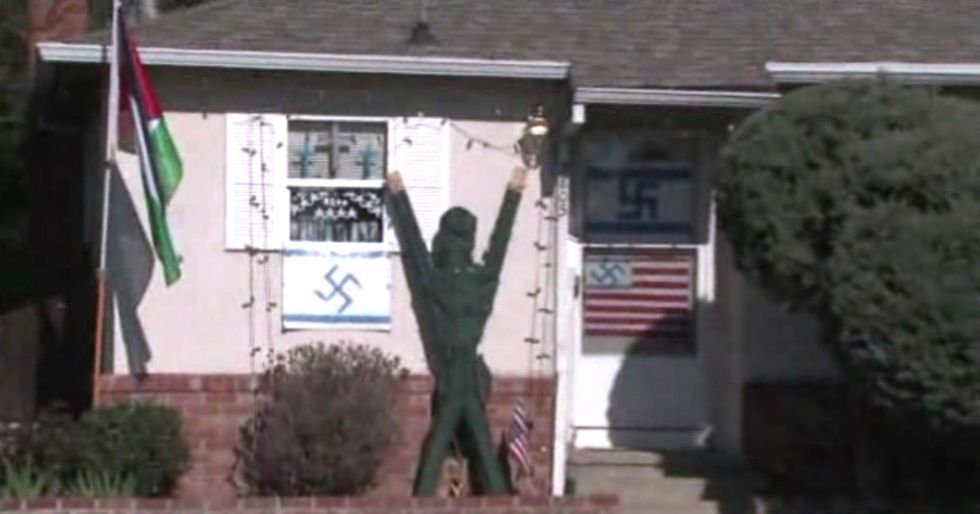 Image source: KCRA-TV
"I knew I was willing to deal with the consequences for my beliefs – and my belief was that needed to come down that day for that neighborhood," Dixon told KCRA-TV. "It's time for us as Americans to not be so complacent. To stand up and say, 'Hey, we're not going to put up with it."
Dixon said he's not Jewish or in the military — he's just an American who loves his country.
"I respect the Jewish people and they are our allies and I just had to do it," Dixon said.
KCRA identified the man who had the display in front of his house as Douglas Clark. Clark did not answer the door for the news crew.
Dixon said while he was tearing down the displays, Clark came out and "wanted to argue."
"I just told him he was a coward. I just sat and waited, which I thought [was when] I would be arrested and I wasn't – but I was prepared for that," Dixon said.
Image source: KCRA-TV
While the swastikas were torn down, Clark continues to fly the Palestinian flag and has put up new signs on his property. One on his front door shows the word "TERRORISM" with a large question mark beneath it.
Still, Jewish leaders in the Northern California community aren't condoning Dixon's actions. Ryan Pessah, chairman of the Sacramento Jewish Community Relations Council, said that Clark's "hate speech," while "offensive," is still protected under the First Amendment.
"Those displays are hateful, but we wouldn't want him to feel the way his speech makes us feel," Pessah said.
(H/T: KCRA-TV)
–
Follow Jon Street (@JonStreet) on Twitter
Want to leave a tip?
We answer to you. Help keep our content free of advertisers and big tech censorship by leaving a tip today.
more stories
Sign up for the Blaze newsletter
By signing up, you agree to our
Privacy Policy
and
Terms of Use
, and agree to receive content that may sometimes include advertisements. You may opt out at any time.