The Republican Study Committee on Monday released their own aggressive plan to balance the federal budget in six years, by cutting more than $7 trillion in planned spending over the next decade.
The RSC budget, which reflects the views of the most conservative House members, would demand a balanced budget three years faster than the one put forward by Republican leaders, and it gets there by cutting more $2 trillion more in planned spending. Both GOP budgets repeal Obamacare, but the RSC plan goes further by putting a tougher limit on how much the government can spend.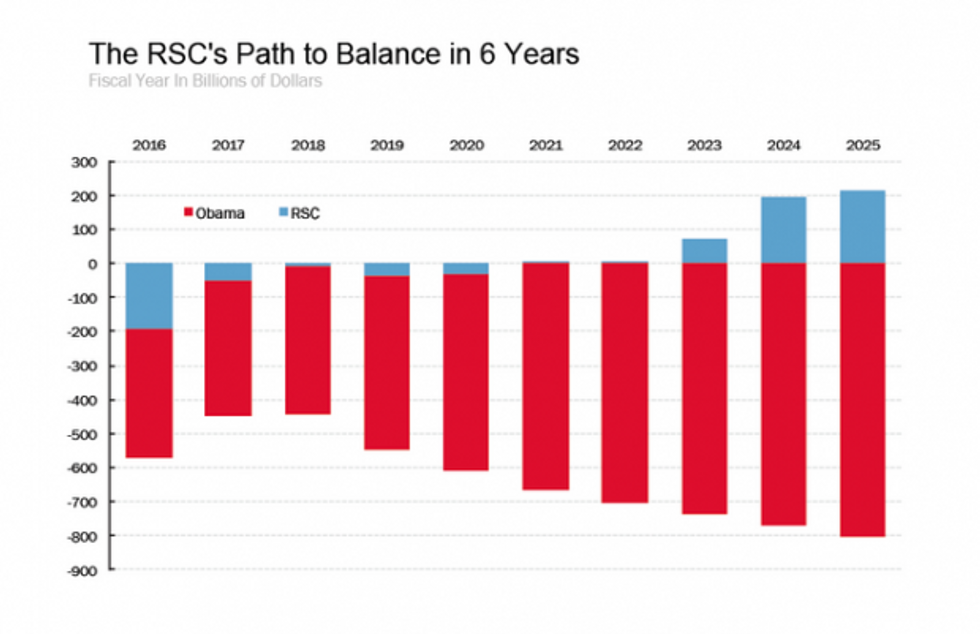 The Republican Study Committee has a plan to balance the budget in six years, unlike the budget plan from President Barack Obama, which never balances. Image: RSC
"To truly restore America, we must first and foremost put an end to the Obama administration's harmful tax-and-spend policies," said RSC Chairman Bill Flores (R-Texas). "Hardworking Americans know how important it is to live within your means; it's time the federal government learned that lesson, too."
While Democrats can be expected to criticize the RSC budget for imposing austerity and requiring massive cuts, the RSC budget actually calls for more spending over the next decade. It would have the government spend $3.65 trillion in 2016, and spend $4.82 trillion by 2025.
But while those are spending increases, they are very modest increases over a decade. Plus, the anticipated growth in federal revenues, created in part by the tax reform the budget hopes to enact, would create a budget surplus by 2021.
In contrast, the mainstream House Republican budget would see its first budget surplus in 2024. Both balance the budget, something that the Obama administration's budget never does.
The RSC budget is one of several the House is expected to consider, although in the end, the mainstream GOP budget is the one that will likely pass. House and Senate Republicans are hoping to use this year's budget process to create a streamlined way to repeal Obamacare, one that can pass through Congress without relying on any Democratic votes in the Senate.