House Foreign Affairs Committee Chairman Ed Royce (R-Calif.) warned the Obama administration Thursday against offering military support to Iran-backed Shiite fighters who are battling the Islamic State, and said doing so would only set up a later conflict with that force.
Reports have surfaced over the last few weeks that the U.S. is offering air support to these Iran-backed forces. On Wednesday, the coalition fighting the Islamic State conducted airstrikes in Tikrit, Iraq, a sign that was widely interpreted as an effort to back Iranian forces.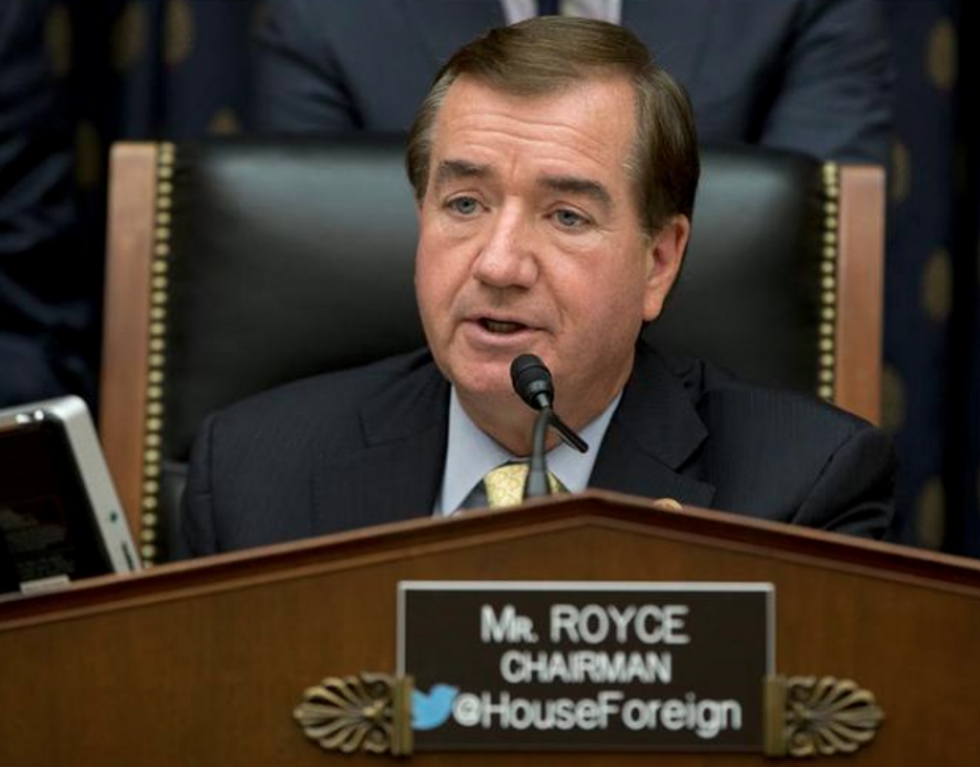 House Foreign Affairs Committee Chairman Ed Royce (R-Calif.) warned it would be a mistake for the Obama administration to back Iranian militias in the fight against the Islamic State. Image: AP Photo/Carolyn Kaster
But while the administration has tried to put a positive spin on this development, Royce warned that it's a dangerous move on the part of the United States.
"Shiite militias taking on ISIS may serve the immediate interest of killing jihadis, but it is hard to see how empowering Iran's proxies is in the short, medium, or long term interests of an inclusive Iraq or a stable Middle East," Royce said in remarks prepared for a Thursday morning hearing. "The fear that many of us have is that Sunni Iraqis, who have been tortured by ISIS, will get the same brutal treatment by their Shiite militia 'liberators,' and that would fuel endless conflict."
Royce's comments are similar to those made by Gen. David Petraeus, who said in an interview with the Washington Post that the biggest threat to Iraq's long-term stability is "Shiite militias, many backed by, and some guided by, Iran."
They also seem to match up with a warning that Israeli Prime Minister Benjamin Netanyahu offered in his March 3 address before Congress, when he said the Islamic State and Iran are both competing for control of the Middle East. "So when it comes to ISIS, the enemy of your enemy is your enemy," Netanyahu warned.
The notion of U.S. airpower backing Iranian forces is being raised in the context of the ongoing effort to secure a nuclear agreement with Iran. Some members of Congress, such as Sen. Marco Rubio (R-Fla.), have charged that the Obama administration is altering the way it fights the Islamic State in order to appease Iran in the context of the nuclear talks, but the administration has rejected that charge.
Royce also used the Thursday hearing to urge a faster pace in the development of ground troops in Sryria.
"Last fall, Congress voted to authorize training and equipping the Syrian opposition forces," he said in his prepared remarks. "But to our great frustration, that's still not up and running. And when pressed on the path forward in Syria, most administration officials seem to suggest we can figure it out later."
Obama administration officials acknowledged that there is still no local ground force in Syria that has been developed. U.S. Air Force Bridagier General Michael Fantini said U.S. forces are just about to begin training the first wave of these local troops.
"[W]e are working with our coalition partners to build the capabilities of the moderate Syrian opposition — with training of the first class set to begin later this month," he said.
And Gen. John Allen, now a State Department special envoy for the global coalition to counter ISIS, admitted that the situation in Syria is "more challenging and complex." He said the goal is to train 5,000 local troops per year for the next three years.
But Allen was generally more upbeat than Congress about how the fight against the Islamic State is progressing. He said the nearly 3,000 airstrikes have taking out many Islamic State assets, and has led to a loss of the territory the group controls.
"Since the coalition campaign began, ISIL has lost more than a quarter of the populated territories it held in Iraq," he said.
None of the witnesses talked about the need for U.S. ground troops, and instead focused on building up local troops, continuing airstrikes, and efforts to cut off the terrorists' access to financing.