Reacting to the U.S. Army's decision to charge Bowe Bergdahl with desertion, one of the controversial figure's former platoon members issued a blistering critique of the way the Obama administration has handled the situation.
However, he didn't go after President Barack Obama's decision to release five Taliban commanders to secure the soldier's release, but rather how the administration conducted itself after Bergdahl was free.
"If they would've brought him back…and they had released a statement or a memo saying, 'hey, we got him back. There are some circumstances surrounding him, we are going to investigate them' — that would have been great," veteran Cody Full told Megyn Kelly on Thursday. "But instead, they parade his parents out in a Rose Garden ceremony and you have cabinet members come out and say he served with 'honor and distinction,' basically calling him a hero when they knew that wasn't true and the facts have been the same for five years."
He continued: "But yet you have soldiers who are missing limbs or who have paid the ultimate price over there, and they don't get a Rose Garden ceremony. They served honorably. All they get is an autoCAD letter three or four months later."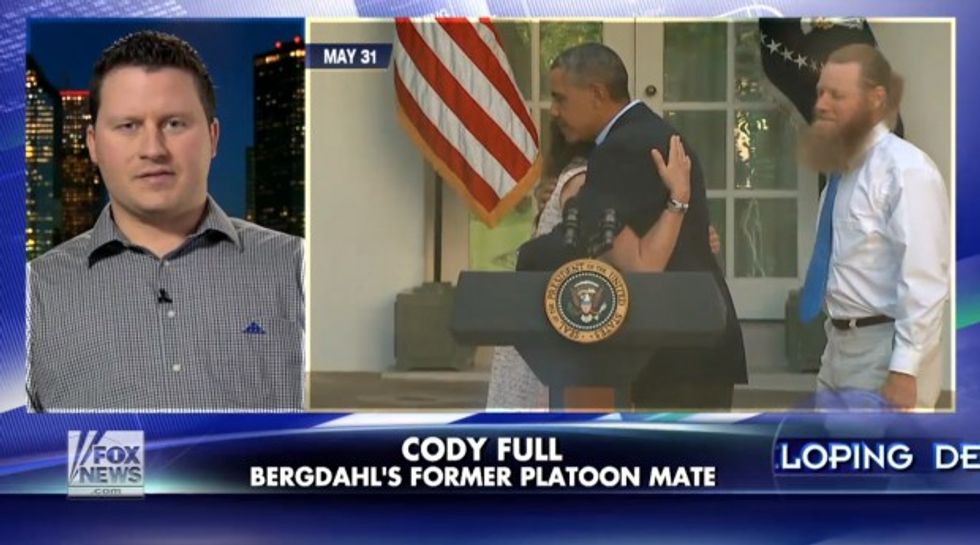 (Fox News)
While serving in Afghanistan, Bergdahl disappeared from his base in 2009. He was held captive by Taliban militants until May 2014, when the Obama administration agreed to release five terrorists to exchange for him. Bergdahl's former platoon members have claimed that soldiers lost their lives searching for him.
As for the other two former platoon members on the show, Josh Cornelison and Evan Buetow, there was no disagreement among them that the recent charges represent a big step towards justice.
Bergdahl has been charged with Article 85 of the Uniform Code of Military Justice, "desertion with intent to shirk important or hazardous duty," and with Article 99, "misbehavior before the enemy by endangering the safety of a command, unit or place."
Watch the segment via "The Kelly File" below:
---