Chicago Mayor Rahm Emanuel is backing away from comments he made seemingly suggesting the city's airports could be named after President Barack Obama.
Emanuel — who served as Obama's chief of staff before he was elected mayor in 2011 — made his comments during a candidate forum Wednesday ahead of the April 7 mayoral runoff, the Chicago Tribune reported. Emanuel is running for re-election against Democratic County Commissioner Jesus "Chuy" Garcia.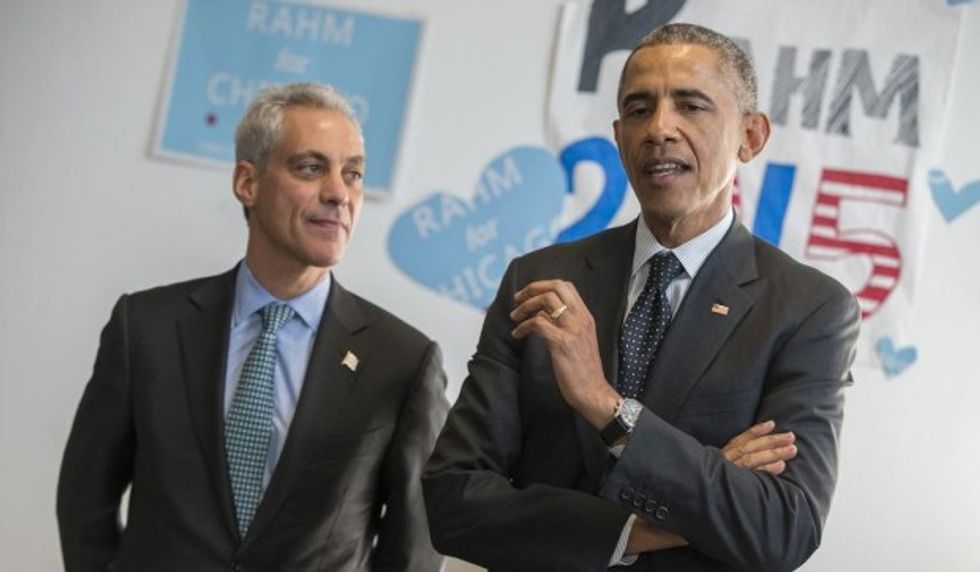 Chicago Mayor Rahm Emanuel listens as President Barack Obama speaks on behalf of Emanuel during a campaign stop in Chicago, Thursday, Feb. 19, 2015. (AP Photo/Evan Vucci)
Emanuel was addressing the issue of naming a North Side high school after Obama and a parkway after the late Arthur Brazier, a black pastor and civic leader.
"We have to, in some way, whether it's President Obama or in the other case, Dr. Brazier, acknowledge people who have done significant things. We have an airport, two of them, named after, you know, Midway Airport, O'Hare Airport," Emanuel said. "These are people who have been transformative in the city of Chicago."
"I don't think Midway was a guy," moderator Charles Thomas interjected.
"I'm just saying, but we have airports named after, obviously, battleships," Emanuel continued.
It isn't clear if Emanuel acknowledged his error — O'Hare is named after World War II Navy pilot Edward "Butch" O'Hare and Midway is named after the World War II Battle of Midway. A spokeswoman for the mayor later told the Chicago Tribune that Emanuel has no plans to rename either airport.
Emanuel had been speaking in reference to his poorly received idea to name a North Side high school after Obama, when the president got his political start in the city's South Side.
"Look, I made a mistake, and I was quick to change it. I'm not perfect. When I make a mistake, I hear it and change it. And I don't have a problem saying that. But I won't make an apology for the fact I think President Obama is a great president. I wanted to honor him," Emanuel said. "I wanted to be the city to have the first high school named after him. In my rush to do it, I clearly offended people, so I backed off of it. I will never back off of my love and affection for a great president. But I made a mistake."
This story has been updated.
(H/T: Chicago Tribune)
—
Follow Dave Urbanski (@DaveVUrbanski) on Twitter