Using her personal email address, Hillary Clinton responded to a message informing her of a drone crash in Pakistan with a question about furniture.
A batch of Clinton's emails obtained by the Associated Press while she was secretary of state included an exchange between Clinton and top aide Huma Abedin, who had emailed her a news story about a U.S. drone crash in Pakistan.
Clinton replied: "I like the idea of these. How high are they? What would the bench be made of? And I'd prefer two shelves or attractive boxes/baskets/conmtainers [sic] on one. What do you think?"
Abedin responded, "Did u mean to send to me?"
"No-sorry!" Clinton replied. "Also, pls let me know if you got a reply from my ipad. I'm not sure replies go thru."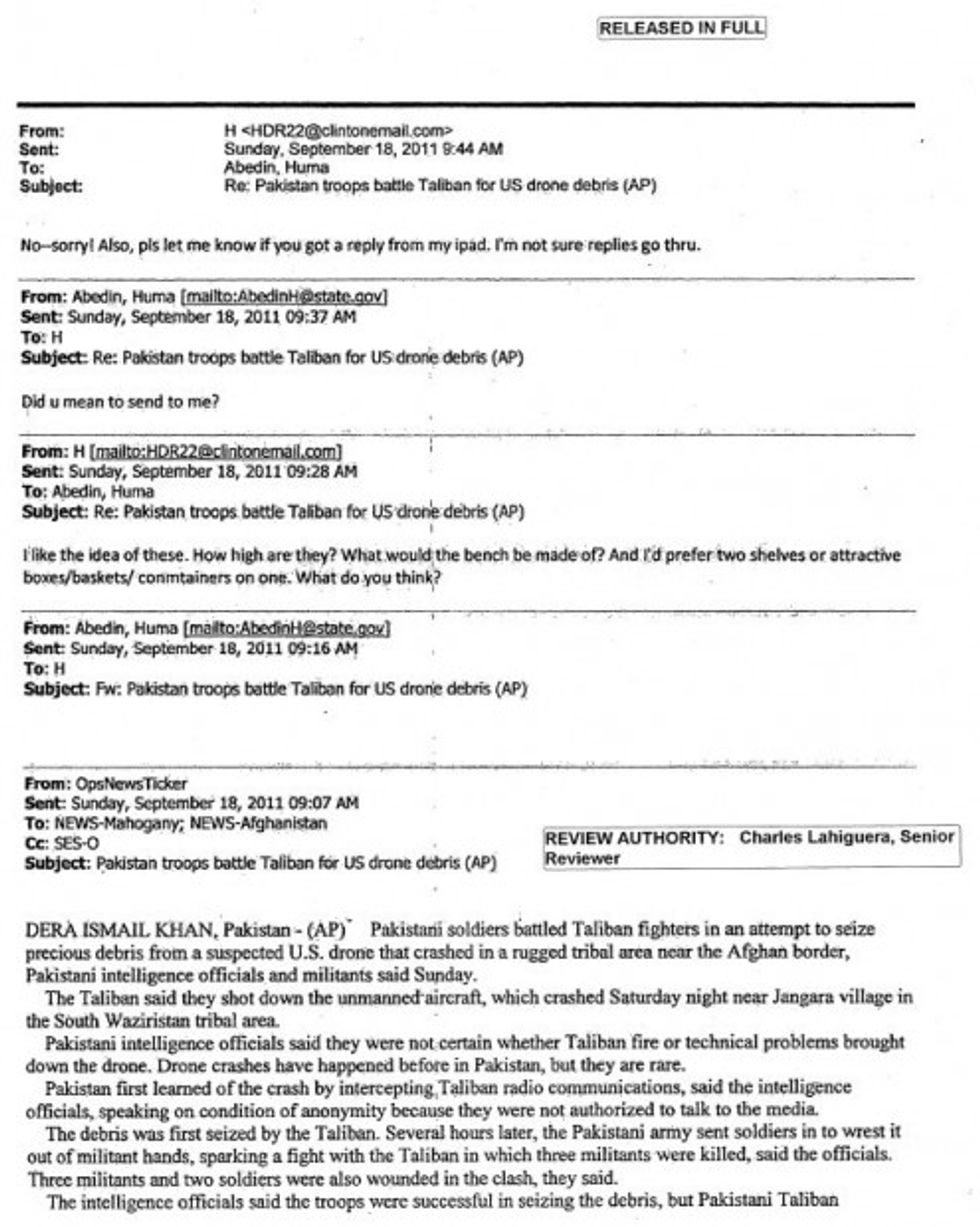 Image source: Associated Press
The emails show that Clinton used an iPad in addition to a cellphone for her email, despite her previous statements that she wanted to limit herself to one device and one email address out of "convenience."
This is the latest in the ongoing controversy surrounding Clinton's exclusive use of her personal email address with messages stored on a computer server located at her home in Chappaqua, New York.
Clinton later admitted,  "Looking back, it would have been probably, you know, smarter to have used two devices."
Rep. Trey Gowdy (R-S.C.), who is the chairman of the House Select Committee on Benghazi, has led the charge into investigating Clinton's email use during her time at the State Department. The South Carolina Republican announced Tuesday that his committee has formally asked Clinton to testify on Capitol Hill about her use of personal email on the job.
The Associated Press contributed to this report.
Follow Jon Street (@JonStreet) on Twitter