Incoming Israeli Member of Knesset Haim Yellin brought a Qassam rocket fragment to the Knesset his first day in parliament Tuesday, saying it would provide him a constant reminder of where he comes from.
"This Qassam rocket here is so I don't forget where I come from and who I represent: the residents who have been suffering from these rockets for 15 years," Yellin told reporters Tuesday.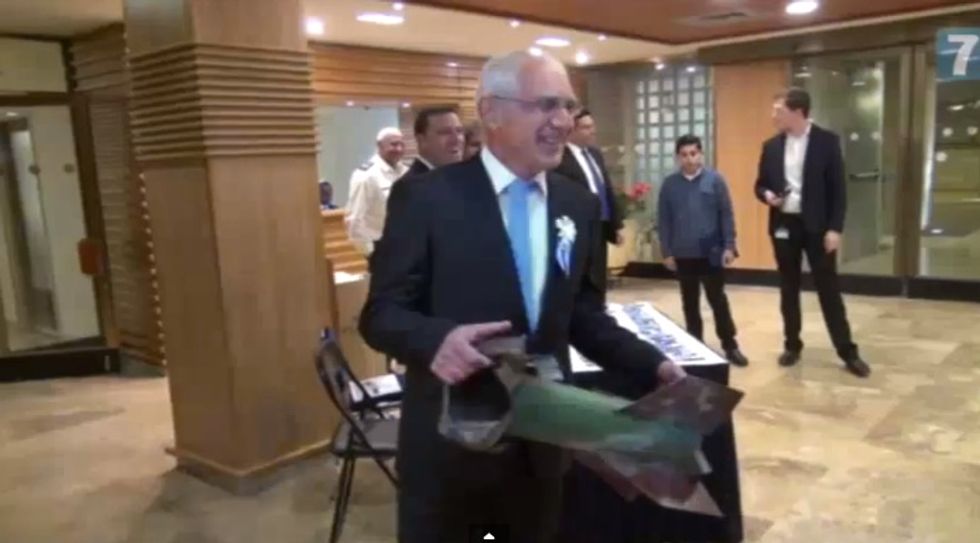 Member of Knesset Haim Yellin brought a remnant of a Qassam rocket fired at southern Israel to the Knesset for his first day in parliament. (Image source: YouTube)
The rocket was one of thousands that have been fired by Palestinian terrorists at southern Israel, the region where Yellin lives. Yellin previously served as the head of the Eshkol Regional Council, in a region in the northern Negev desert bordering Gaza. His community has been targeted repeatedly by Hamas rockets.
"I brought it from my office in Eshkol to my office in the Knesset I think that it says a lot about me and about the residents I represent," Yellin said.
Israel's Arutz Sheva caught Yellin as he arrived at the Knesset Tuesday with his office decoration:
(H/T: Arutz Sheva)