Two passenger jets were struck by lightning Wednesday evening as they approached Seattle's Sea-Tac airport, KOMO-TV reported.
Video of the incidents were captured by University of Washington student Owen Craft who was out filming the storm when he saw the bolt strike through the planes' fuselage.
"I was stunned for a second because I couldn't believe what I just saw," Craft told KOMO. "After the second [plane] got hit, I knew I was on to something spectacular!"
Passenger Kim Dodge, who was on one of the planes, recounted the experience to the local ABC affiliate.
"We were flying in and out of clouds, sunshine then darkness, sunshine then darkness," she said. "I was looking out the window when I saw this bright flash and this streak of lightning hit the top-middle of the right wing near the engine."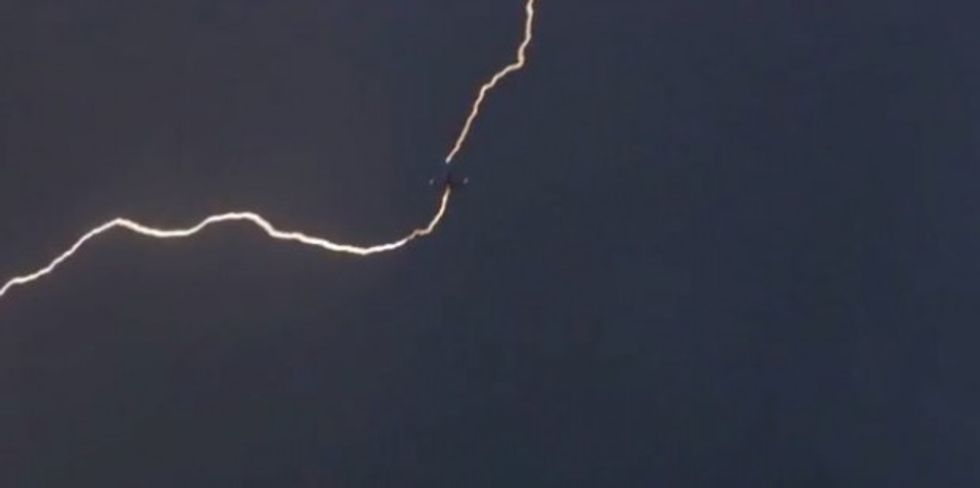 Image source: YouTube screen grab
Dodge said after the incident some worried about whether or not the plane could safely land.
"I think it hit the wing because there was an immediate loud crack and the cabin was bright for that brief second," she told KOMO. "There was this loud gasp in the cabin after it happened. The people behind me were starting to worry if it was going to affect the landing. It didn't."
"We landed safely," Dodge added. "It was startling."
Planes are designed to be able to withstand lightning strikes and such incidents aren't terribly uncommon, according to KOMO.
—
Follow Oliver Darcy (@oliverdarcy) on Twitter