President Barack Obama on Friday announced his administration would try to train thousands of retiring soldiers to become solar panel installers, a program aimed at advancing his green energy policies and finding work for members of the U.S. Armed Forces who still face a bleak unemployment situation.
"I'm announcing a new goal to train 75,000 workers to enter the solar industry by 2020," Obama said at Hill Air Force Base in Utah. "As part of this, we're creating what we're calling a solar-ready vets program, that's modeled after some successful pilot initiatives that have already been established over the last several years."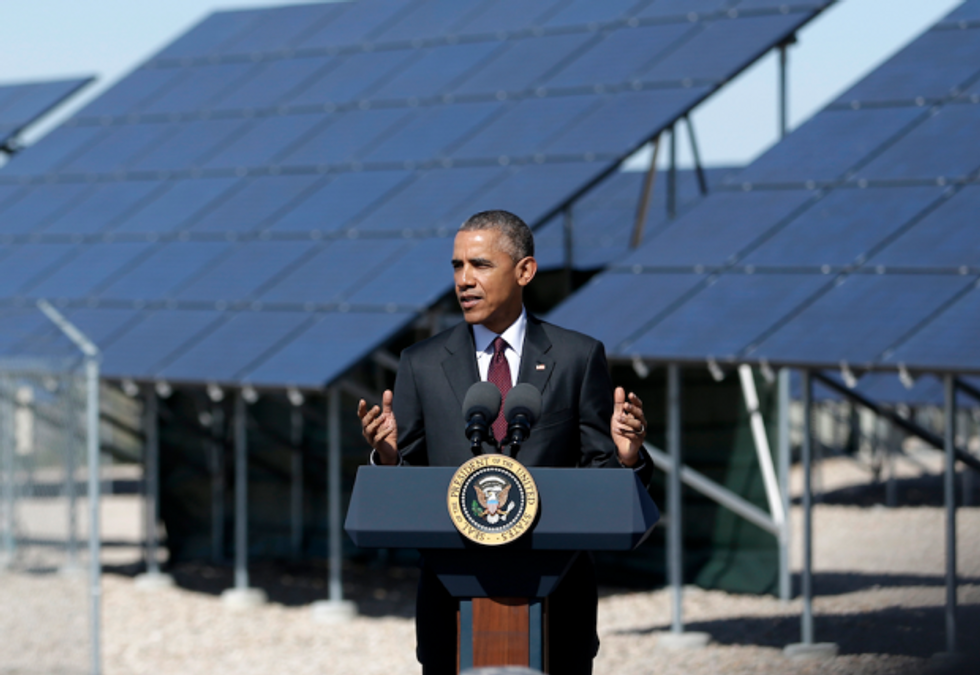 President Barack Obama spoke at Hill Air Force Base in Utah Friday about his new plan to turn thousands of veterans into solar panel installers. Image: AP
"It's going to train transitioning military personnel for careers in this growing industry at 10 bases, including right here at Hill," he said.
He said officials would also be looking for ways to get veterans to use the G.I. Bill to get educations in the solar industry.
Veterans have a higher unemployment rate than the general population, and members of both parties have looked for ways to promote the hiring of veterans. Obama said the solar industry is a perfect fit, and is one that will pay better than average.
"What I'm doing here today is to highlight the fact that the solar industry is actually adding jobs 10 times faster than the rest of the economy," he said. "They're good-paying jobs, they're helping folks enter into the middle class."
Last year, the White House announced a pilot program aimed at training just a few dozen veterans to work in the solar industry.