LOS ANGELES (TheBlaze/AP) — The high-octane "Furious 7" peeled out of the gates in its opening weekend, picking up a stunning $143.6 million from 4,004 locations to easily top the domestic box office, according to studio estimates Sunday.
The expectation-shattering sum is a franchise best for the $190 million Universal Pictures film — and it's all due to Vin Diesel being a conniving geek.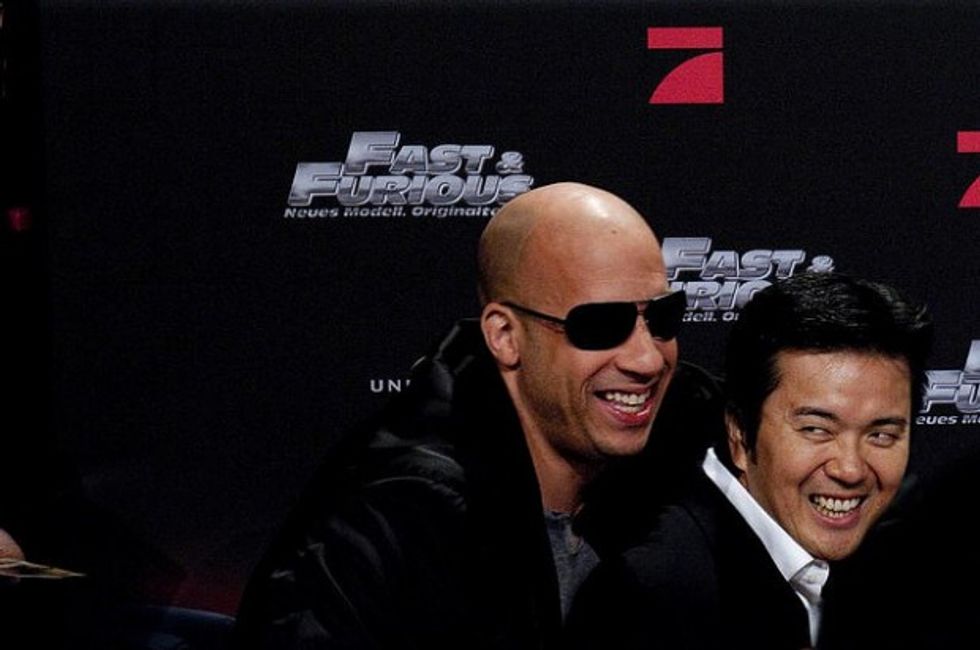 Vin Diesel, left, at the European premier of "Furious 7." (Image via Teymur Madjderey/flickr)
As FiveThirtyEight's Walt Hickey noted Friday, the "Fast & Furious" franchise only exists in its modern money-making form thanks to some clever work by Diesel — work that was meant to fuel a totally different franchise.
After starring in the first "Furious" film in 2001, Diesel went off to work on other movies, including his pet project, the "Pitch Black" science-fiction sequel "The Chronicles of Riddick."
The first two "Riddick" movies flopped, leaving studio executives pledging not to make another one, but in 2006, as the third "Furious" film looked like it would stumble, Diesel hatched his plan: He told Universal Pictures to give him the rights to the "Riddick" movies in exchange for him appearing in a cameo at the end of the third "Furious" film.
The rest, as they say, is history.
Diesel was free to produce more "Riddick" films while the "Furious" franchise made exponentially more money with Diesel back in the lead for its fourth, fifth and sixth sequels.
The seventh looks as if it will continue the money-making trend.
In the numbers released Sunday, "Furious 7" also unseats previous April record-holder "Captain America: The Winter Soldier," which opened to $95 million on the same weekend last year.
As the most ambitious release in Universal's history, "Furious 7" opened on 10,500 screens in 63 territories internationally as well.
Dedicated to the late Paul Walker, the film has the roads to itself until Disney and Marvel's "The Avengers: Age of Ultron" hits theaters on May 1.
—
Follow Zach Noble (@thezachnoble) on Twitter