Former U.S. Sen. Rick Santorum and possible 2016 Republican presidential candidate dove deep into the topic on most everyone's lips this week, telling "Face the Nation" on Sunday that when it comes to religious freedom and discrimination, "tolerance is a two-way street."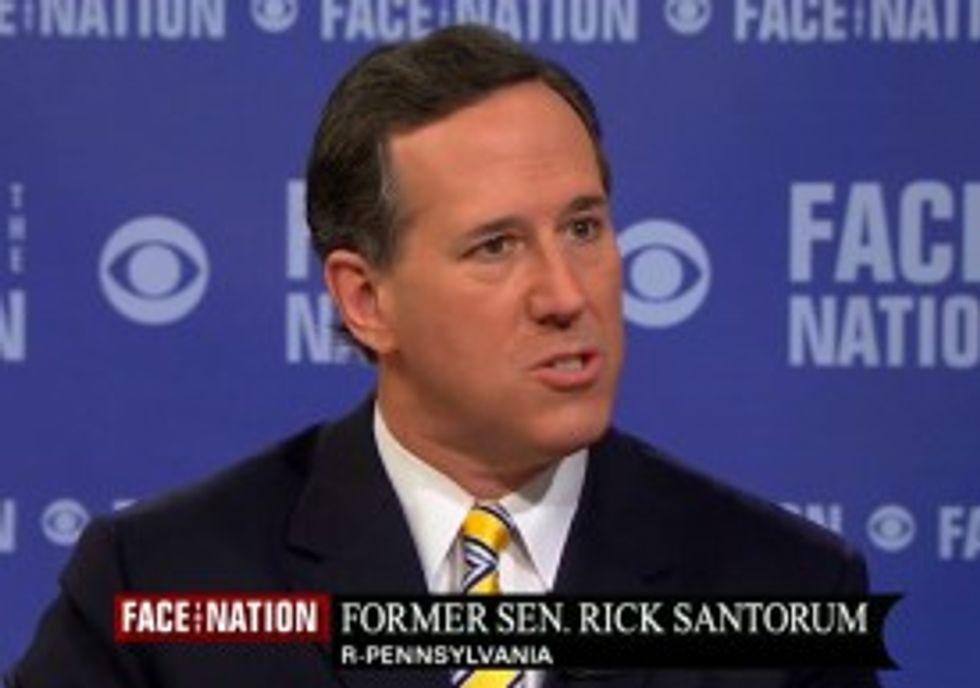 Image source: YouTube
Indiana, particularly its governor, has been under fire over the passage of a religious freedom law written primarily to protect businesses from being forced to participate in activities they find objectionable. After a deluge of criticism saying that the law could allow discrimination against gays, the legislation's language was quickly clarified.
In his interview Santorum distinguished between discriminating against a person and declining to take part or contribute directly to an activity that one's faith indicates is wrong.
"No business should discriminate ... because of who you are," Santorum said. "But it should have the ability to say, 'We're not going to participate in certain activities that we disagree with on a religious point of view.'"
Then Santorum offered a hypothetical situation.
"If you're a print shop and you are a gay man, should you be forced to print 'God Hates F**s' for the Westboro Baptist Church because they hold those signs up?" he asked. "Should the government force you to do that? And that's what these cases are all about. This is about the government coming in and saying, 'No, we're going to make you do this.' And his is where I think we just need some space to say, 'Let's have some tolerance (and) be a two-way street."
A similar issue seems to have been settled in Colorado after state civil rights officials said a bakery was not discriminating against a Christian by refusing to decorate Bible-shaped cakes with anti-gay messages.
(H/T: Mediaite)
—
Follow Dave Urbanski (@DaveVUrbanski) on Twitter