President Barack Obama's favorability rating is soaring in Cuba, but the president said Thursday that normalized relations with the communist country will still proceed gradually, even into 2016.
A Fusion poll found Obama had an 80 percent favorable rating in Cuba, almost double his U.S. approval rating.
Obama only made vague reference to a poll while in Kingston, Jamaica, Thursday.
"There was an interesting poll that was released just over the last several days showing overwhelming support within Cuba for this process," Obama said. "I think there is a great interest among ordinary Cubans to be able to put one era behind them and to be able to move forward and have the kinds of relationships with the United States and the rest of the world that is reflective of the fact that we have a integrated, 21st century global economy and that they have to be a part of it."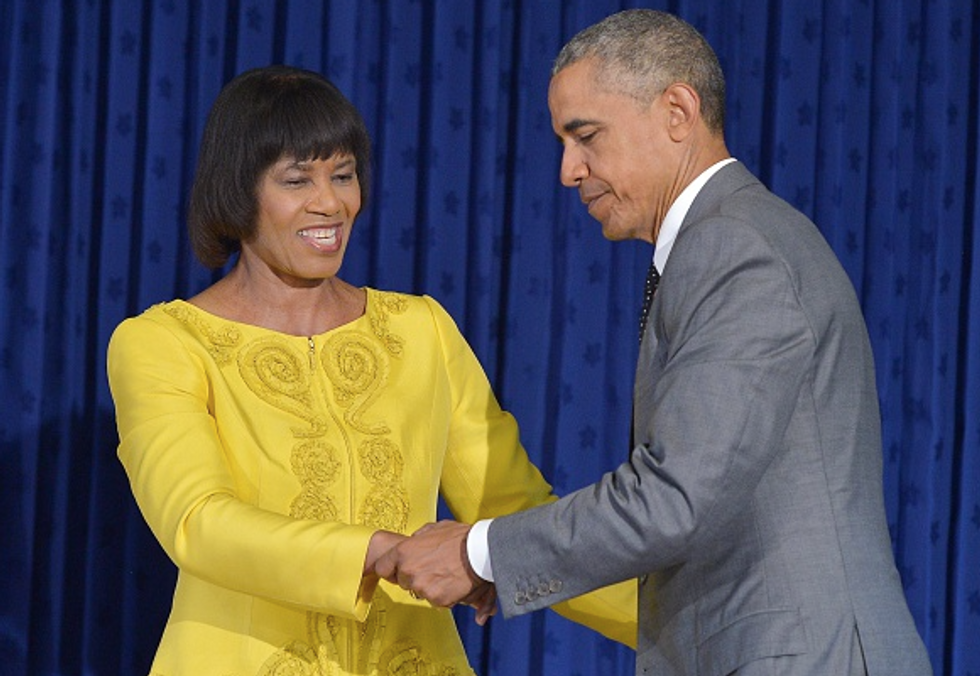 President Barack Obama clasps hands with Jamaican Prime Minister Portia Simpson Miller after signing the guest book at Jamaica House, April 9, 2015 in Kingston. (Mandel Ngan/AFP/Getty Images)
The president at no point during the joint appearance talked about Cuba's human rights record, other than noting disagreements between the countries and different forms of government. Though Obama talked in more detail about his disagreement with Cuba's human rights record in a town hall event.
Obama first announced in December plans to normalize relations with Cuba.
Obama said the State Department review as to whether Cuba should be removed from the state sponsors of terrorism list is complete, but he's not announcing any formal recommendations yet.
"Given that this is a powerful tool to isolate those countries that genuinely do support terrorism, that when we make those designations we've got strong evidence that, in fact, that's the case and as circumstances change, then that list will change as well," Obama said. "So I won't make a formal announcement today about what those recommendations are."
Obama said he doesn't see the United States and Cuba reconciling all of their differences quickly.
"I never foresaw that immediately overnight everything would transform itself, that suddenly Cuba became a partner diplomatically with us the way Jamaica is, for example. That's going to take some time," he said. "So my expectation is that during the course of this year and into next year, you'll see a series of steps and measures that are taken to build trust and to establish genuine dialogue. There will still be significant differences given their system of government, given their positions on some of the issues in the region."
Jamaican Prime Minister Portia Simpson Miller lauded the normalization of relations as both leaders spoke to reporters.
"I want to thank the president of the United States for action taken in terms of Cuba, and to say to the president, we're very happy to say to you, Mr. President, you are on the right side of history," Simpson Miller said.